Starting with Kendra Rai's gorgeously hued Indian-spice costumes, conjuring tamarind, cinnamon and saffron, Imagination Stage's production of The Jungle Book brings to life the rich imaginative world of Rudyard Kipling's classic tale of boy raised by wolves and his simply splendid surrogate family.
It was a favorite book of mine. How I delighted in Bagheera the Black panther, Balloo the big bear, and Kaa the giant snake! Most of all I identified with Mowgli, the little man-cub, and dreamed I too could go romping through the jungle with such mostly four-legged friends.  Who wouldn't want to go for a ride on a roly-poly bear's back or jump into a river and splash water into same bear-friend's face?  Or tickle a furry wolf's ears and snuggle into a wolf pack?
The show is at its best in evoking the simple physical actions of hanging out with animals. Justin Weaks as Mowgli is terrific. From the moment he crawls as a toddler into the den of a wolf family, his physicalization is spot-on, and his wide-eyed fearlessness with the animals makes the premise of them all taking him under their wings (or paws) something quite believable. One moment he is curling up against his Mother Wolf and the next he scampers across the jungle floor on all fours like a monkey. The scene where he pulls a thorn out of the paw of his Wolf sibling shows that Mowgli brings special talents and ingenuity to the wild animals.
Five actors take all the roles.  At the top of the show, all five burst onto the stage in an exuberant, joyous and rousing dance, beautifully choreographed by Jaya Prasad. We are asked to join in. Coming back to it at the curtain call was such a nice touch that I wish writer Greg Banks and director Janet Stanford had integrated more music and dance into the work.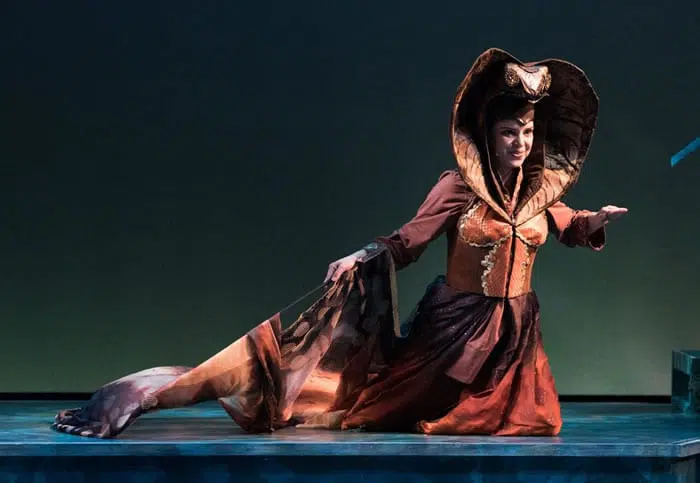 The actors share the narration of the story; slipping on and off mostly half-masks that sit on top of their heads, they create some marvelous characterizations. Latia Stokes as the sleek inky-black Bagheera moves with a soft-footed sinuousness but she can also suddenly draw herself up and turn commanding. Later in the show she does a turn as a chortling vulture telling bad banana jokes. Ryan Andrew Mitchell is the faithful avuncular companion Balloo and has a kind of sloppy goofiness that was endearing. He also is winning as the gruff Father Wolf who then turns out to be a friendly pushover.
Nora Achrati brings both pathos and protective fury to the role of Mother Wolf, who will not give up the defenseless little boy to the blood-lusting tiger. Achrati also creates a very distinctive Kaa, making the giant body's coiling come from the manipulation of a piece of fabric like a train attached to a rod and turning her head in a hooded collar wired to up over her head so that her character has something also of a Renaissance monarch.
Again, huge creds to costume designer Rai, who has also decked out the tiger Shere Khan in a drop-dead gorgeous persimmon-orange sill tunic with suggestions of stripes.
——–
The Jungle Book

closes May 28, 2017
Details and tickets
——–
Ricardo Frederick Evans as the evil Shere Khan was truly bad-ass down to the way he sharpened his claws on a tree. Evans revels so in villainy I thought there was no redemption for him. But after his being tricked off a cliff and falling offstage to his demise, one young girl in the audience began to cry and had to leave the auditorium. A bright audience young member who had done his reading reminded others of us out loud that, after all, he had it coming for he was an animal that kills for pleasure, breaking all the rules of the jungle.
The least successful part of the show for me were the monkeys. The actors seemed self-conscious, their antics generalized, and the "Monkey Monks Just Hanging Around" was not really a worthy number. The crisp characterizations of the actors' other roles were not to be seen in what seemed like onerous and irritating monkey business. Or was this the point? Curiously, the multi-leveled set designed by Daniel Ettinger worked least successfully for the monkeys' rompings. The attachment of a rope to the two sides of the set became a set up but wasn't really used as a cool zip-line.
Director Janet Stanford has got so many aspects of this wonderful story just right. Her working with the actors to create physical reality in particular impressed me. The show needs attention still to more careful and elastic pacing for us to get the fullness of the emotional tale.
However, I shall always remember the goodbye scene when Mowgli has to be pushed out of the animal kingdom and the only family he has known to return to human life in the village. Heartbreaking.  One last howl with his mates and Mowgli leaves the jungle.
I urge families to introduce this story to your children by taking them to see the show.  You might want to practice howling together too. And read the book.
Imagination Stage recommends this for ages 4 and up.
——-
The Jungle Book. Written by Greg Banks. Based on the story by Rudyard Kipling. Directed by Janet Stanford. With Nora Achrati, Ricardo Frederick Evans, Ryan Andrew Mitchell, Latia Stokes, and Justin Weaks. Composer Eric Shimelonis. Choreographer Jaya Prasad. Scenic Designer Daniel Ettinger.  Costume Designer Kendra Rai. Lighting Designer Sarah Tundermann. Sound Designer Patrick Calhoun. Produced by Imagination Stage.   Reviewed by Susan Galbraith.