In the midst of a fever dream, The Most Spectacularly Lamentable Trial of Miz Martha Washington flips the power dynamic of Mt. Vernon and leaves first First Lady Martha Danbridge Washington to answer for slavery, with her slaves as judge and jury.
Specifically, the show crafts a story behind Martha's change of heart in December 1800, when she went against her late husband's will and freed his slaves. President Washington had specified that his slaves should be given their freedom only after both he and Martha had passed, putting those slaves in a delicate position: Waiting for Martha's death or maybe her conscience to free them.
At the start of the show, Martha (Jane Petkofsky) lays in bed sick, possibly at Death's door. Her slaves bicker about their concern or in some cases eager excitement at her failing health. Notably, Anne (Tanya Chattman) looks on with aghast disapproval as Doll and Priscilla (Ivana (Tai) Alexander and Taunya Ferguson, respectively) hilariously joke about pushing Martha down a flight of stairs, if a strong fart doesn't knock her down them first.
Overtaken by her illness, Martha tumbles in and out of vivid fever dreams of her slaves shaming and threatening her for their freedom in increasingly spectacular ways. Jonathan Miot plays a silver-tongued lawyer trying to reason with Martha, Ferguson returns as Abigail Adams to warn Martha her slaves have every reason to kill her (The real Adams actually did visit and warn Martha of that earlier that December, but probably less menacingly), and both return with Nate Shelton to put Martha on the auction block at a slave auction.
In between the fever dreams, Martha is cared for by Anne, who is galvanized by Martha's seemingly fatal illness to finally confront her about their shared past. Anne Danbridge was Martha's unrecognized half-sister, who spent almost all of her life as Martha's personal slave. Petkofsky and Chattman navigate the complex relationship with great skill, expertly balancing years of service, abuse, and love in their interactions.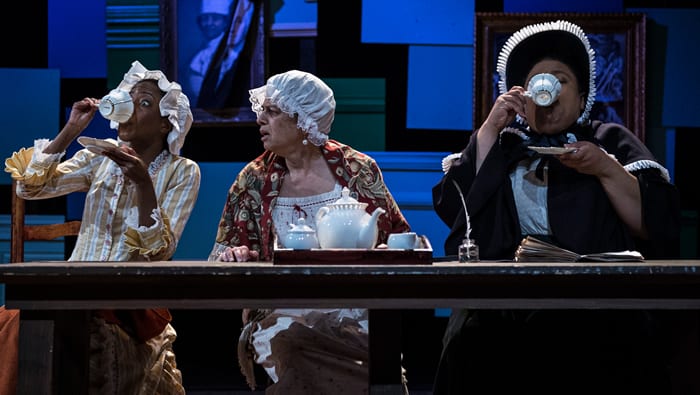 In each fantastical vision, costume designer Alison Samantha Johnson delights with attractive and immediately clear costumes. Her work is marred only by the slave auction scene punching down with Miot in a dress and Shelton with shoes attached to his knees to find humor in crossdressing and little people. If playwright James Ijames had a greater purpose in that scene than transphobic or ableist humor, director Ty Hallmark doesn't get it across.
Hallmark pulls out all the stops for a game show hosted by King George III (Reginald Richard). Johnson gives the king and his Vanna White (Alexander as Queen Charlotte) suitably decadent costumes, but it's lighting designer E-hui Woo wins the scene. Throughout the show, Woo paints the set with a full rainbow of colors, adding to the surreality but never stealing the spotlight. In the game show, Woo's lighting gets more attention when it responds to King George III's directions as the rounds go by. That plus Richard's energy and Petkofsky's baffled misery make the game show scene a high point.
——–
The Most Spectacularly Lamentable Trial of Miz Martha Washington

closes May 20, 2017
Details and tickets
——–
This is the inaugural production of Ally Theatre Company, in residence at Joe's Movement Emporium, but the show often fails to fit the venue's space. There's a gap between the stage and the risers large enough for a dance performance, putting a moat between the audience and the action. Similarly, scene transitions and scenes that require entrances and exits through the wings often drag, weighing down the whole pace of the show.
The pace is also delayed by faulty comedic timing, often due to unpolished physical comedy. Alexander and Ferguson's synchronized tea-sipping is hit-or-miss, and one of the largest laughs came from Petkofsky taking a few tries to fall out of bed. Comedy aside, just getting in and out of bed, the show's cumbersome primary set piece, chipped away at what precious momentum the cast built up.
Hopefully, more performances will tighten a lot of these loose bolts. The story is an important one and the production levels are high, but it too often feels too slow, too quiet, and too far away to engross the audience as it should. At least, as an inaugural show, it succeeds in making me interested in what Ally Theatre Company does next.
---
The Most Spectacularly Lamentable Trial of Miz Martha Washington. Written by James Ijames. Directed by Ty Hallmark. Performed by Jane Petkofsky, Tanya Chattman, Nate Shelton, Reginald Richard, Jonathan Miot, Ivana (Tai) Alexander, and Taunya Ferguson. Choreography by Angelisa Gillyard. Set design by Audrey Bodek. Costume design by Alison Samantha Johnson. Light design by E-hui Woo. Sound design by Hope Villanueva. Props design by Katherine Offutt. Stage manged by Charles Lasky. Produced by Ally Theatre Company. Reviewed by Marshall Bradshaw.