The Most Spectacularly Lamentable Trial of Miz Martha Washington by James Ijames, will have its DC premiere as the first-ever production for the Ally Theatre Company.
"I had the privilege of seeing its world premiere in Philadelphia three years ago and the night I went, I met James Ijames and I talked with him after the show and knew then I wanted to bring this to D.C.," says Ty Hallmark, Ally's Founding and Producing Artistic Director, who also will be directing the show. "It was such a powerful performance, and I knew D.C. audiences needed to see this."
The buzz-worthy play is set on Christmas Eve, 1800, as the Mother of America, Martha Washington, lays on her deathbed at Mount Vernon, surrounded by the slaves who will be freed upon her passing.
"The slaves have full knowledge that when she dies, as George Washington had stipulated, they will be free," Hallmark says. "The play then turns into this fever dream, and as I was working on it, I realized how must James sort of threw together Alice in Wonderland, The Wizard of Oz and Christmas Carol, and used dream techniques and magical realism to tell this very stunning reclamation of American history."
The play paints Martha Washington in a way that is different than many think of her, though Hallmark says, is a more accurate representation.
"It is also done with humor and honesty and is a very humble story that I think will really resonate with audiences," she says. "We are steeped in the history here. To prepare for the show, some of the cast members and I went out to Mount Vernon to explore the plantation house where the Washingtons called home. Everyone was excited about that."
Jane Petkofsky stars as Miz Martha Washington, and the rest of the cast includes Reginald Richard as Davy, Taunya Ferguson as Priscilla, Jonathan Miot as Sucky Boy, Tanya Chattman as Anne Dandridge and Nate Shelton as William.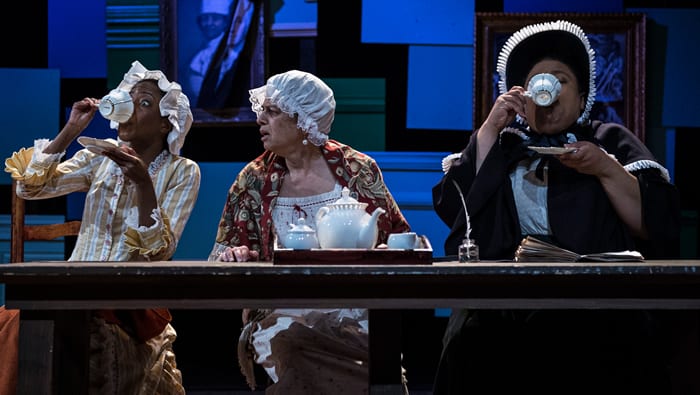 "Jane is a company member at the Keegan and has been acting in D.C. for about 20 years," Hallmark says. "I did two readings of this production in 2015 and I brought her on immediately, and I knew she was the right person for this role."
One of the goals of the Ally Theatre Company is to bring stories of people who were under-represented in society, and Hallmark has always tried to use theater in an activist way to make change.
——–

Want to go?
The Most Spectacularly Lamentable Trial of Miz Martha Washington
closes May 20, 2017
Details and tickets
——–
"It is fitting for Ally to kick-off our inaugural season with James Ijames' bold look at American history because producing theatre designed to confront systemic oppression is at the core of our mission," says Ivana (Tai) Alexander, managing director of the Ally Theatre Company, who plays Doll in this production. "With its biting, witty, and humorous critique on what has been called America's original sin as well as critical commentary on patriarchal society, The Most Spectacularly Lamentable Trial of Miz Washington constitutes Ally's jumping in with both feet in our desire to bring mission-driven theatre, especially local, national and world premieres, to the stage."
Hallmark is planning on hosting some talkbacks in relation to the show and has reached out to Mount Vernon and some of the descendants of the enslaved people to come in. She's also hoping that Ijames will come in to talk about his writing.
Alexander believes the Ally Theatre Company comes at a time in history that will prove vital in determining the course not only as local communities, but as a nation and as a human race.
"How we respond to the fractures and derisiveness that permeate our society right now, particularly with regard to our most marginalized and oppressed groups, will have implications for us all," she says. "And art has always been a transformative vessel with a unique power to confront, comfort and connect in ways no other medium can achieve. Ally's commitment to illuminating the voices that are often unheard and spaces that go unseen is our earnest attempt to access that power to play a small part in creating the space and opportunity needed to form new traditions and conversations that spark social change."
One of our biggest milestones for Ally this season is its partnership with Joe's Movement Emporium, its home base. "We are the only theatre company in residence there and honored to be artistic stewards of this distinction," Alexander says. "We are also are honored to partner with the Gateway Arts District and surrounding communities in what is already a vibrant arts collaborative that is dedicated to empowering and uplifting through the arts."
As for the show itself, both Hallmark and Alexander feel as long as people come in with an open mind, they will be surprised at the way the play looks at and examines American history.
"I hope audiences will leave this show having experienced both the full humanity of each of the characters as well as the humor so beautifully woven throughout the story," Alexander says. "In addition to being entertained and connected to the characters, I would hope that the audience would leave asking some very pointed and poignant questions about our nation's past and perhaps reconsidering or considering for the first time how that past continues to cast long shadows that need to be confronted, addressed, and lifted."