There may be no local theatre with a house style more suited to The Fantasticks than Chesapeake Shakespeare Company. Before every show, and during every intermission, representatives of the company come up on stage and welcome the audience into the show, as neighbors and friends. After each show, the actors come offstage to meet their audience. The musical fits this milieu perfectly, what with its homespun charm, simple two-instrument score, and open conversation with the audience. It's a natural transition from a CSC staff member greeting us to El Gallo (Gerrad Alex Taylor), by the script, setting the scene and introducing the other characters.
He lets us meet Luisa, The Girl (Roxanne Daneman) and Matt, The Boy (Rafael Sebastian) – the two rolling in poetic puppy love in defiance of the separation imposed by their fathers (Lyle Blake Smythers as his, David Tabish as hers). There's Robby Rose as The Mute, tossing confetti and passing props to aid El Gallo in his storytelling. And later there will be Henry, The Old Actor (Gregory Burgess) and his partner Mortimer (Steven Hoochuk), bumbling through Shakespeare and elaborate death scenes as they are called to fill the additional roles El Gallo needs to carry the plot along.
The good cheer of the cast playing out this sweet tale smooths over a great many wrinkles that in any other production would seem unprofessional. Sebastian cannot sustain some of the longer notes in the yearning "I Can See It," and pianist Belinda Chen occasionally mars some of the score's dynamics and tempo. A diehard fan of the show may wince at these and other imperfections, but Sebastian expresses such joy, and Chen such love for the music, that it's easy to forgive. Like other overdone standards like Peter Pan or Romeo and Juliet, The Fantasticks has been performed so many thousands of times that it's simply not worth seeing unless the performers bring that love and joy. (Besides, we might expect that the music will cohere more as more performances go by.)
It's almost enough to forgive the problems that charm cannot disguise. We have to wonder if the show – running almost continuously Off-Broadway since 1960 – is too much of its time to fit our contemporary sensibilities. On the one hand, Director Curt L. Tofteland wisely makes the typical choice of recent years to change the many references to rape, used in the original script in the classical sense of 'abduction,' to other synonyms. A first-time viewer will only see an adventure-story scene of bandits with wooden swords, free of unintended connotations.
On the other hand, the character of Mortimer is still a Cockney actor playing an 'Indian.' The Fantasticks comes from an era where Cowboys and Indians was still a children's game, and the caricature of the headdress and bow & arrow were considered shorthand for a generic villain. It's unfortunate the company could find no fix for this problem (other productions have simply changed Mortimer's persona to, for example, that of a pirate).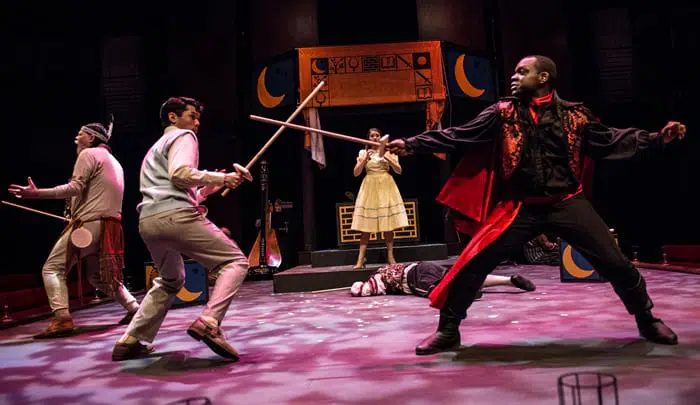 Part of the magic of The Fantasticks, when it works, is that it feels of no particular time and all time. The book and lyrics conjure a sort of early 1900s American countryside as dreamily half-recalled in the 1950s through a mist of European fairy tales. Luisa and Matt have adolescent desires out of storybooks and Classical studies, of dancing all night long and composing poetry to one's sweetheart and swordfighting ruffians in the forest. The two fathers dig gardens and praise their vegetables. And the tinkling harp-and-piano tunes, with some of the loveliest melodies ever composed for the theatre, sound like pastoral jazz and ballroom folk waltzes.
——–

Want to go?
The Fantasticks

closes May 21, 2017
Details and tickets
——–
Yet when it doesn't work, we get Mortimer the 'Indian,' and Matt having adventures in such 'exotic' locations as Athens and Bombay, and 16-year-old Luisa acting more like how we now expect a 10-year-old to do. This puts the whole experience at odds with itself – we can't take timeless pleasure in the morals, humor, and songs of The Fantasticks at the same time as we think of it as a museum piece.
We either brush off its casual, unthinking racism as an unfortunate relic of its time and thus distance ourselves from the enthusiasm of this production; or we swallow it, in order to connect fully to the entertainment. It helps to have partial fixes like the update of the 'rape' language. It also helps to have the engaging and charismatic performance of Taylor as El Gallo at the center. He brings a subtle edginess to the dashing master-of-ceremonies, a kind of world-weary watchfulness. It almost permits us enough critical distance to think of the production's flaws as parts of the central theme (that the real world is not as simple and kind as in the fairy tales). Almost.
Perhaps what The Fantasticks needs is a full update from creators Tom Jones and Harvey Schmidt, to clean off the mold and dust and just leave the fine old heirloom underneath. Or perhaps it needs another thousand performances of distance, when its sour notes might seem more archaic than awkward. As a great lover of this musical, I don't know the answer to this primary challenge in producing it. CSC does not have a fully satisfactory answer either, but for those willing to take a small leap over the rough edges, there's a pool of utter delight waiting on the other side.
——————
The Fantasticks, Book and Lyrics by Tom Jones, Music by Harvey Schmidt . Directed by Curt L. Tofteland . Featuring Gregory Burgess, Roxanne Daneman, Steven Hoochuk, Robby Rose, Rafael Sebastian, Lyle Blake Smythers, David Tabish, Gerrad Alex Taylor . Musicians: Belinda Chen (Piano), Kristen Jepperson/Laura Stokes (Harp) . Music Director: Scott Farquhar . Dance Choreographer: Nellie K. Glover . Set Designer: Chester Stacy . Lighting Designer: Katie McCreary . Costume Designer: Kristina Lambdin . Props Designer: Mollie Singer . Fight Choreographer: Chris Niebling . Stage Manager: Alexis E. Davis . Produced by Chesapeake Shakespeare Company . Reviewed by Brett Steven Abelman.