Laurie Metcalf is the fifteenth actress since 1889 to portray Nora Helmer on Broadway, the character in Henrik Ibsen's play A Doll's House who slams the door on her husband and three children. But she is the first Nora to knock on that door 15 years later, in Lucas Hnath's A Doll's House, Part 2, a clever, surprisingly amusing and thought-provoking new play performed to winning effect by a quartet of first-rate actors: Besides Metcalf, they are Chris Cooper as Nora's husband Torvald, Jayne Houdyshell as her former nanny Anne Marie, and Condola Rashad as her now grown-up daughter Emmy.
One of those previous Broadway Noras — as students of arcane theater history might insist I point out — appeared in a 1982 musical entitled A Doll's Life, which also imagined what happens to Nora after she abandons her family at the end of Ibsen's play. The Nora in that Comden and Green musical becomes a waitress and a fish cannery worker and a union activist, and has affairs with a young violinist and a factory owner and a lawyer.  A Doll's Life, directed by Hal Prince with a cast of 26, was a famous flop that closed three days after it opened.
A Doll's House, Part 2 will last longer – it's scheduled for a limited engagement of 12 weeks at the Golden – and is a more modest theatrical piece, with just the four actors instead of the 26 in Prince's show and the 11 in Ibsen's original. The actors perform on Miriam Buether's single set, with an elegant 19th century wall, but nearly empty save for a few chairs and (of course) a door. Instead of the three hours that a full production of Ibsen's three-act play would run, Hnath's play is basically just five two-character scenes that run a total of 90 minutes without an intermission. (This Nora has actually had more love affairs than the musical's, but we only hear about them; we don't see any of them.)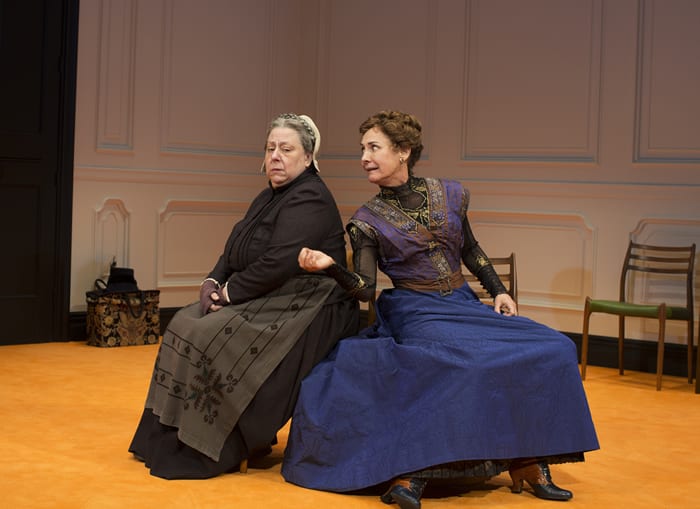 Complete production photographs at NewYorkTheater.me
But the simplicity of A Doll's House, Part 2 is deceptive. Hnath, making his Broadway playwriting debut after acclaimed Off-Broadway plays like The Christians and Red Speedo, has constructed a savvy sequel that can function independently of Ibsen's original, but takes its dramatic cues from the Norwegian playwright.
We eventually learn that Nora has become a successful author. Using a pseudonym, she wrote about her own experience as a wife, and urged other women to refuse the shackles of marriage. This is an inspired choice, literally and figuratively. Ibsen based his Nora Helmer on the real-life situation of a friend, Laura Kieler, who, much like Nora in Ibsen's play, had illegally forged a loan application in order to protect her husband. Kieler did not walk out of her home with dignity, as Nora does; her husband divorced her and had her committed to an asylum. But two years later, he relented; she returned to her family – and became a well-known author!
Nora's occupation allows for Hnath to devise a plot driven by complications that resemble those that were in Ibsen's play.  A woman read Nora's book and because of it left her husband. Her outraged husband, a judge, took his revenge by tracking down Nora's true identity, and discovering something even Nora didn't know —  she is still married to Torvald. Torvald never filed the divorce papers.
"I've signed contracts, done business, had lovers — all sorts of things that a married woman isn't allowed to do, that are illegal, that amount to fraud," Nora says  "This judge could make a lot of trouble for me."
That is why Nora knocks on the door of the home she left 15 years earlier. She has the ulterior motive of trying to get Torvald (Cooper) to file those papers.
I'll tell you no more about the plot, which has a couple of subtle twists.
The main pleasures in A Doll's House, Part 2, are rooted in the chance to watch four accomplished performers. Much of their conversation amounts to a spirited and intriguing debate about the institution of marriage. But even their pleasantries are engaging.
It is Anne Marie, Nora's former nanny, who answers Nora's knock on the door, greeting the former mistress of the home she left 15 years earlier. Anne Marie is tired.
"However I look on the outside," Anne Marie says, "inside it's all a lot worse. And how are your insides?"
"They're good, Anne Marie," Nora replies.
"That's good."
It is difficulty to describe how wonderful the line delivery of this exchange between Metcalf (still best known as Roseanne's TV sister, but someone who has firmly established her stage bonafides in such plays as The Other Place) and Jayne Houdyshell (who finally got recognition for 40 years of artistry by winning the Tony Award for her role as the mother in The Humans.)
Director Sam Gold, a deeply talented theater artist who takes enormous (and I thought misplaced) liberties in the current Broadway production of Tennessee Williams'
The Glass Menagerie
, has a different approach to this play by Lucas Hnath (who is after all taking enormous liberties of his own with Ibsen, which don't strike me as misplaced.) Gold puts the actors' performances front and center, often literally. The set is also deceptively simple. The stage is oddly raked in such a way that the performers appear closer to us and in an unusual, almost vertiginous perspective. This seems a fitting metaphor for the intriguing perspective that Lucas Hnath offers us on a 138-year-play that remains one of the most popularly produced in the world, and on the character of Nora, who may or may not be a heroine.
A Doll's House, Part 2 is on stage at the Golden Theatre (252 West 45th Street, between Broadway and Eighth Avenue, New York, N.Y. 10036) through July 23, 2017.
Tickets and details
——–
A Doll's House, Part 2 by Lucas Hnath. Directed by Sam Gold. Featuring Laurie Metcalf, Chris Cooper, Jayne Houdyshell, Condola Rashad. Scenic Design by Miriam Buether; Costume Design by David Zinn; Lighting Design by Jennifer Tipton; Sound Design by Leon Rothenberg; Projection Design by Peter Nigrini; Hair Design by Luc Verschueren and Campbell Young Associates. Reviewed by Jonathan Mandell.