Creative Cauldron is presenting the world premiere of Kaleidoscope, a new musical by Matt Conner and Stephen Gregory Smith, that examines Alzheimer's disease through the eyes of a legendary Broadway performer on what she thinks is her comeback tour.
The musical stars long-time Broadway vet Florence Lacey as Evelyn whose character is performing a one-woman show revealing her star-studded life in the theatre. As the tour moves on, her memory of these stories starts to elude her and she needs the help of her stage manager and director to keep the show going on.
Lacey, of course, is known to Broadway audiences as the woman who replaced Patti LuPone as Eva Peron in the original run of Evita, a role she would perform more than 3,000 times on the Great White Way and on multiple world tours. She's also appeared on the Broadway stage as Fantine in Les Misérables, Irene in Hello, Dolly! and as Sandra Crane in the 2011 revival of Follies.
Not only does she star in Kaleidoscope, Lacey originated the idea. She had worked with Conner on the musical Nevermore in 2006, and shortly after that, she did a musical called Wings, composed by Jeffrey London. In that show, she played a woman who had a stroke and at the time, her mother-in-law had been recently diagnosed with dementia.
"I happened to be with Matt one evening and it popped in my head that it might be exciting to examine the disease of Alzheimer's or dementia in a musical way," Lacey says. "This was 10 years ago, and Matt has done a lot of research, as have I, and we saw it as an interesting way to get a conversation going about something that touches almost everyone."
The actress says that it took a long time to come up with the specific concept for her character (at one point she owned a flower shop!) but once they made her a performer, it just made total sense.
"She's living in this world and her daughters are communicating to her through that exercise of remembering her old songs," Lacey says. "She thinks she's rehearsing this one-woman show, talking about her career and singing the songs from her career, but there's a whole lot more going on."
Once the idea came to fruition as Kaleidoscope, Lacey says it took some time to find a theater that was brave enough to give it a go, and is excited that Creative Cauldron is staging the debut.
"I feel we need to open conversation about this disease because people don't like to talk about it. It's one of those hidden things that people keep secret," Lacey says. "I want people to know they are not alone. There are a lot of people out there suffering from this disease, a lot of families struggling with it and there are places that can help them."
To prepare for the part, Lacey did some research in her hometown of Connecticut, talking with doctors and patients at the Alzheimer's Research Center of Connecticut.
"They were kind enough to let me visit with their patients, talk with them, have lunch with them and really see what it was like," she says. "One of them was able to come up with a definition of how he felt and I'm hoping that informs my characterization of my character. I also help it helps Matt and Stephen in the creation of this play."
Obviously, it's a subject that can get very sad and emotional, but as Lacey learned from one of the patients she spoke with—some of it can get really funny.
"It is of course a very depressing subject but we're trying to find some of the humor in what's been written so far and I think we found a few things," Lacey says. "There is some lightheartedness. I think because she is a musical theater performer, we have the chance to bring some of that in."
Lacey is enjoying working with the cast, especially 12-year-old Sophia Manicone, who plays the younger version of her character.
"She's so wonderful and has a beautiful voice—a strong voice; she is a performer," Lacey says. "I'm very fond of little Sophia."
The youngster is equally thrilled to be working with the Broadway veteran.
"When I first learned that I would be working with her, I was so nervous—especially when I found out I would have to sing a duet with her," Manicone says. "But when I met her, she was so nice, and she's been so encouraging and supportive. I've learned a lot watching her go through the rehearsal process and hearing about the things she did to prepare for her role before we even started rehearsals."
A sixth grader from Northern Virginia, Manicone previously appeared in the theater's Ruthless! The Musical last fall and recently played Scout in To Kill a Mockingbird for the Providence Players of Fairfax.
——–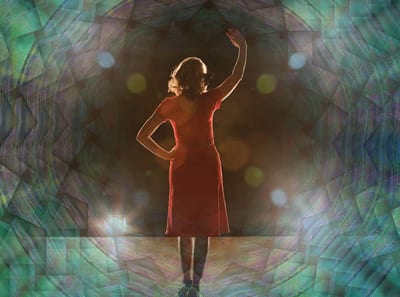 Kaleidoscope
May 4 – 28, 2017
Details and tickets
——–
"When I first step onto a stage, I always feel a little nervous, but after the first few minutes it feels so good to play my character, whether it's a tomboy with a southern accent (like Scout) or belting out songs as an over-the-top theater kid (like Tina in Ruthless!). I get totally sucked into the show and it's so much fun to interact with the other people in the cast and the audience. And I love the teamwork that's a part of any show. My parents used to worry that I wasn't having a 'team sport' experience as a kid, but now they realize that theater is the ultimate team sport."
"This is a special opportunity for me, because it's a new show and no one has ever played this part or heard these songs," she says. "I really love the music in this show—the songs are beautiful—and some are funny. It's a little challenging to work on a show that's in the process of being created, but it's also really exciting to see how a new musical develops."
The show also features Susan Derry and Catherine Purcell.
Kaleidoscope marks Conner and Smith's third installment in Creative Cauldron's "Bold New Works for Intimate Stages" following productions of The Turn of the Screw and Monsters of the Villa Diodati.