Awards shows are their own animal. Each iteration has its distinctive aspects, but, no matter how much they try to fight the basic formula, it's hard to avoid similarities: acceptance speeches that can bleed into each other in memory, as familiar memes repeat; outcomes that seem so urgent and important at the moment, but may be difficult to remember a few years out; a laundry list of categories that can try the patience of even the most committed devotee of the art form being honored.
And then there are those wonderfully magic, memorable moments that will live vividly in the memories of those present. My car-pool cast-mate Cam Magee (in the drive to tonight's rehearsal of WSC Avant Bard's King Lear) recalled Julie Harris who, at an 80s HHA, spoke affectionately about the legendary Ethel Waters, the singer and actress with whom Harris had shared stage and screen in Harris' star-making role of Frankie in Carson McCullers' The Member of the Wedding in the early 50s. In tribute, Harris suddenly, surprisingly broke into song.
Fans of classic Broadway musicals won't forget Jerry Herman playing piano and singing "Mame" and "The Best of Times" the year (I think it was 2005) that he was honored.
One of the two times my parents came to the HHA's (the two times I was nominated — nepotism!) was the year August Wilson was saluted. What a treat for them to see their favorite living playwright receive an honor (although Mom is still bitter that Wilson never received the Nobel Prize for Literature).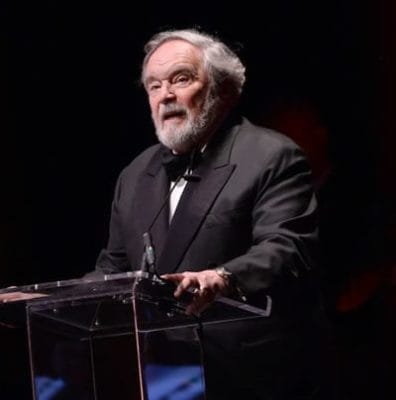 I missed the year that Colm Wilkinson won for his pre-Broadway Jean Valjean, and his award was accepted in absentia by Sen. Edward Kennedy. I was there, however, the next year, when Wilkinson was present, and sang a beautiful "Danny Boy."
Monday night, we had one of those amazing, unforgettable moments. This year's Helen Hayes Tribute went to actor Ted van Griethuysen. Studio Theatre Founder Joy Zinoman introduced an accompanying video montage.
After that, we were treated to a real surprise, when Associate Justice of the Supreme Court of the United States Ruth Bader Ginsberg (to whom some cheekily refer as "The Notorious RBG") came on-stage for the actual presentation to van Griethuysen.
Justice Ginsberg was greeted with a deafening, sustained standing ovation. Before that waned, a wolf-call of "Ruth! Ruth! Ruth!" emerged to compete with it.
When, eventually, the crowd sat and settled, Ginsberg spoke with warmth and specificity about van Griethuysen and his career. She is a reliably frequent presence at Shakespeare Theatre Company, which, along with Studio Theatre, has been van Griethuysen's stomping ground.
You may have noticed that most of the cited memorable Hayes ceremony moments involve not the recipients of competitive awards, but those receiving the annual tribute. The introduction, the video component, and the acceptance remarks allow us the chance to really savor the achievement of the artist being recognized, in a manner that time constraints won't otherwise allow.
Van Griethuysen's remarks touched on a theme that recurred throughout the evening. He emphasized that theatre is an art form, not a competition, and that the art is what brings us together, not the horse race aspect of an awards structure.
This was echoed again and again, including by Keegan Theatre's Producing Artistic Director Mark A. Rhea, accepting the award for Next to Normal (Outstanding Production, Musical — Helen). "This is the icing," Rhea remarked, indicating the award; "This is the cake," indicating the assembled NtN team and the picture from the show that was projected behind them.
Many of the speeches from recipients in the (by my count) 48 competitive categories were clever, charming, and heart-felt, even if shout-outs to "the best team ever" and other superlative encomiums to companies and colleagues inevitably became repetitious.

theatreWashington's video tribute to plays produced in 2016. Shown at the 33rd Annual Helen Hayes Awards
Speeches also are generally rounded out by the thanking of family and friends. One of the more moving of those was from van Griethuysen, a widower, who said (paraphrasing) that it wasn't until his wife saw his performance that the experience felt complete to him.
Another recurring theme (which informed the reception that Justice Ginsberg received) is the dilemma faced by artists in (to use Shakespeare's phrase) the fatness of these pursy times: how vital and how relevant and how effectual can theatre, and the arts more generally, truly be in a time when so much is at stake, and when artistic engagement can feel less urgent than more direct political action.
More than one recipient engaged that question, as did theatreWashington President Amy Austin in her powerful remarks, delivered about halfway through the ceremony.
Austin recalled working on a Source Theatre Company production of The Well of Horniness back in the 1980s. The play was written by Holly Hughes, one of the infamous "NEA Four"; artists whose grants were challenged during the "culture wars" of the early 1990s.
"Some of you may remember or have read about it; this was as hot a controversy as some of those we're living through now. There were protests, and Congressional hearings, and arts institutions folded under pressure, and, eventually, a case went to the Supreme Court, all so the NEA Four would get their federal funding.
"And, in the beginning of all this, there we were putting on this racy lesbian pulp-noir comedy at Source Theatre on 14th Street, back when it was kind of an exciting outpost. We arrived for our call one night and, across the big glass windows in the front, before our late night show, we found the words 'Pornography Kills' spray-painted on the theater windows. It was meant to intimidate, and it was a little scary.
"Don't ever let people tell you art doesn't matter. That it doesn't move people. That it doesn't provoke.
"I tell you all this not to bore you with old war stories, but to underscore how strongly I feel that what you do makes a difference in the world. All of you."
(I ran into Austin at the after-party, by the way, at which she told me with pride that the Ginsberg appearance had been a closely and successfully guarded secret. She also agreed to email to me the text of her remarks, so that I would be able to excerpt them here.)
My "date" to the event was not my husband Jay Hardee (who is never anxious to go and has been to only a couple or three of the ceremonies over our thirteen-year relationship). I have recently met a Dad around my neighborhood and was surprised to learn that he is an actor with a long and varied career. Jeffrey Wincott's IMDB entry lists about 100 credits.
After the ceremony, Gerry Gleason, another neighbor, and with whom we had car-pooled and shared dinner before the event, made an interesting observation. Aware that Jeff wasn't very familiar with the DC scene, Gerry had been watching things somewhat through Jeff's eyes, speculating how the show would have been received by an (for lack of a better word) outsider to the scene.
I realized that I had done the same thing, and our impressions synced with things that Jeff said throughout the evening. Some of it had to do with the oft-noted cohesion and collegiality of this theatre community. Many references to that, by locals and visitors alike, feel genuine, and not merely rote.
Also, perhaps because of the proximity to the institutions of government, many references to the current political situation were strikingly thoughtful, measured, sophisticated, and, consequently, powerful.
Costume Designer Sabrina Mandell didn't need to press a point as she recalled grandparents (I think it was) who immigrated to this country, one of whom was a preferred tailor to President Hoover, among others. (Mandell took Outstanding Costume Design — Helen for MOXIE: A Happenstance Vaudeville from Happenstance Theater.)
Ari Roth, one of those speaking after Mosaic Theater Company of DC was awarded the John Aniello Award for Outstanding Emerging Theatre Company, said, in part, "…we believe that theater companies are a force of good in our creative ecology; we provide shelter for dreams, refuge for communitarianism, unimpeded platforms for free speech, as we bring together individuals to embrace and grapple with what it means to be human." (This excerpt was captured off of Roth's Facebook page.)
Van Griethuysen described the arts as (close to an exact quote) the least-defended and most important aspect of a civilized society.
I believe this was the third year since the awards became tiered, with "Helen" groups being generally non-union, while "Hayes" companies are the larger Equity theaters. Controversial at the time, and resisted by many smaller companies who feared the move would "ghettoize" emerging troupes, it seems to me as if the move has undoubtedly resulted in recognition of a broader swath of the community.
Among groups that took home trophies Monday were relatively young companies. In addition to Happenstance, those included NextStop Theatre Company, The Welders, Creative Cauldron, 1st Stage, and Constellation Theatre Company, none of which, I believe, have been around much longer than ten years, and several are much younger.
Of course, for every recipient, for each empty-handed yet appreciative nominee, there are, I would guess, dozens of disappointed artists and audience members whose enthusiasms were not reflected in the night's outcomes.
With that in mind, I have to mischievously admit that a highlight of the night for me was when Carl Nash (who presented a couple of awards as a representative of the devoted DC audience) said how ironic it was that he was presenting, since he's been rejected twice when applying to be a Helen Hayes judge. What a short-but-sweet demonstration of the limits of any awards organization's ability to demonstrate unimpeachable judgment.
At this point, theatreWashington's staff consists almost, if not entirely, of Austin and Michael Kyrioglou, its Theatre Services Manager. (Kyrioglou, amazingly, not only tends to many of the event's details — he was on me to provide images for the "In Memoriam" segment — but also manages to see a startling amount of theatre himself. If I can count on running into two people at any given opening, it's Michael Kyrioglou and David Tannous.)
"The [Helen Hayes] Awards made a comeback last night." – Laura Giannarelli
If I echo my friend Laura's congratulations to theatreWashington, I am going to disagree with her on a few points. For instance, the night did feel long to me.
Two years ago was wildly speedy, over before we knew it, before the party venue was ready (leading to everyone standing in a line outside for more than an hour), and before at least one of the awardees finished a pre-show dinner. (That was Rick Foucheux, who joked about that when he picked up Outstanding Supporting Actor in a Play—Hayes this year for Cat on a Hot Tin Roof at Round House Theatre.)
Last year seemed about right to me, time-wise. We got through all those categories, and speeches were held, mostly, to a strictly enforced length. This was greatly aided by the nifty idea of contacting nominees and asking for names they wished thanked that were then displayed on the big projection screen, thus avoiding long lists of people to whom an awardee was grateful.
This year, for whatever reason (and perhaps it was because of grousing last year that some people were cut short while others were not), speeches weren't policed as strictly. In fact, the only person I remember getting "played off" was the aforementioned Rick Foucheux. Perhaps he was being punished for his previous tardiness; perhaps, since he went ahead and finished his thoughts anyway, the band just gave up for the rest of the evening.
The projection screen wasn't entirely reliable. Most of the time, it was fine; occasionally, the screen was one name behind the presenter when nominee names were read; once in a while, it wasn't working at all.
The after-party, at 9:30 Club as it was last year, was wickedly loud, so I quickly headed to the mezzanine level. It was loud there, as well, but you didn't have to bellow right into someone's ear to be heard. Those who were dancing, though (and they were many) seemed to appreciate the pulsing beat.
The parties of old included an open bar. These days (as theatreWashington faces the same budget strains that many arts organizations confront), it's a cash bar, but ticket-holders get a couple of drinks tickets. That seems like a sensible compromise, providing complimentary libations without theatreWashington having to subsidize over-drinking. (I say that without judgment, having knocked back many a free drink in the old Marriott/Kennedy Center days.)
I'm less enthusiastic about another cost-conscious decision, which is the limiting to three nominees in the Ensemble categories. Although I fully understand that providing free seats to entire casts can consume a lot of the seating inventory and limit the earned revenue from the event, and that charging Ensemble nominees for seats is also not appealing, it's too bad that so few Ensembles end up being acknowledged with nominations.
That said, Helen Hayes is still ahead of the Tony Awards, which doesn't have Ensemble categories, just as HH was way ahead of Tony in establishing (and not eliminating — temporarily, thankfully) a category for Sound Design.
Ryan Maxwell's photos from the 9:30 Club after party
I ran into Casey Kaleba, the very busy Fight Choreographer, who is doing the violence for WSC Avant Bard's King Lear. After I noted that many of the Choreography nominees this year were working with violence, as against working with dance, Kaleba told me about participating in one of the occasional events that theatreWashington sponsors and during which artists speak with and answer questions from Helen Hayes judges, in aid of helping judges understand what goes into disciplines that some judges — many of whom are not familiar with every aspect of theatre-making — may be unfamiliar with. Kaleba noted that a catch-all Choreography category can pit Choreographers who do a third of the show (in the case of, say, West Side Story) against those who might only be doing a sequence lasting mere minutes.
This was the first year since the 80s that I didn't do anything for the entire calendar year, and, therefore, wasn't even a part of the "year in pictures" montage that opens the show and includes shots of productions eligible but not necessarily nominated.
Lucky for me, Michael Kyrioglou included in the In Memoriam section a shot (from the 2004 WSC Waiting for Godot) of my great friend Richard Mancini in which I also appeared. So, at least I was represented during the obituaries.
And on that depressing note — see you next year!