The big question in Jazz is—where's the music?
This world premiere adaptation by Nambi E. Kelley of Toni Morrison's 1992 book isn't meant to be a song-and-dance show, but still it lacks the musicality and rhythm you associate with jazz and the musical structure used by Morrison when writing the book.
Disjointed and doggedly episodic, Baltimore Center Stage's production is a tone deaf and somber work about a vivid, often violent time in African American history—Harlem during the Great Migration and the 1920s.
Going backwards and forwards in time and employing the Rashomon-like technique of shifting (and sometimes unreliable) narratives, Jazz depicts the cleaving and unraveling relationship between Joe Trace (Leon Addison Brown) and Violet (Shanésia Davis).
The play begins literally with a bang—the shooting of Joe's young and impulsive jazz baby lover, Dorcas (Jasmine Batchelor). Violet is so underdone by Joe's affair and his murderous action that she busts into the funeral to stab Dorcas' corpse.
Most people would keep a low profile after such an event, but Violet persists in striking up an unlikely relationship with Dorcas' grieving aunt, the sternly Christian Alice Manfred (Michele Shay). She's obsessed with knowing everything about Dorcas, hoping that this intimacy will help her figure out why Joe did what he did.
"You not 18. That's why." Alice plainly states to the middle-aged Violet, who struggles mentally with menopause and other changes. But as least she's not performing home abortions on herself—Violet and Joe made a youthful pact of "no babies"—and commemorating each procedure with rag dolls that festoon the marital bed.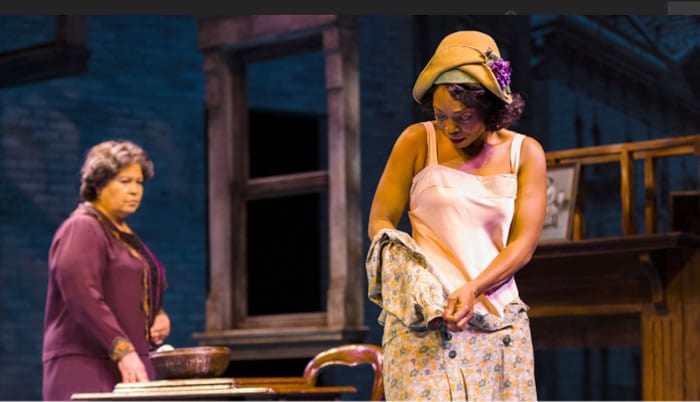 This doomed love triangle is gnawed over by the main characters as well as a chorus of disapproval constantly hovering around the threesome clucking and chattering their opinions on the matter. This Greek chorus includes a foppish Parrot (Avery Whitted)—yes, you read that right—who sings the blues and capers about. He says "I love you" to Violet—and it unhinges her.
——–
Jazz
closes June 25, 2017
Details and tickets
——–
That's just some of the fragmented weirdness of this stage adaptation, which in all fairness is faithful to the book. However, without some sort of through-line or path for the audience to journey through this world, the improvisational nature and tonal shifts of Morrison's prose do not coherently translate to the stage.
So we have a bunch of scenes and scattershot narrative, which may reflect the book's style but do not allow us any time or motivation to feel for the characters. Yes, it is tragic to have Dorcas' life cut down in its prime, but beyond that surface reaction you aren't really invested in any of the characters' stories.
Which is regrettable, since there is obvious talent in the cast and the production values are top-notch. The cast, though, seem unmoored and focused on just getting through it. Even stage great Michele Shay cannot buoy up this play, although she tries mightily in lighter-than-air moments with Batchelor's Dorcas, who it must be said executes a nimble Charleston, giving us a glimpse of the irrepressible girl she must have been.
Without any form of music, Jazz becomes a dirge.
——————
Jazz by Nambi E. Kelley . Based on the book by Toni Morrison . Director: Kwame Kwei-Armah. Featuring: Jasmine Batchelor, Jason Bowen, Leon Addison Brown, Jasmine Carmichael, Shanésia Davis, Warner Miller, Michele Shay, Benja Kay Thomas, Avery Whitted. Music Director and Composer: Kathryn Bostic. Scenic Designer: Tim Mackabee. Costume Designer: David Burdick. Lighting Designer: Michelle Habeck. Projection Designer: Alex Basco Koch. Sound Designer: Shane Rettig. Hair, Wig and Makeup Design: Tommy Kurzman. Choreographer: Paloma McGregor. Dramaturg: Arminda Thomas. Fight Choreographer: Rick Sordelet. Stage Manager: Geoff Boronda. Trombonists: Greg Boyer, Jared Denhard. Produced by Baltimore Center Stage . Reviewed by Jayne Blanchard.