Some plays are compelling because their dilemmas are so universal they provoke the shock of recognition in all of us. Disgraced is like that. Other plays are compelling because, though the characters are repulsive, they are repulsive in so entertaining a way that we cannot take our eyes away. August: Osage County is like that. And then there are plays that are compelling for no other reason than the way they are told. Ladies and gentlemen of the jury, I give you Exhibit A — Still Life with Rocket.
I do not know you, but I'll wager Still Life's story is not yours. Etta Fisk (Annie Houston) was once a boxer and boxing coach, and is now barreling into senescence. She birthed or adopted four children during her lengthy life — the truculent Cyrus (Jared Shamberger); Caleb (Ben Gunderson), manic and destructive, with a criminal past he wants desperately to redeem; Tracy (Teresa Spence), who comes off as an urban sophisticate at the play's outset but reveals herself to be a snuff-dippin' wild woman when the rubber hits the road, and the saintly Nathan (Justin Weaks), who cares for Etta with a sweetness and compassion which serves as the moral center of the play.
There is a sixth character, who is not mentioned until the end.
If you wish to learn the Fisk family story, you must be patient. You must visit their house, room by room. You begin with the kitchen, where Etta — her sink full of dirty dishes — is watching the first round of a women's international boxing match while sticking her foot between the pages of a book. You move to the next room, and see Cyrus laughing over pictures; see Tracy reviewing a birth certificate; see Caleb watching a video of a child shadowboxing in the woods. In the final room, you see Nathan, putting together an improbable booklet about the spaceship Voyager's departure from the solar system, and also a book about his family's life.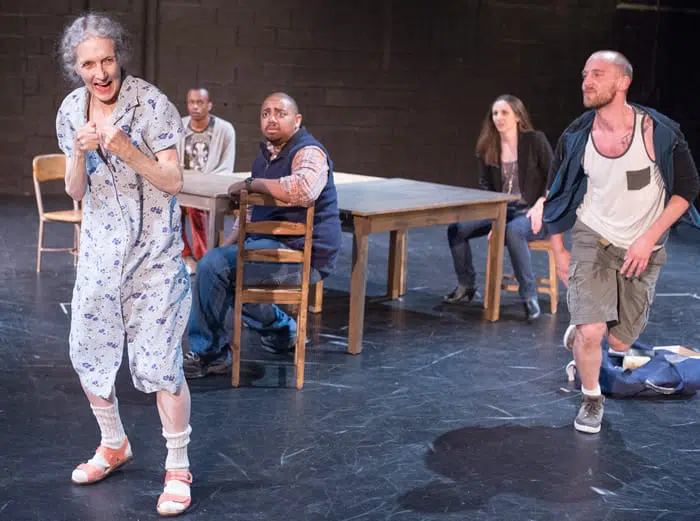 And then — a sort of ballet in a boxing ring. Two women (Devinne Cook and Kate McFalls) — sans mouthpieces and boxing gloves, but otherwise dressed for a bout, face each other in a chalked ring. Nathan calls the fight, but what you see is nothing like what you hear.  Nathan describes a brutal fight, but we see the women embracing, dancing, trying to lift each other up. You notice that one of the women has a bruise on the back of her calf, the size and shape of a small iron. Nathan performs a rap, badly, about the Voyager spaceship about to leave the heliotrope and become a message in a bottle for the rest of the Universe.
And then the play begins. You notice that Etta has a bruise on her leg, the size and shape of a small iron. She is in the humiliating grip of senility, and so Nathan, awash in the redemptive glow of love, bathes her and cares for her. Her other children have come to celebrate her 'birthday' — Cyrus, Tracy, and finally the black sheep, Caleb. They react as the adult children of dementia victims often do, with a mixture of concern and black humor. They interrogate Nathan closely about Etta's condition, and then turn her constant word repetitions into a drinking game.
With some stories — I'm thinking now of Catch-22, but there are plenty of others — you don't know where you're going until you get there. Still Life is one of those stories. Much of the play is anecdote and family lore, heavily punctuated by a game which is tremendously useful for people who crave intimacy but do not know how to achieve it: Truth or Dare. Gradually you realize that notwithstanding their rough edges, these adult children are sweet people. Eventually they decide to streak through the forest behind the ramshackle house, and you see how they must have been as children, giggling and uninhibited, back when everything seemed to make sense.
Anecdote and lore is a way of peeling back family secrets, and the one at the end packs a wallop that will increase your heartbeat and respiration.
Plays like Still Life are tremendous gambles for the artists who stage them. There is no compelling mystery to drive the plot forward and engage the audience. Without that mystery, the production must find something else to compel you — language, story, performance, atmosphere. Still Life succeeds in all four of these elements, for every minute of the play. Every performer is committed to the truth of his character throughout, but here are two performances which stand out even against this glittering cast. 
——–
Still Life with Rocket

closes July 2, 2017
Details and tickets
——–
Some actors bring sunshine and thunder to their roles, but Ben Gunderson brings an entire weather system. Caleb is, at once, a man inclined to trouble as the sparks are bound upward; a man profoundly troubled by and sorry for his past; a man who loves his family; a man who hates his family; a man governed by impulse and a man who is shamed by his every impulse. Gunderson gets every bit of his character, and gives it back to us in.
It's easy to think of "acting" as the assumption of a false identity. But that isn't acting, that's "acting" — in the sense that Jon Lovitz's "Master Thespian" would "act" in the old Saturday Night Live sketches. Real acting requires the artist to manifest the true feelings of the real human being which the playwright has created, however harrowing those feelings are. A real actor gives herself entirely over to the character, and that's what Annie Houston does here.
We see Etta in all her confusion and terror, trembling and picking at her skin, her face a cloud of mystification. Occasionally she will see or hear something she thinks she understands or remembers; on those occasions her face will become suffused with joy and she will squeal in delight. Occasionally, she will launch a rambling and disconnected discourse, an addled compilation of half-remembered and half-imagined events, and her relief at being able to release these incomprehensible utterances is so profound that you will feel relief, too. Those who are in the grips of dementia often seem alien to us, even if they are our parents; Houston with this performance makes Etta fully human.
Still Life with Rocket is experimental theater, but it is of a kind in which the experiment doesn't overwhelm the theater. Theater Alliance utilizes every cubic inch of the Anacostia Playhouse, including the dressing rooms, to create the Fisk homestead (Andrew Cohen is the scenic designer). The boxing-ring choreography (Kelly Maxner and Mollye Maxner are the movement directors) will not make immediate sense; wait for it to do so. Matthew M. Nielson creates a soundtrack for the play which so intimately corresponds to the story as it unfolds that it will be impossible to remember the story without remembering the music.
This is a devised work, which Mollye Maxner conceived and directed. As I understand the term, this means that all the artists involved in the production might have contributed to the dialogue and the plot. This, for reasons you can imagine as easily as I can, could be disastrous in the wrong hands. But we're in the right hands here. The play proceeds as seamlessly as if it was designed by one mind, amplified by a dozen brains.
————–
Still Life with Rocket, a devised play conceived and directed by Mollye Maxner, with Matthew Alan Ward as assistant director . Movement directed by Kelly Maxner and Mollye Maxner . Featuring Annie Houston, Justin Weaks, Teresa Spencer, Jared Shamberger, Ben Gunderson, Devinne Cook and Kate McFalls . Scenic design:   Andrew Cohen . Song design, original music and songs: Matthew M. Nielson . Assistant sound designer: Tosin Olufolabi . Lighting design: William K. D'Eugenio . Costume design: Kelsey Hunt . Projections and Multimedia Design : Kelly Colburn . Properties designer andset dressing: Patti Kalil . Production manager: Scott Little . Stage manager: Eric Swartz . Commissioned and produced by Theater Alliance . Reviewed by Tim Treanor.