In a moving memorial, director and co-conceiver Todd Kreidler uses solo actor Eugene Lee to call his friend and mentor's spirit back to the world. Playwright August Wilson seized the opportunity to take us back to his young adulthood, sharing hard won lessons with wisdom, care, and righteous anger. How I Learned What I Learned is inspiring, funny, and absolutely gorgeous. Even so, a lack of overarching structure means it falls just short of entrancing.
Wilson wrote and performed a prototype of How I Learned What I Learned two years before his death in 2005, with Kreidler directing and devising along with the two-time Pulitzer Prize winner.  A decade later, it was remounted as a play for a solo performer. Now Round House Theatre brings Kreidler to DC and with him Wilson reincarnate, Eugene Lee.
Solo performances are a huge gamble, and Lee does a masterful job keeping his work varied. Through anger and humor, from lecturing on a dictionary's definitions of black and white people to complimenting a friend's wife's cooking, Lee so fully embodies Wilson that the playwright's words are wholly natural coming from him.
His many impressions, all bold and clear, never break his consistent character as Wilson, as a lesser solo performer might. It's always Lee as Wilson as a person from his memory, keeping the audience's focus unbroken.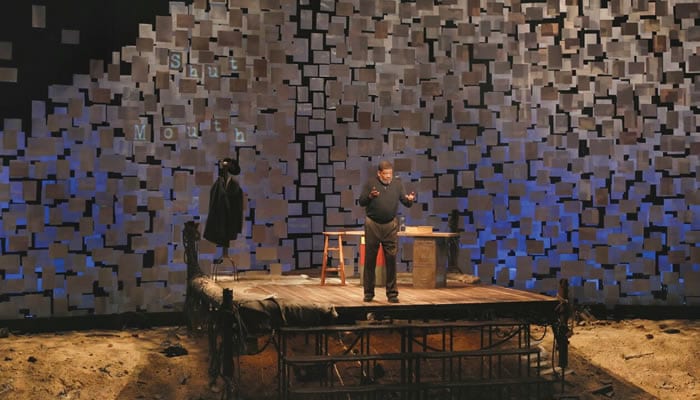 David Gallo's set is more gorgeous than it has any right to be, by far. The show could be done as a simple lecture with no set at all, but Gallo creates a surreal landscape, maybe in Wilson's head, or maybe in between worlds. Lee starts off on a wooden platform with a stool, coat rack, and desk, then walks down a set of stairs into a pile of sand and wreckage that surrounds his dreamlike study.
——–
How I Learned What I Learned



Closes July 2, 2017
Details and tickets


Behind the stage are several layers of mismatched papers, an apt metaphor for a writer's mind. Gallo projects chapter titles onto the papers, letter by letter with the clatter of a typewriter.  They also give lighting designer Tom Weaver a perfect playground. The whole rainbow eases across the backdrop, which often contrasts colors between the papers and the wall behind. Weaver also knows just when to give the beautiful set to darkness and focus solely on Lee.
Despite all that, How I Learned What I Learned does drag at times. Mostly due to Wilson's tendency to meander, the play just doesn't build. Its story is mostly chronological, though sprinkled with tangents back to childhood, but there is no clear finish line to measure the progress. Instead, Wilson drifts from one life lesson to another. Though individually inspiring, too often a new chapter feels like shifting gears in a car, only to end up back at the gear you started.
How I Learned What I Learned has many unforgettable moments: Wilson's stories about his friend Cy Morroco, a couple moments of mortal peril in pursuit of respect, Gallo's otherworldly set, Weaver's amazing lighting… Just shy of perfect is still a grand tribute.
——–
How I Learned What I Learned by August Wilson. Co-conceived and directed by Todd Kreidler. Performed by Eugene Lee. Scenic and projection design by David Gallo. Lighting design by Thom Weaver. Sound by Dan Moses Schreier. Stage managed by Che Wernsman. Produced by Round House Theatre. Reviewed by Marshall Bradshaw.