Screens shaped like shards of broken glass splay the Theater J stage. Upon them the company, in collaboration with the Holocaust Museum, has projected photographs and home movies taken in Germany, in 1938.  Some of them feature der Führer. Some of them feature the military might of Nazi Germany. Some of them feature children. They are designed to focus our minds on the context in which Sylvia Gellburg (Lise Bruneau), a middle-aged Brooklyn homemaker, suddenly lost her power to walk.
If only Arthur Miller had had a device like this on hand when he was writing the play! But he didn't, so instead of the sharply shaped depth charge to our conscience the play was apparently intended to be, Broken Glass is a murky medical mystery tour, conducted by Dr. Harry Hyman (Gregory Linington).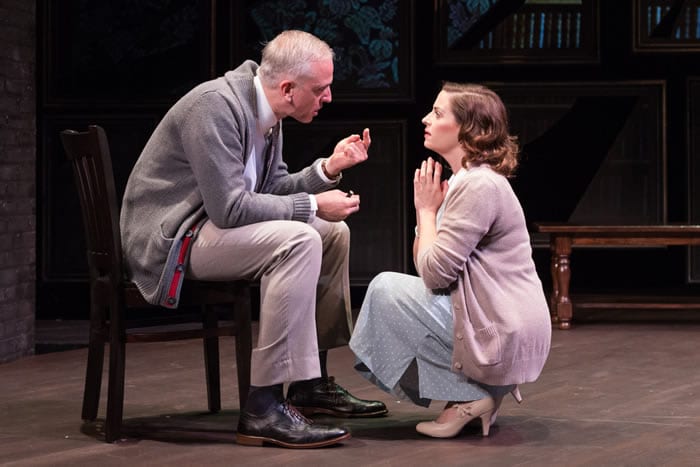 Hyman is an ultra-smooth medico who has married a gentile (Kimberly Gilbert) and is so thoroughly assimilated that he rides a horse for fun. ("My people were horse traders in Odessa," he explains when another character notes how un-Jewish the practice seems to be.) He and a specialist have examined Sylvia, he explains to her husband Phillip (Paul Morella), and could find nothing physically wrong with her. Ipso facto, her paralysis must have psychological roots.
Finding those roots becomes Hyman's defining mission for the remainder of the play. The problem is that Sylvia appears to be relentlessly normal, except for her unusual interest in the obscenity now known as Kristallnacht, which she reads about in the newspaper.In visit after visit — this doctor makes house calls! — Hyman probes into Sylvia's innermost secrets, and, at last, she serves them up. Imagine Nora in A Doll's House, had she made a different choice, and you will pretty much get Sylvia.
If Sylvia appears to be a completely normal person, the hysterical diagnosis Hyman is so determined to pin on her might more accurately be conferred on Philip, whose voice crackles with enough tension to remind you of a poorly-grounded switching box during an electrical storm. Philip, who aspires to assimilation but lacks the doctor's talent for it, heads up the foreclosure department of a huge Brooklyn mortgage company. He readily toadies up to the company's genial, patronizing, uber-WASPy owner Stanton Case (Stephen Patrick Martin), who has helped Phillip's son get an appointment to West Point.
Philip is overwrought from his first moments on stage, but from the text it seems clear that Miller intends it so. Morella builds his character slowly, layering tic upon tic so that he grows from merely a little odd to somewhat paranoid to dangerously unstable. Sometimes this doesn't work (I am thinking about when he bursts into tears after a domestic disappointment) but when it works — such as toward the end, in a soliloquy on being Jewish in America — it works beautifully.
Miller spools out the play's mystery in the most straightforward way possible, as Hyman rigorously interrogates Sylvia, Phillip, and Sylvia's sister Harriet (Michele Osherow). Hyman is a bit of a hound (there is a nice moment at the end of the first scene in which he seduces his wife) and he is not above encouraging Sylvia's romantic interest in him. This might have been a standard dramatic trope in 1938, but by 1994, when the play received its first performance, it would have bought him a lawsuit, and by 2017 it would have cost him his license.
——–
Broken Glass

closes
 July 9, 2017
Details and tickets
——–
Hyman's amorous moments with Sylvia throw the doctor's loose ethics into high relief, but there are other causes to question his character as well. If he is really convinced that Sylvia is a victim of hysterical paralysis, why doesn't he call in a psychiatrist? (Miller poses some reasons, but they are feeble and pretextual). For that matter, his glib diagnosis of hysterical paralysis seems faintly offensive; in 1938, doctors were prone to attribute symptoms they couldn't explain to mental conditions rather than doing a more rigorous investigation (now, too, I suppose). For a character who is supposed to be the moral center of the play, Hyman has some remarkable character flaws.
Lost in all of this, of course, is Kristellnacht. Is this dread event — only Sylvia recognizes it for what it is — the cause of her suffering? Or is her paralysis due to one of the more personal causes Hyman dredges up during the two and a half hours' traffic of our play? Does it matter? Suppose it is Kristellnacht: the temporary paralysis of a woman three thousand miles away would have been the least significant consequence ever of a night which eventually spawned the murder of six million Jews. In any event, Miller ends the play with a very unsatisfying deus ex machina before we ever find out.
Theater J does what it can with the piece. Aaron Posner's cast is fully and sweetly committed to Miller's vision, cloudy as it is here, and Osherow in particular is a delight. The technical is first rate; notably, Tyler Gunther's costumes are wonderfully evocative. Udi Bar-David — projected onto the many screens — plays a beautiful cello.
But the play itself doesn't work. In The Crucible, Arthur Miller wrote the prototype of the modern allegorical play. At every moment it was a play about itself: the Salem witch trials. And yet it was impossible to look at any element of the play — the mode of accusation, the state's yearning for coerced confessions, the impossibility of defense — and not be reminded of the McCarthy hearings. By this measure, Broken Glass fails. The horror of Nazi depredations, and the failure of the civilized world to react until it was nearly too late, stands apart from the psychodrama which envelops Sylvia, Phillip, and Hyman. Excellent acting and a fine production can only partially redeem such a failure.
——————-
Broken Glass by Arthur Miller, directed by Aaron Posner. Featuring Lise Bruneau, Paul Morella, Gregory Linington, Kimberly Gilbert, Michele Osherow, and Stephen Patrick Martin . Set design: Andrew Cohen . Costume design: Tyler Gunther . Lighting design: Harold F,. Burgess II . Projection design:  Mark Costello . Projection design mentor: Jared Mezzocchi . Sound design: Justin Schmitz . Cellist: Udi Bar-David . Props manager: Kevin Laughon . Resident casting director: Naomi Robin . Dialect/vocal coach: Nancy Krebs . Movement consultant: Casey Kaleba . Stage manager: Kate Kilbane, assisted by Elizabeth Crino and Jenny Rubin . Produced by Theater J . Reviewed by Tim Treanor.