No other play now on area stages has been more enhanced by its soundtrack than Theater Alliance's Still Life with Rocket.  Matthew Nielson's underscored music, sound effects and songs of this collaborative production are so perfectly tuned to the performances, it is difficult to imagine the play without them.
Nielson, writing from his recording studio Sound Lab Studios in Asheville, NC, explains how deeply embedded he was in the evolution of the play and shares some clips. The entire score, including some bonus tracks that didn't make it into Still Life, will be on iTunes in a week or so.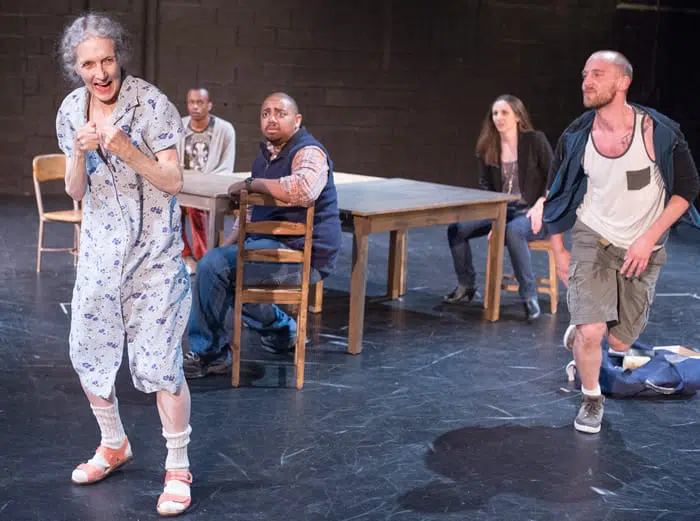 ——————
Matthew Nielson:
Mollye Maxner and I had just worked on our first production together, Occupied Territories, which was a devised piece produced by Theater Alliance. We knew even back then that music would have a huge role in whatever this new piece turned out to be. Back then the story was going to take place deep in the mountains of North Carolina, and the music was going to be much more reflective of that.
So I've been a part of the creation process of Still Life with Rocket for almost two years now, when it was an entirely different telling of this story and had a different name. Sound designers (designers in general, but especially sound designers) are usually brought on to a production much later in the process than this one. Being a part of, and having a voice in the evolution of a story like this has been fascinating, creatively invigorating, and challenging in a whole new set of ways than I'm used to. We all have to be fairly skilled in collaboration in this business, and this show gave me a whole new level of appreciation for that.
A piece like this breathes and changes on its own, and I felt often like I was not only collaborating with the Mollye and the design team and the cast, but the piece itself.
When rehearsals started, Mollye and I talked almost daily about what was happening in the room and what that meant for the music that needed to support them. Things started to solidify a bit more – we knew we would have at least two, maybe three moments in the show that would be abstract and music driven and we knew there would be a song that the cast would sing.
I've historically had a tough time writing traditional songs myself. Usually when I write a song it's with a co-writer, or there are lyrics in a script that I'm putting to music. I had a moment while thinking about this show that I would try and write these songs myself. I had a great conversation with Mollye about what these songs could sound like and how they should be crafted around the story. And then had many "WHAT HAVE I DONE?" moments.
The first song I wrote for the show was "Holler Down."
You are listening to "Holler Down" created by Matthew Nielson for Still Life with Rocket
It came out when Mollye described a scene that would be an abstracted physical embodiment of Etta losing her mind and not remembering things right while running through the woods trying to find something that isn't there. Her description spoke so strongly to me that I knew exactly what I wanted it to sound like. I had done some work on a new album by a good friend of mine in Asheville, Pierce Edens. I knew I wanted this song to feel like some of Pierce's music from this disc – gritty, earthy, bluesy with a mix of rock and mountain music. I asked Pierce over to my studio and played him some of the things I was working on. We bounced some ideas back and forth, and I had the bulk of the song done a couple hours after Pierce left. Once I got to back to DC and watched some rehearsals, the second verse came pretty easily.
The next one, "Tectonic," was much more of a challenge.
You are listening to "Tectonic" created by Matthew Nielson for Still Life with Rocket
Mollye had been using a "temp track" while writing and rehearsing the show, and that is always both a blessing and a curse. I know what the director wanted it to sound like – emotional, longing, folky with some abstract electronica thrown in, – and I have to write something that feels like that, but isn't that.
——–

Still Life with Rocket

closes July 2, 2017
Details and tickets
——–
I've gotten pretty good at accomplishing that with instrumental scoring, but to me songwriting is a whole different ballgame. I actually have three or four different starts to this song that may or may not make the album. I even enlisted the help of a wonderful poet that I met doing a show in Cincinnati to help write the lyrics. What T.M. Derrickson wrote was stunning, and I might still use those lyrics on one of the songs that didn't make the show, but as the show progressed and evolved in rehearsal, they fit less and less.
We were within a week of tech before I had the version we stuck with. It ended up being a culmination of all the previous versions of music and words, stream of consciousness writing based on what I felt while watching this section in rehearsal, and in the end, just going with my gut and making something that I wanted to make, and that sounded good to me, instead of trying to keep it so closely tied to the temp music.
The more I worked on the songs for this show, the more I was plugged right into it. I watched the design run and had a long conversation with Mollye about different sections, and the next day started writing "The Rocket Song" which would become the song that some of the cast would sing.
You are listening to "The Rocket Song" created by Matthew Nielson for Still Life with Rocket
This one wanted to sound like a song that might have been around forever. Something moms taught their young daughters. More mountain/folk/Americana than anything else. We hear snippets of this song sung throughout the show, and I'll just say that hearing the cast sing something I wrote and make it sound better than I ever could have imagined was amazing. It gave me goosebumps every time.
There are a few other big pieces in the show. The song that plays during curtain call is one of the more complete ideas from the Tectonic section. There are a few pieces of instrumental music that play during the beginning part with the abstract boxing and Nathan storytelling. One of those is from my music library, and the other two I wrote just before, during, and just after tech.
You are listening to "Off the Ground" created by Matthew Nielson for Still Life with Rocket
Music did the bulk of my heavy lifting on this production, but I did put some detail work into the sound effects. There is a boxing bell that denotes the beginnings and ends of all of the boxing rounds in the beginning. I took a few of my favorite bell sounds and crafted one that is nice and clear with a tail that lasts a long time. The rest of the effects are all ambiences. The entire play takes place outside in a few different locations, and I recorded all of them in the mountains of North Carolina and Virginia to get as close to real as possible. There are different ambiences for rural mountain morning, afternoon and night, as well as deep woods in the mountain and a mountaintop wind.
Now that I have a some distance from the process I appreciate how important it is to have an environment where you can try new things and creative teammates who allow you to be really awkward along the way. This production pushed many of us out of our comfort zones, and I'm so grateful to have been a part of it all.

Video by Kelly Colburn, edited by Colin Hovde, sound and music by Matthew Nielson