Before opening to wide acclaim on Broadway in 1982, and before Donny Osmond began a decade-long run as the title character in film and on stage, Joseph and the Amazing Technicolor Dreamcoat made a name for itself with staged concerts.
One of the those was performed at Catholic University in D.C., where Toby Orenstein was teaching. , she immediately fell in love with Joseph's lyrics by Tim Rice and music by Andrew Lloyd Webber.
"I just loved it right from the beginning," Orenstein says. "Of course, it was a different interpretation back then—the narrator was a man, and it was much more simplistic, but it was so charming."
Following that staged concert, the musical went to Olney and did so well that it soon was staged at Ford's Theatre, where it earned even more acclaim. Not long after, it made its bow on the Great White Way.
"I had two students in that production and I've always loved it because of my personal connection," Orenstein says.
As founder and director of The Columbia Center for Theatrical Arts, as well as Toby's Dinner Theatre, Orenstein has done Joseph as much as any other musical through the years.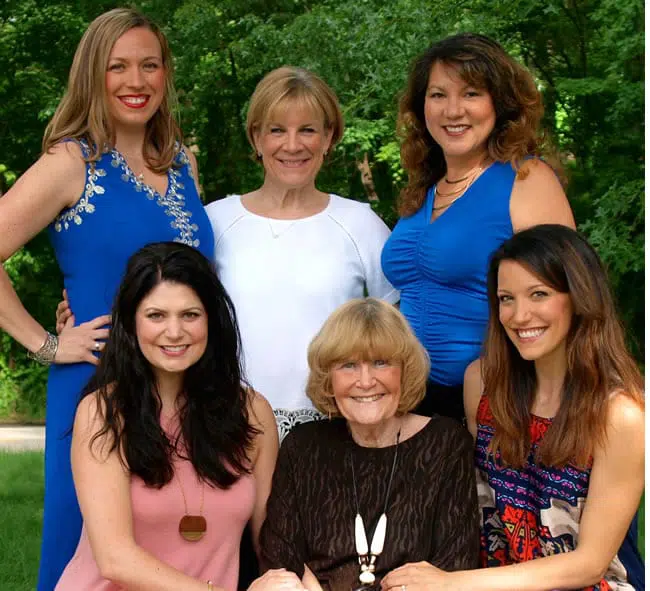 "Every 10 years or so, I pull it out and do it again. I'm amazed at how many people have never seen it and how many people are so fond of it," she says. "In the simplest terms, the show is about having a dream and making that dream a reality."
To commemorate the 50th anniversary of the city of Columbia and the 45th year of Orenstein's school, she decided it was time once again to dust off the show for her Columbia dinner theatre. Only this time, she wanted to do something a little different.
"I'm a big risk taker in life and have been lucky that most have turned out okay, or changed the course of where I'm going," Orenstein says. "I think it's good to every once in a while shake things up and try something new."
Her unique plan was to invite five different actresses—all with a past connection to the theatre or school—and have them rotate through the role of the Narrator with each one performing for just a couple of weeks.
"With such a wealth of talent at my fingertips, it was a no-brainer to try this," she says. "You couldn't really do this with many shows, but with one like Joseph, where the narrator is the storyteller, you can have various people doing the part without it affecting the show."

For the uninitiated, the musical tells the Old Testament story of Joseph, his brothers and his amazing coat as it comes to vibrant life through uplifting song and dance. The show is co-directed by Orenstein and choreographer Mark Minnick.
The Narrator is a vital component of the show, as she uses both words and song to guide the audience gently through the story, bringing her own meaning to the story with those words.
First up as the Narrator, is Caroline Bowman, who started last weekend. Bowman is  a life-long Columbia resident, who has graced the Broadway stage in the original company of Kinky Boots and more recently as Elphaba in Wicked.
"She tells a very wonderful story as the Narrator. She is very warm and from the time she opens her mouth, she invites the audience into this piece," Orenstein says. "Her success has not gone to her head. She is still that young, exuberant kid who wants to do her best and will try anything to get to that place where she can nail that objective into the character."
Janine Sunday begins filling the Narrator's shoes on June 24. A four-time Helen Hayes Award nominee, Sunday originally portrayed the Narrator in Toby's 2008 production.
Toby's regular, Coby Kay Callahan will be the third Narrator, starting on July 11. She also played the Narrator in 2012 when Toby's had a stage in Baltimore. Cathy Mundy, who received a Best Actress Helen Hayes Award nomination for playing the Narrator in a 1997 Toby's production takes on the role beginning July 27.
Rounding out the list of guest Narrators will be Marykate Brouillet, a graduate of the CCTA program. She has more recently been seen in leading roles at Toby's in The Addams Family and as Peter Pan in the musical version of J.M. Barrie's play. She finishes the run, appearing Aug. 11 through Aug. 27.
——–
at Toby's Dinner Theatre of Columbia
closes
August 27, 2017
Details and tickets
——–
"I know all these girls really well, and have the confidence and faith that they will all do a fabulous job," Orenstein says. "All will be different and add their own nuances so the interpretations won't be the same."
For example, while Bowman is very exuberant and loves Joseph as a young man, Mundy will be more motherly towards the character in her story.
"I have seen the differences in rehearsals and both are wonderful interpretations," Orenstein says. "It keeps things fresh and everyone on their toes and it's very exciting."
To celebrate the special occasions even more, Orenstein has arranged a huge reunion this upcoming weekend with a multitude of past performers—many who have found success on Broadway or elsewhere in theater—coming back for the festivities.
On Saturday, there will be a salute to CCTA, tracing its history through musical numbers. Bowman will be singing with her class of Young Columbians, including fellow Broadway stars Margo Seibert (Rocky, In Transit) and Brynn Williams (13, Bye Bye Birdie).
On Sunday, the Smith Theater will host two Inside the Actor's Studio events (1 p.m. and 3 p.m.), featuring seven people who will talk about how art affected their choices in life. The talks will be moderated by Bill Graham, Jr., whose father was the former head of Catholic University. Among those being featured will be Seibert, actress Tracie Thoms (Rent) and Steve Blanchard, who played the Beast on Broadway in Beauty and the Beast.
Tickets to the weekend celebration are available through CCTArts.org.