Perfectly timed since the region is still enthralled from the excitement of the near total solar eclipse, Aglaonike's Tiger is a stylistic rendering of one of the earliest female astronomers who predicted lunar eclipses.  The young scientist, accompanied by her beloved tiger is determined to understand and predict the movement of the heavenly bodies. The play highlights a fascinating yet little known Greek history with a playfully modern sensibility directed with a lilt of care by Deborah Randall, who also plays the high sorcerer priestess Erichtho, The sophisticated script by Claudia Barnett brings us along for the journey with such a neat ebb and flow that it's easy to find yourself hanging onto her every word. 
Ann Fraistat plays Aglaonike with wide-eyed innocence, listening to her beloved YiaYia grandmother's admonitions to "keep trying" that are as much riddles as lessons about being brave, and yet careful, which is not the same thing as having no fear.  These notions stay tucked in the back of Aglaonike's mind while she works out formulas and equations and carefully notes the positions of the heavenly bodies.
Sorcery and magic are in a beautiful tension with mathematics and logic throughout. Aglaonike is determined to convince her fellow astronomers that math, science and logic hold the universe in place, and that she has figured out the mathematical formulations to predict the lunar eclipse.  The problem is, she's a woman, and, well, that's enough to be totally discounted.  That's when Aglaonike realizes there's a time and place for sorcery and side show tricks after all, if that's what it takes to get people's attention and to save her precious tiger.  While Aglaonike maintained the strength and power of math and science, she gets pulled into the magical realm and ends up using that for self-preservation. Since she couldn't be accepted as more knowledgeable than the male astronomers, she had to be a witch.
The play has many lessons about appreciating the strength that comes from all places including where least expected. Bravery is analyzed with as much calculated precision as a scientific formula. What does it mean to be brave?  It all depends on the circumstance and the impact on loved ones and society. Aglaonike made a difference while being herself and doing what she needed to do. She persevered to prove she could predict the marvel of a lunar eclipse.   
——–

Aglaonike's Tiger

closes October 1, 2017
Details and tickets
——–
Matthew Marcus plays the Tiger and moves with a feline grace of ferocious skill.  I've seen some stealthy moves in my day, but I swear this one is the ultimate.  All the mannerisms are in place as he listens attentively and reacts as if responding to Aglaonike— he even licks his paw-like hands so perfectly that he truly becomes a stalking feline.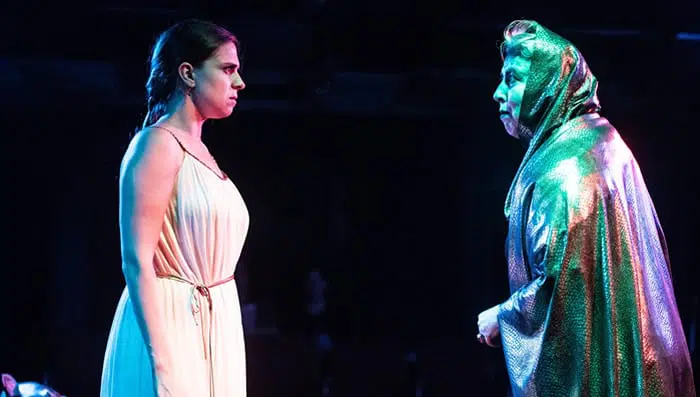 Toiling as the three witches and ensemble characters are the talented Katie Hileman, Katie Jeffries Zelonka and Amy Rhodes.  They added a flair to all of their scenes. Whether as a chorus of onlookers, witches, carnival patrons, or sentinels on duty, they  play off of each other with a natural rhythm.
The lighting coordinates perfectly with the set design, the handiwork of dynamic duo Kristin A. Thompson and Amy Rhodes who create a mysterious ambiance when lights and shadows appear suddenly on demand.  The raised platform works beautifully with characters dipping in and out as if disappearing into an alternate universe. Even the artwork for the program, cover designed by Olivia Lightner is compelling and brings you into the story.
The luminous moon prominently positioned above the raised platform has a feminine orientation and is a work of art, whether fully lit or in partial crescent formation.  Sound designer Neil McFadden adds a level of anxious anticipation with deep dark bass cello passages along with thumping ominous tremors worthy of the gods, interspersed with heartbeat type rhythms. The characters react with awe and fear as the full moon slowly disappears into crescents and then reappears. Ancient texts describe the fear and trembling of onlookers as the celestial bodies took on a life of their own, totally unexpectedly.
The beauty of Aglaonike's Tiger is the sense of a young girl's discovery in real time – whether she's figuring out the planetary movements, negotiating with the high priestess, coming to grips with her grandmother's death, or still learning from her in the afterlife.  The Tiger is part of her coming of age since their relationship transforms over time showing the constantly changing evolution in a loving partnership, even with a tiger.  It's a great premise, and in the hands of Venus Theater, it's a terrific show.
—————-
Aglaonike's Tiger by Claudia Barnett . Directed by Deborah Randall . Cast:  Ann Fraistat, Matthew Marcus, Deborah Randall . Set Design— Amy Rhodes . Costumes and props designed by Deborah Randall . Lighting Design –Kristin A. Thompson . Choreographer –Alison Talvacchio . Sound Designer— Neil McFadden . Mask Maker –Tara Cariaso . Puppet Bones—Matthew Pauli . Stage Manager— E. Lynda Bruce . Produced by Venus Theater . Reviewed by Debbie Minter Jackson.