A legendary Spanish character, that has inspired work by luminaries including Moliere, Goldoni, and Mozart, has leapt onto the stage at GALA Hispanic Theatre in a sizzling new adaptation, Don Juan Tenorio based on José Zorrilla's romantic drama that continues to conquer female hearts. In this new vision, the rapacious cock of the walk and fiendish vampire finally finds redemption in the true love of a young woman.
GALA doesn't shy away from creating pungent, physically bold and emotionally charged productions, and that's what is called for in this world premiere adaptation by Nando López. Director José Carrasquillo has deepened the process in mounting the show by pulling in psychological analyses of all the characters.
The audience doesn't just experience the lushness of love and death and love after life, but Carrasquillo turns a somewhat jaundiced modern eye onto the motivating forces of male and female socialization which brings spice and humor to the mix.
Don Juan (Iker Lastra) and Don Luis (Peter Pereyra) strut and pose and occasionally grab their crown jewels to show how macho they really are as if they were rough teenagers on some street corner. We watch how this kind of peer-pressured ritualization can have negative consequences. The two Dons make a bet on who can bed the most women (rape and murder being all part of the accepted norm.) Words lead to actions. Actions lead to destinies. Destinies finally come up against divine judgment. (Unless, perhaps there is redemption through love.)
The women are a little more complicated, as are their rituals and destinies.  This is exemplified most particularly in the role of Brigida. Luz Nicolás, a celebrated actress and long-time GALA company member, has created a most memorable character. From her ultra chic sunglasses to her shockingly high platform booties, she strides around like one "cool" madam. An independent female and therefore trained to manipulate in a world full of dangers, she pokes at the air and peers with intensity at any creature in front of her as if she is testing for freshness before she eviscerates him.
Her Brigida is an amalgam of characters from the well-populated cast of Zorilla's original play, a woman who has to play two sides, serving at least two masters (Dona Ines' Father and Don Juan, whose antipathy for each other is life threatening.) Nicolás plays a woman who, with rapier wit, thoroughly enjoys playing one person off against another when the stakes are high.
On the other end of the spectrum there is Doña Inés who first appears to be transparently innocent and a novitiate, therefore impressionable and vulnerable, even possibly a "little fool" clinging in her crush to Don Juan and easy pickings for him to take and leave. But her character is tested over and over in the story.  By the end she has matured into the voice of transcendent love.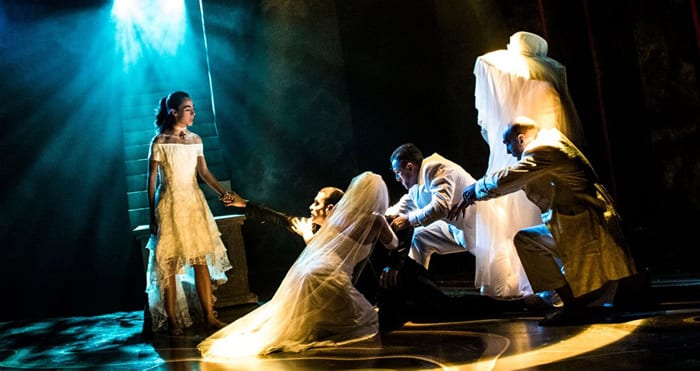 The central arc of the production lies in the performance of Lastra as Don Juan. He combines the athleticism of European corporal theatricality with the intense brooding intimacy of a film idol. Many will remember him from GALA's production of Yerma (for which he and Nicolás were nominated for best supporting performances.) He moves between the two styles demanded in this production.  He prowls cat-like around the stage, pouncing into fights, rolling and slamming his partner Pereyra (in gorgeously staged combats by Jonathan Ezra Rubin.) Then with Inés Domínguez del Corral he goes in for those close-up moments of great tenderness with such mastery he makes one almost forget he is also delivering great swaths of poetic lines – all with that perfectly seductive Castillian lisp of his native Spain. 
——–

Don Juan Tenorio

closes October 1, 2017
Details and tickets
——–
The romantic style of Castillo's work grounded in modern physicality is brought out especially well in this production. Pereyra makes a great foil to Lastra, in particular his physical abilities, honed by his work with Synetic Theater. Carlos Castillo leaps around the stage in his combined roles of servant, Juan's father, and the sculptor with a jester-like grace. Manolo Santalla bring gravitas and a steely authority to the role of man whose daughter is seduced by Don Juan.  Unfortunately, Paz López in the Doña Ana role has less stage time to develop as faceted a role but holds her own in embodying physical grace.
The work of adaptor López has been to telescope the action and compress the characters and it works well for the space.  The first act is set on the eve of Carnival, and so the stage is made busy and colorful with commedia style masks and a panel of peekaboo screen doors that flip to reveal mischief with mistaken identities and other debauchery. The second act becomes an icy, deep-freeze of a cemetery where ghosts of Don Juan's past come to haunt him and pull him to the gates of hell to join them. Don Juan's aging flesh and blood agony is set in dramatic contrast to the ghostly marble stoniness of the other characters, his victims, who have gone before.
The production has a few flaws starting with some insufficiently developed characters (ie. Doña Ana) and unresolved motivations of compressed characters. I am not clear if Doña Ines  (in the script) actually forfeits her soul in the action where they ascend together. The ubiquitous sarcophagus seems to tip and migrate on stage with a mind of its own like one of those "death chambers" that won't stay anchored in New Orleans. On the rare occasion, the sheer volume of poetry can't be sustained even by the dreamy Lastra and senatorial Santalla.  Nonetheless, we can be assured, Don Juan receives salvation in what becomes a religious play.
All in all, Don Juan Tenorio beautifully showcases GALA's outstanding creative team. Playwright Lopez receive the 2016 Helen Hayes Award for his adaptation of Yerma. Scenic designer Giorgos Tsappas and Christopher Annas-Lee deserve similar recognition for their work here:  the somewhat abstract set bathed in smoldering red for Don Juan Tenorio's first act, grows first cold and ghost-like for the beginning of Act II then amps up with a luminous stairway to heaven by its glorious end.
In Spanish with English surtitles
———————-
Don Juan Tenorio. Written by José Zorrilla. World Premiere Adaptation by Nando López. Directed by José Carrasquillo. Scenic Design by Giorgos Tsappas. Costume Design by Jeffrey Peavy. Lighting Design Christopher Annas-Lee. Sound Design and Original Music by David Crandall. Fight Choreography by Jonathan Rubin. With Carlos Castillo, Inés Domínguez del Corral, Iker Lastra, Paz López, Luz Nicolás, Peter Pereyra, and Manolo Santalla. Produced by GALA Hispanic Theatre. Reviewed by Susan Galbraith