Jesus Hopped the 'A' Train—a disturbing, dark dramedy by the Pulitzer-prize winning Stephen Adly Guirgis and first performed in 2000—places incarceration and morality side by side and asks you to consider if they are all that different; after all, both act as restrictive measures with a side of redemption. If you are so inclined. To be redeemed, that is. Especially through God, as Lucius Jenkins (Frank Britton) has been. Once he was saved, all he could see was sunshine.
But, his past is rather unnerving. Lucius is a convicted serial killer fighting extradition to Florida, where he killed five people, including an Ecuadorian boy who no one seemed to miss. Angel Cruz (Luis Alberto Gonzalez) is a young man who shot Reverend Kim, head of a cultish church that had sucked in his best friend Joey. Everyday, Lucius and Angel—the latter awaiting trial—cross paths in the exercise yard of Rikers Island Prison, each in their own solitary cell and closely watched by Valdez (José Guzman), a sanitation worker turned prison guard who eats chicken-fried hate for lunch and then picks his teeth with the bones of contempt, spitting shards at Lucius as he runs in place and prays.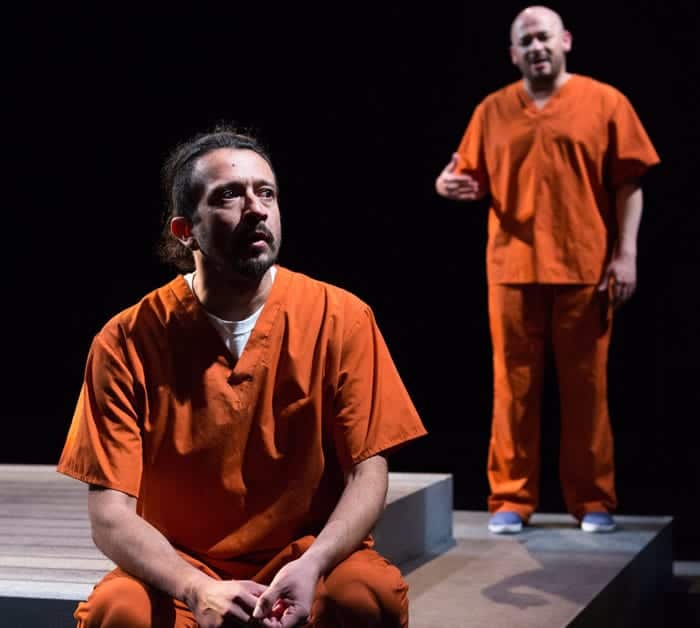 Angel is visited regularly by his public defender, Mary Jane Hanrahan (Teresa Castracane), who sees him as an honest, pure neophyte. His digression was for all the right reasons, and she—who sees wrongs as gradient shades of gray—can't let that go. And, then, there is D'Amico (Robert Heinly), an old prison guard who, even to his own surprise, likes Lucius—sneaking him Oreos, cigarettes, and other goodies.
Despite all of Lucius' talk of sunshine and God, he's still a desperate man. And, despite all of Angel's assuredness in the nobility of his action, he's still doesn't believe he's a good man, something Lucius drives him to question as they trade philosophies on belief, justification for their crimes, and stories about how they came to be who they are.
And then, there is Valdez, spitting, spitting, spitting. Always. Telling them that they are simply a "defect of evolution…like a three-legged dog" that is eventually put down.
The 'A' Train is superbly acted with finely tuned characters that are both funny and vile, especially Gomez's Valdez, who is a sniveling bully with an annoyingly pitched voice and propensity to over Ar. Ti. Cu. Late. Listening to him, at times, is like listening to nails on a chalkboard, even when he says profoundly true things: "People go through life discarding things. Tangible. And intangible."
Castracane's Mary Jane is a rationale person who seems to have fully separated church and state, yet pinpoints pride—a cardinal sin—as her greatest mistake. Castracane does this beautifully, describing how a feeling can get the best of her with the cool calm of a seasoned lawyer. It's hard to imagine and, yet, not, after watching her interact with Angel. Just as it's easy to see why D'Amico would visit Lucius even after he's fired. He plays off Britton's Lucius in an endearing, almost avuncular, way that paints the serial killer in a sympathetic light.
Britton as Lucius is a delicious mix of salty and sweet. He, nearly, with a kind of mirth that says he's absolved of guilt through God—describes a boy's death. He seems equally affected by and indifferent to his past, claiming he's changed, made better by his acceptance of Jesus Christ, and, therefore, no different than Angel. He is at times funny, calling cigarettes "humanitarian aid," and absolutely frustrating, goading Angel into cracking, something Mary Jane fights against as she coaches him for cross-examination. Gonzalez's Angel is almost childlike and incredibly affable, even when he's angry. 
——–
Jesus Hopped the 'A' Train

closes October 15, 2017
Details and tickets
——–
It's startling to watch Lucius—a so-called man of God—influence Angel in a way akin to Rev. Kim's described affect on Joey, the friend Angel fought so hard to free from a cultish existence built by a false prophet. Of course, prison is not a cult and Lucius doesn't claim to be Jesus, but he pushes and pushes—trying to "save" Angel—until Angel makes a final terrible, cathartic, devastating, and strangely understandable choice.
So, is there a difference between Lucius and Angel? The law says yes and that both should be punished accordingly, but the Bible says no. I, for one, have always taken issue with this idea. That a serial killer who "accepts" God and asks for forgiveness is willed into heaven over, say, an agnostic or even atheist who dedicated his life to feeding the poor. And yet, when Valdez—who hasn't murdered and lives, by all account, a decent life—says, "I'm a good man because I choose to be," I winced. That is 'A' Train's success: making you question not just faith but good and evil within faith and in its absence.
Given the weight of the content and conversations, which are actually often funny, the directors—Alex Levy and Juan Francisco Villa—maximize simplicity in nearly every other facet of the show. A basic, pared down set used in the round makes you feel as if you too are sharing a cell with Angel and Lucius and powerful, beat-driven music has an oppressive effect when used in the haunting space, which feels dark and cold and unwelcoming. Everything, from a brilliant cast to a great set-up in 1st Stage's production, elevates a blazingly sharp script.
Jesus Hopped the 'A' Train is, simply, a perfect, provocative play—evoking intellect and emotion equally and leaving you feeling bereft of whatever conviction you entered with. But that's the goal, and it is achieved with stunning, unsettling precision.
————-
Jesus Hopped the 'A' Train by Stephen Adly Guirgis. Directed by Alex Levy and Juan Francisco Villa. Featuring Frank Britton, Luis Alberto Gonzalez, Teresa Castracane, Jose Guzman, and Robert Heinly. Production: Jessica Cancino, Set Design; Danielle Preston, Costume Design; Brittany Shemuga, Lighting Design; and Kenny Neal, Sound Design. Stage Managed by Kathryn Dooley. Produced by 1st Stage . Reviewed by Kelly McCorkendale.