Dreamgirls is Henry Krieger and Tom Eyen's loose interpretation of the rise of Diana Ross and the Supremes, the challenges they had and the breakthrough of R&B groups to the mainstream, while being controlled by the men who ran the industry.
The Broadway version debuted in 1981 and ran for more than 1,500 performances, garnering an impressive 13 Tony noms, winning six.
It was introduced to a new audience when it became a hit film 15 years later, starring Beyonce, Jamie Foxx, Eddie Murphy and Jennifer Hudson, adding some new songs and story elements.
For Toby's version, director Kevin McAllister chose to follow the original Broadway production, and the entire cast shined, showing heart, humor and most of all, some incredible voices.
On last Sunday's matinee, Taylor Washington subbed for Crystal Freeman as Effie and the understudy didn't disappoint. With powerful and emotionally charged vocals, she absolutely killed it on the Act 1 closer, "(And I Am Telling You) I'm Not Going" and delivers a nuanced punch to "I Am Changing."
Equally charming are the Dreams, Ashley Johnson as Lorell and Sequina DuBose as Deena, who take to the spotlight and rise to the occasion vocally and dramatically. Singing alongside Washington, the trio were inspirational and filled Toby's with amazing harmonies all show long.
Bryan Jeffrey as the charismatic James "Thunder" Early stole just about every scene he was in, both with his phenomenal singing and downright hilarious antics, especially on the tune, "Rap." But it's not all silliness for the character and Jeffrey conveys a softer touch with the song, "I Never Meant You No Harm." 
——–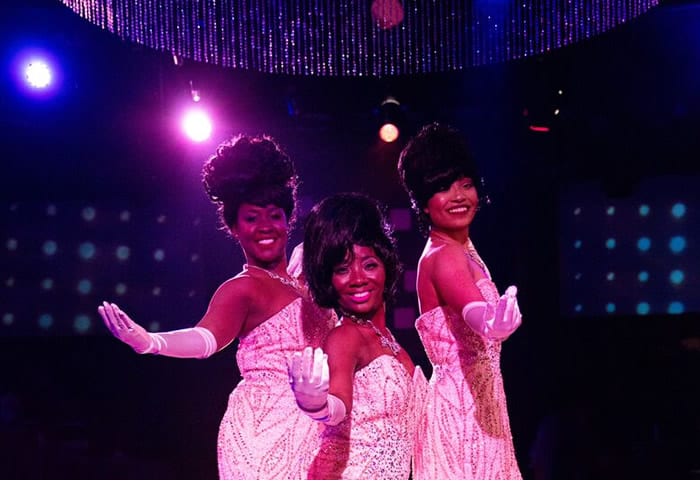 Dreamgirls

closes November 12, 2017
Details and tickets
——–
DeCarlo Raspberry as handsome slick-talking car salesman turned music mogul Curtis, shows some nice vocals in "Family" and "You Are My Dream," and his chemistry with his Dreams is bordering on palpable. Part con man, part dreamer himself, he is someone the audience can look the other way at his transgressions.
Da'von Moody as songwriter C.C. White had the challenge of transitioning the character from meek to assertive, and did so with aplomb. He shares several sweet moments with new Dream Michelle, the delightful Denae' Fielder, and the two are superb in songs such as "Chicago" and "I Meant You No Harm."
McAllister and choreographer Shalyce Hemby navigate the action flawlessly, with some incredible dancing by the ensemble throughout. The gorgeous costumes by Lawrence B. Munsey captured the time period wonderfully.
Overall, this was truly a "dream" production and it's one musicals lovers should definitely check out before it ends on Nov. 12.
————-
Dreamgirls . Music by: Henry Krieger;  Book by: Tom Eyen;  Lyrics by: Tom Eyen  . Director: Kevin McAllister . Cast: Greg Watkins, Samantha McEwen Deininger, Denae' Fielder, Ashley Nicholas, Shannan Johnson, Amanda Corbett, Anwar Thomas, DeCarlo Raspberry, Sequina DuBose, Sylvern Groomes, Ashley Johnson, Da'Von Moody, Taylor Washington (us for Effie) Crystal Freeman, Kadejah Oné,  David Singleton, Bryan Archibald, Hasani Allen, Gregory Banks, Solomon Parker, Bryan Jeffrey, Candace Foreman, Gregory Banks, Justin Calhoun, Sylvern Groomes . Choreographer: Shalyce Hembey . Musical Direction & Orchestrations: Ross Scott Rawlings . Scenic Designer: David A. Hopkins . Costume Designer: Lawrence B. Munsey . Lighting Designer: Lynn Joslin . Sound Designer: Mark Smedley . Produced by Toby's Dinner Theatre . Reviewed by Keith Loria.