How many times have you tried to make plans with a friend to see a show, only to have it all get lost in phone tag, conflicting schedules, and awkwardness over who will be stuck with the bill?  Woolly believes that they have the answer: their new HERD app does the work of helping groups of friends attend the theatre. 
In a world of ever-evolving technology, businesses must work tirelessly to stay relevant and appealing to their consumers.  Theatre is no different and Woolly Mammoth Theatre Company is becoming known as one of the most innovative mid-size theatre companies in the country.
Sarah sat down with Gwydion Suilebhan Woolly Mammoth's Director of Brand and Marketing to discuss:
Tell me about the new Bring a Herd program at Woolly. 
We decided that we wanted to tackle the two fundamental social difficulties when bringing other people to the theatre. Because we know that theater is most deeply felt and enjoyed when experienced with others. But, our patrons often have a hard time finding other people to go to the theatre with and making that happen.
The two social difficulties that need to be overcome are finding a date that works for your group of friends and splitting the cost of the tickets while still being able to have everyone sit together. So, we decided this was the age of technology, and we had seen similar things being done in the world.  We had a large grant from The Wallace Foundation to help us innovate in this way, so we built Bring a Herd.  It is an app that essentially combines the functionality of Doodle or WhenIsGood, with the functionality of Venmo or PayPal or Splitwise to let people bring groups to the theatre.
Say, I want to see The Arsonists with my friends. How does it work?
You log in, then you look at a calendar of our shows and click on the ones that you can go to. Then, you enter your friends' email addresses with a little note and you hit send.  And then, basically, everything is intuitive from there. All of your friends get an email invitation to the dates that you suggested, they log in, click on the ones that they can make, and then you get notified when everyone has responded to the dates that they can make. You pick the final date, which locks in the number of tickets and the lowest price right at that moment. You buy your own tickets. Everyone else buys their own tickets. And everybody sits together!
That's awesome!
It's amazing! We love it.
Is it just for single tickets or for subscriptions as well?
Just single tickets at the moment.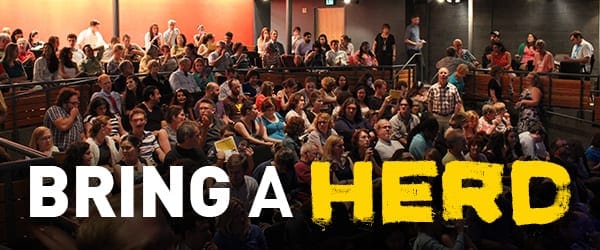 Have you been using it much yet?

It's new. It didn't really launch until just around when An Octaroon was opening at Woolly. So, it's really just getting started. We're just learning how people are going to interact with it and experience it. And we're at the beginning of a very long campaign to spread the word and get people excited about it.
Did you say you had seen something similar at other theatres?
Oh, no. No other theatres.  We'd seen Venmo. We'd seen Splitwise. We'd seen Doodle and WhenisGood.  That's it.
So, this is a brand new adventure!
It's a brand new adventure. And our hope is to be able to license the technology to other theatres.  We're in talks with a development partner to do that. Everything's been set up for that to happen. I've talked to colleagues– marketing director colleagues – all around the country, and they are all like, "oh my god, when can I have it? I want it now" It's intuitive.
It takes a long time for things to catch on, and then, they suddenly become inevitable and are just part of the vocabulary. They just exist and you expect them everywhere. We are just biding our time slowly making sure people know about it.
How else does Woolly use technology in their marketing?
Well, we're as tech-forward an organization as any our size.  We use a robust CRM (Customer Relationship Management) software program, Tessitura, which a lot of other bigger theatres in town use. We have a segmentation engine that plugs in on top of that and gives us the ability to segment our database in a variety of really rich ways that you couldn't do without big tech.  We have a Patron Insight Analyst on staff whose entire job is to look at our data and help us to make smarter decisions about everything from pricing, to when to send emails, to how to pitch certain donors with certain amounts, etc.  It's a huge part of what we do – to make data-informed decisions.
How long have you been doing marketing?
Period? In my life?
Yes.
My entire life, basically, since 1994 or something like that.
Then you are well-equipped to answer my next question: how has the world of marketing changed over the years? 
There is a much deeper understanding of brand than there ever was before. The intersection of brand and technology is my particular focus.  Marketing has become data-informed in a way that it never was.  It used to be about your intuition – how to design an ad or a brochure to intuitively express what you want it to express.  Now, it's about measurement and analytics and understanding the results of what you're doing and really measuring, "well, that email got this many click-throughs and got this many people to subscribe or got this many people to buy tickets. So, let's try this other tactic." It's a science much more now than it ever was before.
Would you say that's because with the advent of the internet and email you can better track that sort of data?  You can't measure who throws away a postcard, but you can measure who opens an email. 
That's exactly right.  We have more ability to see into the behavior of our patrons than ever before. Which helps us to serve them better.
How have audiences changed over the years? Or have they?
I think, clearly, there is a long-term, slow descent among subscribers and subscriptions.  People are less interested in a fixed plan than they ever were and much more interested in flexible commitments. They still want to identify with your brand, they still want to commit to your brand, but on their terms. There is still loyalty, but it is expressed in different ways. There is still brand affiliation. It's just about their own self-expression more than ever before.
Do you see a trend in better audience response to internet-based marketing? 
Oh yeah. I think every big theatre in town will tell you that most of their marketing has switched from print to digital.  The balance has tipped.  And digital allows for micro-targeting.  But print isn't dead by any means.  You really need to be everywhere, but digital allows you to reach more precisely the people you want to and need to reach.
Tell me a little about your Industry Passes. This is your second year with those?
Yes, this is our second year. We are starting to get a little more traction. Our idea was to recognize and honor the fact we are part of a community of artists that understand the art and are part of the art, and we wanted to welcome them as honored members of the inner circle.  The furthest in you can get, other than by working at Woolly, is by being a subscriber.  You get all of the benefits and you really belong. We wanted to give that to people, while acknowledging that artists sometimes don't have the wherewithal of other folks.  So, we made our industry passes accessible: $20 a ticket for a subscription.
We want to see more people take us up on it. It's $100 to see the whole season at Woolly! Even if you end up only seeing three plays because you can't make the other two, that's a pretty great deal.  This has really come from my heart, from me personally, being an artist and a marketer, wanting to make sure everyone felt like they could be on the inside and not on the outside. Just to say, "We see you artists.  And we are opening the door as much as we can to give you a way in."
I remember there was some controversy when the passes were first released.
We rolled it out to members of maybe eight unions, and there were people who said, "what about this union? What about that union?"  The first couple, we just added to the list, but then it became an onslaught of, "what about this and what about that?"  Honestly, we just said, "hey, look, it's our first year.  Let's see how it goes." The truth is, it didn't go that well. Only a couple of people took us up on it in the first year.  So this year, we said, "fine let's listen to what they said, and open it up to basically everyone."  We made the rules as lax as we humanly could, and there isn't a huge uptake on it.  It takes time to win people over. I'm committed to this and people will find it and anyone who needs it can have it. 
Why do you think it's such a slow uptake? 
Artists are not subscribers. They don't think of themselves in those terms. We already have $20 Stampede Seats and Pay What You Can nights.  There are other ways for artists to get in.  But if they say, "I want to experience an entire season at Woolly.  I'd like to see it from start to finish and see what that's like." Here is a way to do that. To participate in the life of a theatre. To be welcomed as a subscriber.  To get all of the other benefits – which are manifold.  We are hoping more people will take us up on it.
I think it also probably comes back to what you were saying about audiences moving away from fixed commitments.
Maybe next year I'll try an industry six-pack.  Again, we have to keep innovating.  I really want to serve. I want to serve the art. I want to serve the audience.  That's really what it's all about.
---
Connections:
Gwydion Suilebhan  /  202-312-5261