In the wake of an historically deadly mass shooting and a historically unpopular president comes a musical comedy of sorts about guns, presidents, and their tragic interplay from Lincoln to Reagan. These elements, brought to life by the catchiest tunes in the Sondheim oeuvre, make for a musical that feels not only worth doing, but necessary in these times.
Don't worry if you aren't familiar with Assassins, the concept is fairly simple, though one that gets more fun with more knowledge of Americana. A series of loosely held-together vignettes about motivations for and circumstances surrounding assassinations (both attempted and successful) of presidents form the main action of the play. John Wilkes Booth, played by a distinguished Andrew Keller, operates throughout the show as a Mephistophelean antagonist to the assassins who came after him, culminating in Lee Harvey Oswald.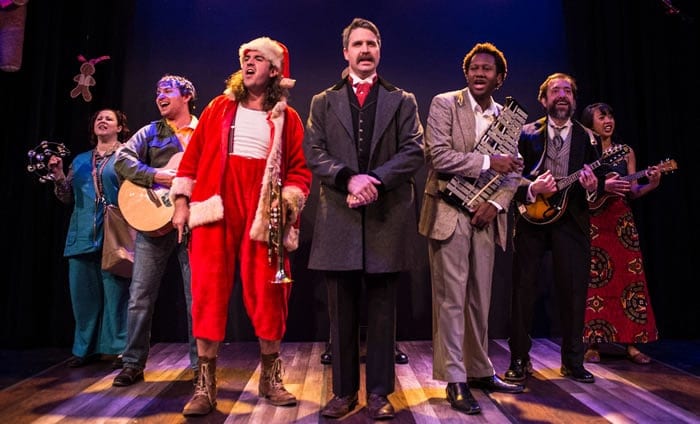 There is a kind of background of given circumstances for these vignettes: a carnival-esque slash nightmare game scenario, which doesn't actually end up mattering that much to the storytelling of the piece. But relative newcomer director Clare Shaffer has placed an emphasis on it here, combined with an actor-muso concept, which is a fancy term for "a show where the actors play the instruments." She has committed fiercely to both of these concepts in this Pallas production, but so much so that the concept becomes a barrier to making this worthwhile story well-told.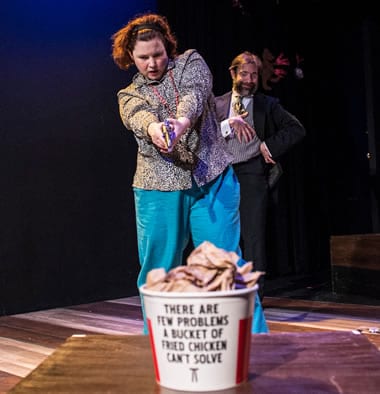 Some of these actors play instruments with vigor and occasional virtuosity, mostly on stringed instruments. Zach Brewster-Geisz (who is delightful as madman Charles Guiteau, especially in his tone-shifting ballad) plucks a mean mandolin. Alex Palting as Squeaky Fromme on the ukulele and Taylor Rieland as John Hinckley on the guitar show the audience a good time in one of the more listenable versions of "I Am Unworthy of Your Love" that I've heard.
But casting was short-sighted beyond a few standouts, causing some actors to get saddled with a tambourine, cymbals, and a saxophone which, while played offstage, functioned more as a necklace than an instrument when the actor was onstage. The "Ensemble," decked out in fancy white garb, do much of the musical heavy lifting in backing up the Assassins, but they get in on the singing action with the fun and overlapping "How I Saved Roosevelt" number.
Topher Williams (who gives a heartbreaking run at the character of Giuseppe Zangara, attempted FDR assassin) is burdened by an unsettlingly large xylophone that I can't actually recall him playing. Core fundamentals of staging are forgotten here. A scenes takes place on the ground, out of sightline of 3/4s of the audience. Some actors go mostly unheard under unwieldy sound levels. The staging puts actors with their backs to the audience far too often. The seating arrangement is so crowded it is suffocating (sit in the front row for this performance; I can't recommend sitting anywhere else). But most importantly, this forced concept has resulted in many elements that, like Williams' xylophone, don't add value to the production. 
——–

Assassins
closes October 15, 2017
Details and tickets
——–
There are some great finds that stand out among those things though. The loveliest voice in the cast belongs to Will Hawkins, who plays the Balladeer. Will will have you humming his ballads all the way home, a rarity (for me at least) for Sondheim musicals. Brewster-Geisz is a revelation as Guiteau, and Shaffer shows some cheeky brilliance in staging his death with the aid of a balloon. Particularly interesting was Brendan McMahon as Czolgoz, whose deep voice and unusual characterization makes for piquant and surprising musical theater. Given the nature of musical theater writing today, it may be difficult for him to find parts, but check him out when he does.
These bright spots tell me that the detriments of this forced actor-muso concept are more of an aberration than the rule for Pallas. Shaffer shows promising moments as a director, this cast shows a strong commitment to their work, and the future of Pallas looks bright as a company. Assassins, despite its prescience and power, simply seems to have gotten lost in in its own concept.
---
Assassins by Stephen Sondheim. Directed by Clare Shaffer. Featuring Alex Thompson, Andrew Keller, Brendan McMahon, Taylor Rielans, Tyler Cramer, Topher Williams, Zach Brewster-Geisz, Karen Lange, Alex Palting, Will Hawkins, Andrew Flurer, Christine Callsen, Gabriel Brumberg, Mason Catharini, Marc Pagan, Jenna Murphy, and Camryn Shegogue. Music Direction by Alex Thompson . Choreography and Props Design by Pauline Lamb . Costume Design by Joan Lawrence . lighting Design by E-hui Woo . Sound Design by Reid May . Stage Management by Caelan Tietze . Produced by Pallas Theatre Collective. Reviewed by Alan Katz.