My sit-down with DC actor Sara Barker was delayed slightly as I had to field a call from my financial planner about some issue with retirement accounts. As I finally sat down to our late afternoon lunch in a Pentagon Row sushi bar, I couldn't help but exclaim, "Financial planner? Retirement accounts? Good God, what have I become?!"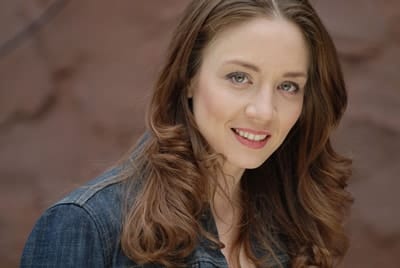 Both Sara and I, in the nearly eight years since our last meeting, had adulted significantly. (Yes, adulting is a verb.) We'd both gotten married, become parents, and have cut back our theatrical pursuits significantly. We both have full-time careers, retirement plans and health insurance.
Such is the life of a fairly sizeable chunk of the theatre community in DC and elsewhere. Actors with training, experience and talent also have marketable skills outside of their passion, to the extent that they have found lucrative careers that they've balanced – some for decades – with their artistic pursuits. And as many approach, or settle into, middle age and parenthood, the economic obligations that come with it mean that at least for the moment, there's little motivation to pursue theatre full time.
The balance is all.
By day Sara is a technical writer and editor for a governmental organization that deals with national cybersecurity, by night she is one of DC's most accomplished actors. A company member of four DC area theatres, WSC/Avant Bard, Factory 449, Rorschach and the Klunch, Sara has been a fixture for a decade. She made her first big splash as Jackie in WSC's The House of Yes, and since then racked up numerous credits, notably 4.48 Psychosis (Factory 449), Elizabeth in Mary Stuart, Orlando in Orlando, Desdemona in Othello (WSC/Avant Bard), and Closetland (Factory 449), among many others.
"Theatre has been like a religion to me," she says, "and at the same time I've always been a super-practical person."
Her husband Richard is a teacher in the Arlington County school system, they live in Arlington and have two children, a daughter, 4 and a son, 2. Her day job's hours, 6 am – 2 pm, are "good hours as a mom, though not so good as an actor."
Given her family and career obligations, it's been beneficial to be a company member of these four theatres. There's less of a struggle to get work, but the challenge then is the timing of projects. "They know to arrange things well in advance," she said.
——–
Emilie—La Marquise du Chatelet Defends Her Life Tonight
closes November 12, 2017
Details and tickets
——–
Sara's life being caught, in a sense, between two worlds is very applicable to her current gig, as the title character in Lauren Gunderson's play Emilie: La Marquise de Chatelait Defends Her Life Tonight, produced by WSC/Avant Bard and running through November 12th at Gunston Arts Center in Arlington.
"What I love is how the play brings math and science into the arts," she said. "The play deals with the intersection between people of science and people of the arts. I've always loved using both sides of my brain, and typically there's little crossover between the analytical work I do during the day and the artistic, emotional work I do in theatre. It's been fun and challenging to play someone who's such a thinker, to play that struggle between the emotional and analytical, and to try to make it relatable to an audience who may or may not have a background in science."
The Marquise du Chatelet (1706-49) was an accomplished philosopher, mathematician and scientist; though possibly best-known for her affair and long friendship with Voltaire, her translation of Newton's Principia, with her own annotations and further ruminations, is still considered authoritative, and she was the first woman to be published by the Paris Academy.
In Gunderson's play, Emilie gets a chance to observe and re-live her life, in order to get a better understanding of her impact on history.
Sara credits the close relationships between various theatre companies as one of the best things about DC, and one of her favorite things about working on Emilie. "Director Rick Hammerly is the Artistic Director at Factory 449, and we've worked together several times. Lisa Hodsoll is a company member at the Klunch. It's like a family."
She is very laudatory of her fellow castmembers; Brit Herring (Voltaire), Hodsoll (The Madame), Billie Krishawn (Soubrette), and Steve Lebens (The Gentleman).
Thinking ahead, Sara has what she calls the "2020 Plan:"
"By 2020, we should have our mortgage paid off, and with that financial obligation off our plate, we are in a position where I could then cut my hours back to part-time, or stop working altogether, and then pursue theatre full-time." She's also developing a play as a vehicle for herself, based on the life of the early 19th century French socialist, feminist and activist Flora Tristan, another woman ahead of her time.