I walked into the DC Arts Center to catch The Book of Merman expecting a tale of half-men, half-fish, all-Mormon singers and dancers. What I found was even campier than that.
Billed as "a decidedly low-budget alternative to the Kennedy Center's Book of Mormon," the musical parody by Leo Schwartz debuted at Pride Films and Plays in 2015 and ran for four months in Chicago before being produced around the country.
The eponymous Merman is in fact Ethel Merman, the grand dame of musical theatre. Taking on that particular character would be an intimidating challenge for any actor, but Ally Jenkins devours the role with belty gusto. The "Book of…" portion of the title is in reference to the two other members of the cast, Elder Braithwaite and Elder Shumway (played gamely by Ernie Achenbach and Charles Johnson), two Mormon missionaries who happen to ring Ms. Merman's doorbell in an attempt to save her soul. They're joined on stage by accompanist Darin Stringer, who provides his own surprising moment of delight.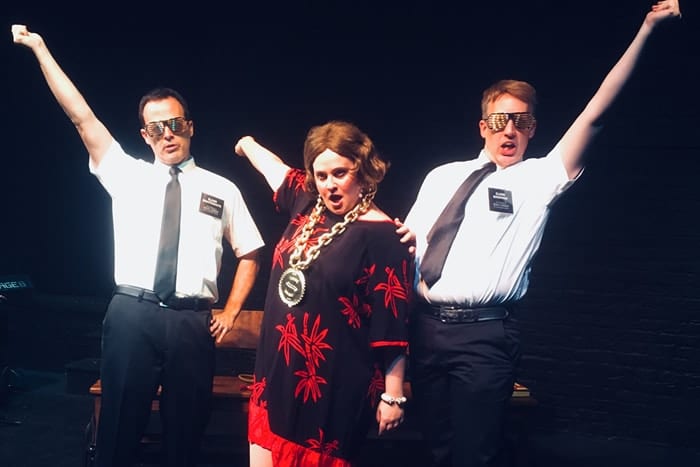 The fact that Ethel Merman died in 1984 is easily explained away (or not explained, really, beyond Merman noting that Bette Davis and Elvis reside in her cul-de-sac.) This is convenient for our two young Mormon men, who do more squabbling than proselytizing. You see, Braithwaite is a by-the-book rule-follower who believes wholly in his mission and his orders from the church. Shumway, on the other hand, is bored out of his mind and dreams about a life on Broadway. 
——–

The Book of Merman

closes December 8, 2017
Details and tickets
——–
The show contains 16 original songs, all of which are fairly brief (the show clocks in around 75 minutes). As to be expected, some land better than others. My favorites are easily the homoerotic-innuendo-laden "If It's Not Hard, I Don't Like It" and the 11 o'clock number, "Everything's Coming Up Merman." Others produced mostly cringes, such as a deeply uncomfortable rap interlude (which, once it became clear was about to happen, elicited an audible "oh noooooo" from at least one audience member). It's to the cast's credit, though, that they are fully committed throughout.
Fans from past Landless shows at DCAC like Godzilla and Perez Hilton Saves The Universe! will feel right at home.
Director Andrew Lloyd Baughman and choreographer Laura J. Martin make the most of the teeny-tiny space with just a bench, stuffed dog, and a mailbox as a set. It's a spare production, but no one in the audience was there for elaborate costumes or scenic design. 
The show feels like a love letter to a very specific audience—gay men of a certain age who can rattle off musical theatre ballads at the drop of a hat. But for the rest of the population, there are delights to be found in the expert singing and ridiculous campiness. Like the contents of the Whitman's Sampler that Elder Braithwaite brings Ms. Merman as an apology, The Book of Merman is a small and sugary indulgence—but who among us couldn't use a saccharine treat at the end of a very long year?
——————
The Book of Merman. By Leo Schwartz. Directed by Andrew Lloyd Baughman. Music direction by Darin Stringer. Featuring Ally Jenkins, Ernie Achenbach, and Charles Johnson. Choreographer: Laura J. Martin. Stage manager: Amanda Williams. Produced by The Landless Theatre Company. Reviewed by John Bavoso.