Annie finds a new family in the holiday musical, now onstage at Olney Theatre Center. Olney's meeting with Bob Scheer of Comfort Cases inspired the company to open a drive to bring new pajamas to children in need. We loved the idea and thought you might welcome this chance to help make children's lives a bit better.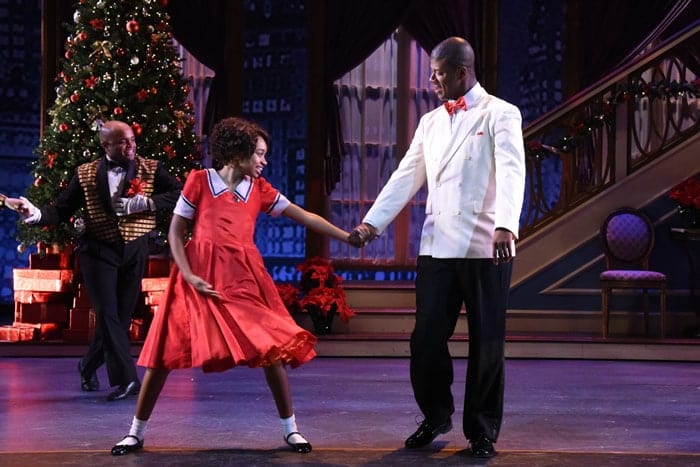 Comfort Cases, a Maryland-based organization provides backpacks and duffel bags filled with essentials and a few comforts to kids in the foster care system.
Rob Scheer, Comfort Cases' founder explains: "When I was in the foster care system in the 1970s, I recall how painful it was to have all my worldly belongings stuffed into a trash bag. It was humiliating and embarrassing. After deciding to adopt four children from foster care thirty years later, I was shocked that my children first entered my home with all of their belongings also in trash bags. Nothing had changed. I had to do something about it. As a result, I started a nonprofit that provides new backpacks and duffel bags filled with brand new items of comfort and necessity. Each item in every Comfort Case is significant to the experiences my children and I had in foster care.
"Since our inception, we have distributed 30,000 Comfort Cases in 28 states and Washington, D.C. With ongoing support from organizations such as Olney Theatre, our mission of inspiring communities to bring hope and dignity to foster youth will grow and grow.
"We are grateful for donations of brand new pajamas for youth entering foster care. As Annie would suggest 'You're never fully dressed without a smile', and your contributions to Comfort Cases will most certainly bring smiles to faces of those in dire need of feeling support and loved by their community, assuring those in foster care that the sun WILL come out tomorrow."
HOW TO PARTICIPATE:
SIZES:  DCTS learned the Olney drive is in particular need of sizes for middle school boys and girls. When choosing pajamas, avoid hurtful messages such as "Daddy's Little Princess" and holiday themes.
ORDERING ONLINE. How to help Comfort Cases and DC Theatre cene:
Amazon will donate a portion of your order to DC Theatre Scene when you
Click here.
Olney Theatre Center, Attn: Comfort Cases
2001 Olney-Sandy Spring Rd
Olney, MD 20832
Or pajamas can be dropped off at Olney Theatre Center, Wednesday – Sunday, noon – 6:00 pm.
Our area has an abundance of shows for children fortunate enough to have families who can take them to the theatre. As a former foster child myself, I hope you have a few minutes to gift these children who often feel forgotten.
---