As part of the Bergman 100 Celebration, an event marking the centenary of the iconic Swedish filmmaker and stage director Ingmar Bergman, The Kennedy Center is presenting a stage version of one of his later movies.
If you are a devotee of the great man, or have any interest in exploring the thrillingly unique world of this visionary artist, rush to Kennedy Center. You won't want to miss this sublime production, which plays a maddeningly short run ending December 9th.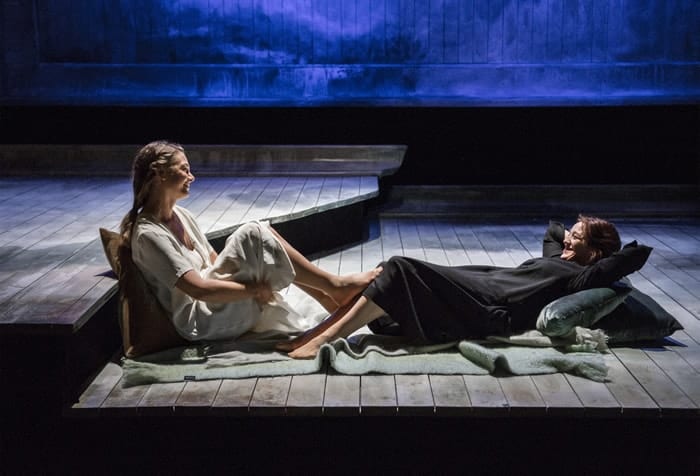 The Private Confessions screenplay was written by Bergman from his own novel, though the film was directed not by him, but by his frequent collaborator Liv Ullmann. Ullmann has adapted this stage version and directs the National Theater of Norway/Riksteatret co-production, receiving its U.S. premiere here in D.C.
After his mother's death, Bergman found and read her diary. Private Confessions recounts his mother's estrangement from his father as she conducts a passionate and doomed love affair with a young divinity student.
Ullmann has supplemented the material from Bergman's screenplay and book with excerpts from his own diary kept during the creation of Private Confessions.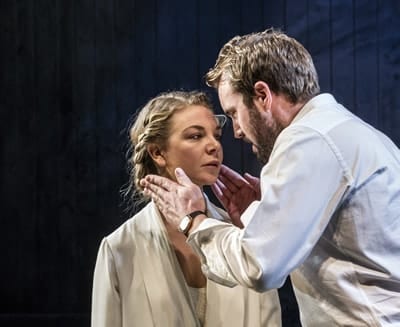 If you've seen and admired some of Bergman's film work (a lengthy and varied oeuvre), you will be familiar with the piercingly honest and incisive manner in which he is able to examine the psyche of his characters.
It's a very simple affair: on a spartan set by Milja Salovaara, Anna, the mother character, is seen in a series of two-person scenes, speaking to her husband, lover, mother, and a couple of close confidants. These scenes are interspersed with narration and occasional monologues.
The fascinating personal history recounted, as Bergman tells the story of a significant part of his mother's life of which he had been unaware during her life, deepens into an allegory about the tensions between the imperative to share one's life and feelings with those we love, and the limits to those attempts to connect to others. At one point, her diary is spoken of as her closest friend.
It's an extremely verbal play which, paradoxically, is about not only solitude, but also silence.
It's a period piece — very much of its time-setting, in the 1920s and 30s — that is also strikingly universal.
It is informed by a stern Scandinavian Protestantism that is also surprisingly understanding and occasionally comforting.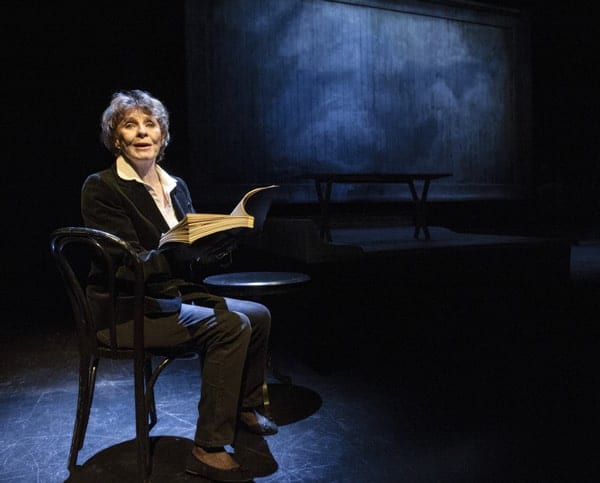 As the characters wrestle with when and how to be honest about hurtful truths, it reminds you of the plays of Ibsen. As the character of Anna is constrained by societal and personal expectations, she also has agency and isn't afraid of taking control of her situation.
What a delight, and what a welcome throwback, this tour is for someone like me. I discovered and revered the films of Bergman by seeing them projected in rep cinemas, such as the late, lamented Circle Theatre (just a few blocks away), or here at Kennedy Center, when the AFI was in residence at what is now the Family Theater.
Memories of those films came rushing back, as familiar motifs appeared on-stage. The thrill of my first discovery of Bergman felt rekindled by the discovery of this stage piece that channels that distinctive voice.
And, my God, Ullmann's production is a scintillating tribute to her colleague. The production and acting are meticulously detailed, raw and honest, spontaneous-feeling. 
——–

Private Confessions

closes December 9, 2017
Details and tickets
——–
Bergman worked with a sensational troupe of actors, led by Max von Sydow, Bibi Andersson, Ingrid Thulin, Gunnar Björnstrand, and, of course, Ullmann herself. The phenomenal cast of Private Confessions lives up to that impressive legacy. You may see an ensemble of actors to match them, but you won't see one that will surpass this incredible cast. Each actor is magnificent.
Especially riveting are the confession scenes between Marte Engebrigtsen as Anna and Mattis Herman Nyquist as husband Henrik. If you love the art of acting, these scenes alone will make this show worth your while. The work is so nuanced, so authentic. I loved the off-text sounds, repetition, overlapping — pitch perfect.
But all of the cast are superb: Anneke von der Lippe as a delightfully perceptive close friend, Bjørn Skagestad as a surprisingly warm authority figure, Liv Bernhoft Osa as the mother's mother, whose reactions to the confession run the gamut, but always ring true, Morten Svartveit as the callow, confused young lover, and Kari Simonsen, the narrator who finds just the right balance of distance and empathy.
It was a particular treat on opening night when Ullmann joined the cast on-stage for the curtain call. She was the biggest star in the 1970s of the foreign film circuit; her luminous performances graced the films of Bergman and many others. She likely would have won an Oscar if they didn't have a silly rule, since jettisoned, that foreign-language performances could only be eligible a year after the film came out.
She took a well-deserved bow for this stupendous production. It was a tribute not only to the genius whose life is being celebrated with programming all year at Kennedy Center, but also to her own magnificent artistry.
——————–
Private Confessions by Ingmar Bergman, Stage Version by Liv Ullmann.  Featuring Marte Engebrigtsen, Mattis Herman Nyquist, Anneke von der Lippe, Bjørn Skagestad, Liv Bernhoft Osa, Morten Svartveit, Kari Simonsen. Set Design: Milja Salovaara, Costume Design: Ingrid Nylander. Lighting Design: Martin Myrvold. Sound Design: Nils Wingerei. Makeup Design: Ruth Haraldsdottir Norvik. Assistant Director: Einar Bjørge. A co-production between National Theater of Norway and Riksteatret, presented by The John F. Kennedy Center for the Performing Arts. Reviewed by Christopher Henley.