The giddy sense of discovery takes hold of you during Lauren Gunderson's plays about unsung women throughout history. This fall's theater highlight was certainly Avant Bard's luminous production of Emilie: La Marquise du Chatelet Defends Her Life Tonight, which brought to brilliant light the life and beautiful mind of the 18th-century mathematician and physicist who was a lot more than just a fanciful footnote as Voltaire's lover.
Everyman's lively and crazy-timely production of The Revolutionists continues this marvelous trajectory as four more women's stories are stripped of myth and misogyny and portrayed honestly and with electrifying truth.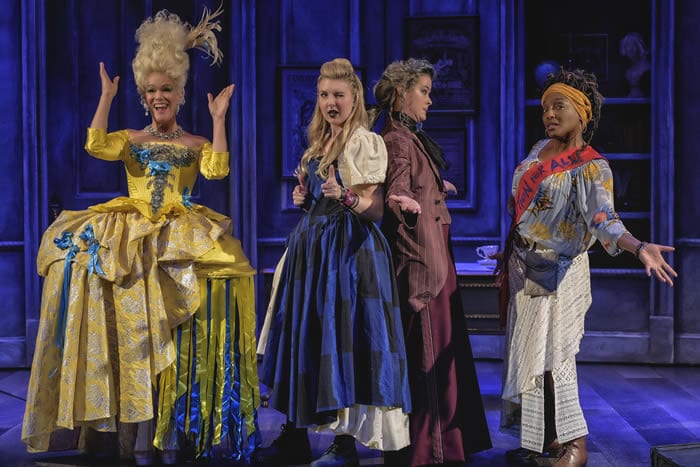 Gunderson's fantasy-comedy, directed by Casey Stangl with a penchant for the cerebral and the screwball, imagines a meeting between four women during France's Reign of Terror (1793-1794): feminist playwright Olympe de Gouges (Megan Anderson, portraying Olympe with a writer's ego and touching vulnerability), assassin Charlotte Corday (played with riot grrrl intensity and attitude Emily Kester), French queen Marie Antoinette (Beth Hylton) and Marianne Angelle (the arrestingly articulate Dawn Ursula), a radical and spy from Haiti rallying against slavery in the Caribbean French colonies. The Oui-Oui Sisterhood, if you will.
The characters barge in on Olympe as she is trying to write an "important" play about women's roles in times of revolution—sororite in a time that emphasizes fraternite. And as anyone who writes knows, when you sit down to write something epic and important through the ages, you wind up frittering the day away watching cat videos. 
——–

The Revolutionists

closes January 7, 2018
Details and tickets
——–
Olympe is doing the 18th century version of just that when her friend and comrade in arms Marianne enters, the fictional embodiment of the eloquent and impassioned national symbol of the French Republic, not coincidentally also named Marianne.
Marianne asks for pamphlets and declarations for her cause, and before Olympe can grab a quill, in storms Charlotte Corday demanding an indelible "final line" before her appointment with destiny—a meeting in Jacobin journalist and zealot Marat's chambers, where she will stab him in his bathtub for the French people. (By the way, her last line is a killer, delivered at the guillotine "I killed one man to save 100,000." Needless to say, history has portrayed Marat as a martyr and Corday as a nut).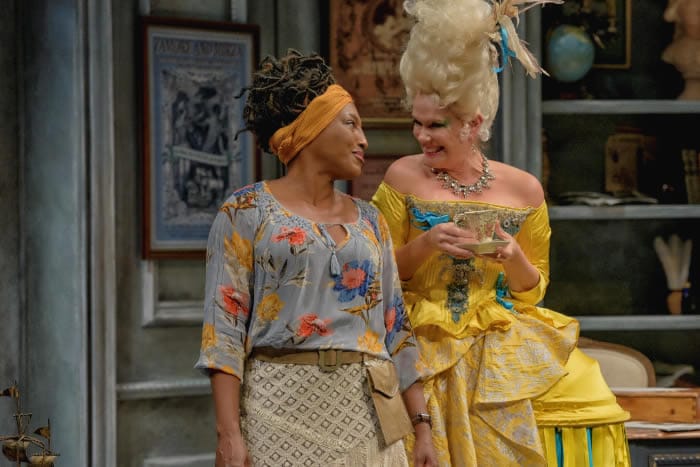 The conversational roar goes up a few decibels with the arrival of Marie Antoinette, an entitled airhead with speaks in third person, but who reveals herself as achingly human and vilified by muckraking journalists who condemn her as a libertine, lesbian and capable of committing incest with her children.
No one except for maybe Beyoncé can relate to Marie's opulence-cubed lifestyle (replicas of ships anchored in her hair; miniature mansions scattered around Versailles "just for fun") but you have to have some sympathy for a 13-year-old bride who met her husband-to-be on their wedding day and who had to give birth in front of hundreds of people in court.
Marie's here for a rewrite of her story—she doesn't deny her royal excesses, but she wants people to know there's more to her than pompadours and jewels. "It's always the women who have to do the changing, isn't it?," Marie observes, one of many bon mots that slip from her mouth like bon-bons.
Her self-absorption and obliviousness reminds you of the character Karen on Will and Grace and Hylton has Megan Mullallay's comic timing and irresistibleness. Her Marie is vain, but sparkly and she buoys up a comedy that sometimes gets mired in high-falluting discussions about the importance of theater and art, especially in times of turmoil.
A delicious example of this is when Marie asks Charlotte for a candy, which she tortuously unwraps with cellophane-crackling glee while Olympe breathlessly describes the plot of her new play about misunderstood Marie Antoinette. Priceless.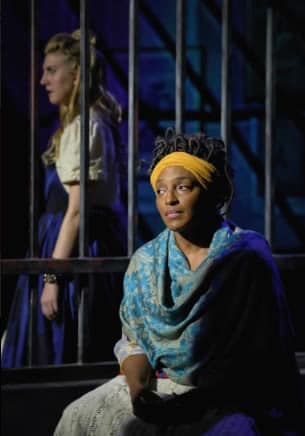 Yes, The Revolutionists is that tricky and often dreaded play-within-a-play and Gunderson tends to get carried away with polemics about theater as a living, breathing, relevant art form and not an enjoyable distraction for the elite and the urgent need for more women in all aspects of the theater.
Her points are true, but in the midst of such zingy and witty dialogue between the four women, the esoteric stuff seems like a lecture or an op-ed piece. And the metatheater touches are often tedious and uncomfortable, especially at the end when the cast notices, addresses and thanks the audience. Awkward.
The play's mingling of 18th speech and modern patois (all the women are described as "badass" at some point) is a hoot and a source of much of the play's comedic lift (kudos to Sound Designer C. Andrew Mayer, who has today's performers such as Lady Gaga played on the harpsichord), but then there are times when Gunderson just throws cheap laughs in there willy-nilly, such as the frequent references to Les Misérables, which has nothing at all to do with the French Revolution.
The Revolutionist is flawed, but that shouldn't stop anyone from reveling in the power of women's truths unearthed and the astonishing relevance of this play in this time of #me too, a sweeping social upheaval poised to abolish the casting couch and its sexual opportunism designed to oppress and silence women for good.
"Sometimes, a revolution needs a woman's touch," Marie Antoinette says. Damn straight. The Revolutionists is a call to action for all. Grab your red sash and go.
—————–
The Revolutionists by Lauren Gunderson . Director: Casey Stangl. Featuring Megan Anderson, Beth Hylton, Emily Kester, Dawn Ursula . Set and Production Design: Daniel Ettinger. Lighting Design: Elizabeth Harper. Costume Design: David Burdick. Sound Design: C. Andrew Mayer. Dialects: Steve Satta. Fight Choreography: Lewis Shaw. Wig Design: Annie Nesmith. Dramaturgy: Robyn Quick. Props Master: Jilliam Mathews. Stage Manager: Cat Wallis. Produced by Everyman Theatre . Reviewed by Jayne Blanchard.