The team of playwright Rachel Bonds and director Mike Donahue (The Wolfe Twins) has returned to Studio Theatre to present Curve of Departure, fresh from its world premiere at South Coast Rep in California.
"Back three years ago, Rachel and I sort of knew one another's work, but had never met, before doing The Wolfe Twins. That show was one of those magical experiences where I feel all the elements came together," Donahue says. "Rachel has become a very close friend of mine in the last few years. When she sends me a script, there's no question that I want to work on it with her if she'll have me."
The duo has been working on Curve of Departure for the past two years. The story details Cyrus, who abandoned his son, wife, and father more than a decade ago, but they all must now face the memories of his ghost at his funeral.
"In this, Rachel is exploring what family looks like today. The non-traditional ways that family can be put together and defined across race and sexuality and looking at connections among different generations. That really attracted me," Donahue says. "Rachel has such an incredible ear for language and the rhythms of everyday speech—the hiccups and fissures and cracks and the ways that people communicate with one another and try to negotiate intimacy. I am sort of taken with her precision in that."
Curve of Departure traces the trajectories of the relatives as they say their last goodbyes, and test their own familial ties, cooped up in a single hotel room.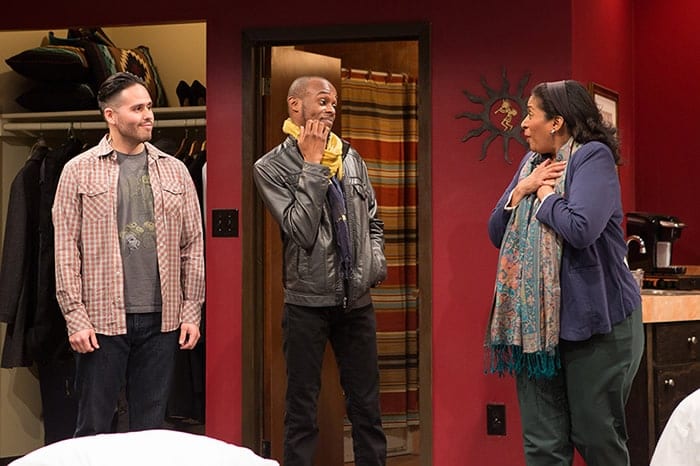 "It's a group of four people saying goodbye to someone they haven't actively been in a relationship with for a couple of decades, but in that way when people die and all of these surprising very raw feeling can be triggered and bubble up," Donahue says. "They are all navigating some pretty big life changes. The play explores how you navigate what you need for yourself and also can make space for and be generous with people you love and what they need."
The bigger themes, Donahue says, is about finding room for the people in your life and letting go, and the idea that to ultimately be a good parent or good child, there's a moment when letting go becomes really important.
"Rachel is incredibly generous as a playwright and collaborator and that's why we work so well together," Donahue says. "I think she writes plays about real people who are deeply flawed and idiosyncratic and she approaches them with such heart and I love the way she looks at the world. In a process, Rachel brings out generosity and humanity in working with other people."
Among the characters are an African American woman from the Midwest, who is taking care of her father in law, the old Jewish man who grew up on the Lower East Side of New York in an immigrant family; a young, Latino, gay man who is from Bakersfield Calif., and his partner.
Four new actors are taking on the roles for Studio's production: DC-based actor Justin Weaks, who most recently won a Helen Hayes award for Outstanding Supporting Actor, Outstanding Ensemble for Theater Alliance's Word Becomes Flesh; Chicago's Steppenwolf company member Ora Jones; recent Yale School of Drama graduate Sebastian Arboleda; and Boardwalk Empire's Peter Van Wagner.
"Rachel's material is so rich for actors, and when you change who is interpreting these roles, you sort of end up with a new dynamic and uncover new things because different actors do different things," Donahue says. "It does in some ways feel like a completely new production."
Changes have been made. The most noteworthy is that there used to be a third scene in the play that jumped ahead 15 years.
"A lot of the process of gearing up for the production [at South Coast Rep] was about trying to unpack whether that last scene was really necessary and satisfying and whether we could plant the seed for that last scene in the real time of the play without having to jump forward 15 years to be able to learn that info," Donahue says. "A lot of the work here has been defining what the given circumstances are for some of these people and how that shifts over the course of the evening."
——–

Curve of Departure

closes January 7, 2018
Details and tickets
——–
Donahue describes Bonds' rewrite process as being "very surgical."
"She'll go in with a scalpel and change a word or shift a comma to an ellipse, which can change the history that's implied or how comfortable someone feels with an idea or realization where they are headed," he says. "When things are happening quickly and you can gain perspective and what you want from it in the future, we have been continuing to refine and finesse that. One thing true for the four characters in the play, being stuck in that hotel room actually forces a moment for them to breathe and have time and space to actually think about things moving so rapidly."
Directing is something that Donahue has wanted to do, dating back to his childhood, when he would make his cousins put on theatrical productions in his grandparents' living room.
"We'd do sight-specific traveling productions of something like Christmas Carol and I would use my humidifier as a smoke machine," he says. "It's something I have always been instinctively drawn to. The thing I love about directing is it gives you an opportunity to forever be a student of the world we live in and of people and how human beings work. So much of the work in theater is about understanding who we are in our present moment in time and it comes because of the particular subject matter of what you're working on, mixed in with people in the room and how they see the material and engage in it and how we all build a vocabulary together to be able to talk about it. To me, that is really thrilling."
He believes the Studio audience will be drawn to Curve of Departure because the play is contemporary in its approach to family.
"It is dealing with issues of how we age and what our rights are when we're aging and how we take care of our loved ones and what they actually need from us in the process," he says. "I think it's dealing with how we ready ourselves and accept responsibility for bringing in new life in the world. It's exploring all those issues in a family who are not all the same."
Curve of Departure is surprisingly funny, he shared, even though it is about these four people gathering for a funeral, and audiences will experience humanity and sort of all of its richness and complications.
"The play does something that I think is both positive and hopeful," Donahue says. "In this family, which is made up of people who are not all the same race, and not in the same generation, they all accept one another for who they are and they all have compassion for one another—it's not about race or sexuality. It shows differences can co-exist in the same space and it doesn't have to be about those particular differences. I think that in this moment is very powerful."