We calculate there were 455 shows  on our stages in 2017. After each show closes and the actors move on the the next rehearsal what remains are the ideas and emotions they have left behind in the minds and hearts of the audiences.
Which shows were most memorable?  We asked our writers and three busy theatregoers, all recipients of our Gary Maker Audience Award, about their favorite productions, and in an upcoming article, their favorite performances. We leave the tough grading and excellence awards to the Helen Hayes Awards judges. These are the shows which still resonate with us,  presented with heartfelt thanks to the producers, directors, casts, designers and crews who brought them to us.
Big Fish, Keegan Theatre Company
Something about the story of charmer Edward Bloomer, a man who wants to be remembered as something bigger than he was, just got under my skin. Keegan's production had great fun with the colorful tall tales spun by the main character, and the charismatic, swaggering star Dan Van Why was a joy to see in action. But the show's inherent message — that all men, great and small, are heroes to the people whose lives they touched — really resonated with me. – Missy Frederick
Brighton Beach Memoirs, Theater J
In April of this year, I took my 96 year old mother Margo Kyle-Keith to Theater J's Brighton Beach Memoirs. It was a perfect evening- Neil Simon's timeless comedy about an American Jewish family seemingly at odds yet bound by their genuine love for each other. Mom and I talked family history on the way home that night, marveling how some of the characters mirrored long-gone relatives. "I know these people", she said to me. "It was nice to visit with them again".
Though Mom was outwardly hale and hearty that evening, 96 is still 96, and she died a few weeks later in May after a short illness. Brighton Beach Memoirs was our last show together, and I'm grateful for that fine production we saw. Since then, I've wondered what will be the last play I'll ever see. Will it be Shakespeare or Tom Stoppard? A fluffy musical or a searing drama? Myself, I hope it'll be like Mom's last show: a play about family, sitting with family. Laughter included. –  Jill Kyle-Keith
Building the Wall, Forum Theatre
Forum Theatre's Building the Wall had very little with regards to set, blocking, costumes. But Robert Schenkkan's script was nonetheless powerful. He tells the story of a fictional American holocaust, perpetrated by the current Republican administration just a couple years down the road, the road we are still on. When the last line dropped, the theater shuddered with gasps and sobs. With so few technical elements, it was an unforgettable triumph of not just theatre but storytelling. I am still waiting for a globally accessible audio version. Little would be lost in transliteration, and Schenkkan's script is undeniably Now. Not only will it become out of date soon (One hopes), but it is important that we learn from it as soon as possible. – Amy Couchoud
Dead Man Walking, Washington National Opera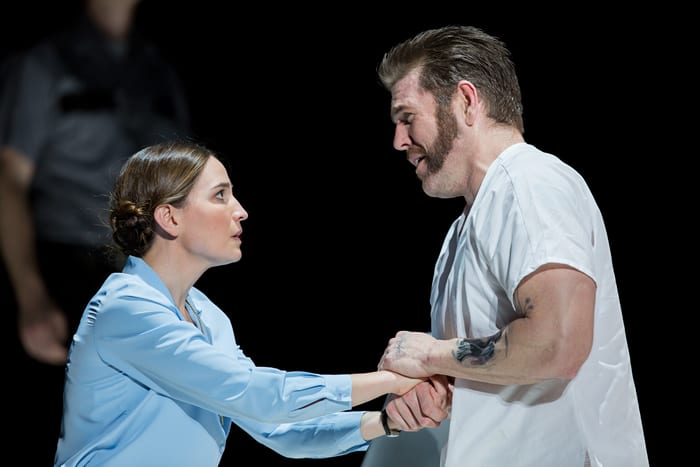 This was a production that defied form. More than "just opera" it was  total, gritty, blood-wrenching theater. And more than theater, it was a forum on who we are and how we can move forward in our own evolution. Sister Helen Prejean reminded us in her work, adapted for opera, that drama tells the story (Terrence McNally's) but music  (Jake Heggie's) breaks open our hearts.  And so this piece did.  We were invited on a journey of harrowing truth and compelling beauty. At its center there were three stunning performances including the fearless Kate Lindsey as the young nun who walks the final walk with death row inmates, the  "dangerously good"  Michael Mayes in the title role,  and Susan Graham who returned to the opera in a new role as mother of the killer. – Susan Galbraith
The Devil's Music – the Life and Blues of Bessie Smith, Mosaic Theater of DC
Mosaic is one of the theatres in town that is particularly interested in exploring diversity and working toward an inclusive society.   This show succeeded wildly in giving the audience the impression that they were with Bessie in a charmed circle, her patrons in a small club where she could be herself and leave the racism and unfairness outside.  This special experience reflected a number of features.  Miche Braden totally channeled Bessie and the acting, singing and music were all excellent.  The raunchy camaraderie between Bessie and her combo, and the direct interaction of Bessie with the audience also contributed to the ambiance. – Alison Drucker, Gary Maker Audience Award co-recipient, 2012
The Effect, Studio Theatre
Is love real, or can the effect be produced through manipulating neurotransmitters?  Lucy Prebbles explores that intriguing topic in The Effect, which revolves around two young volunteers in a chemical drug trial.  For the play to work well, the two actors need to have "chemistry" and Rafi Silver & Katie Kleiger  had a profusion of that elusive chemistry at the Studio Theatre production.  I saw the original acclaimed off-Broadway production, but this one was better. – Steve McKnight
King Lear, WSC Avant Bard
Avant Bard did a wonderful job with this difficult play.  Rick Foucheux's swan song was a moving tour de force.  The other cast members did an exceptional job of supporting him, in particular, Sara Barker, whose Edgar was simply incredibly good.  This production involved a minimal set in a small space and relied to a great extent on the talent of the cast to create the show.  They fully stepped up to the plate. – Thomas Holzman, Gary Maker Audience Award 2012 co-recipient
Jesus Hopped the A-Train, 1st Stage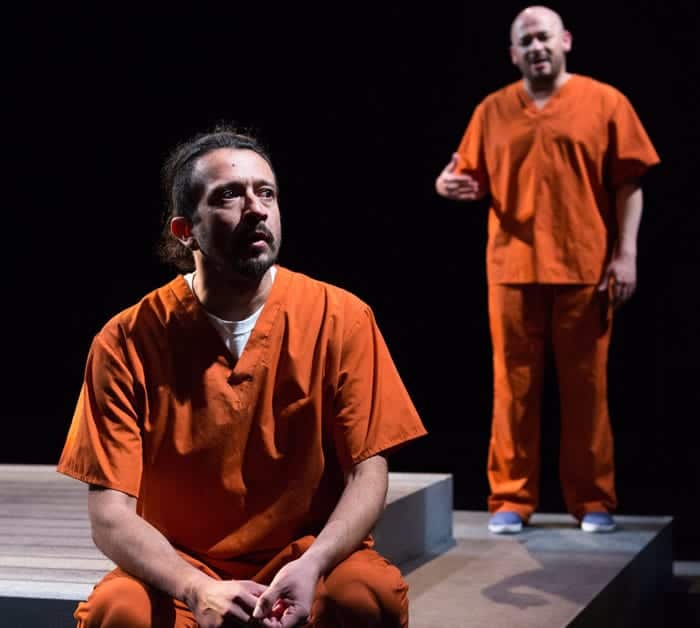 This show offered sustained emotional and intellectual intensity.  A great script about the personal and public facets of crime, punishment, and the possibility of spiritual growth.   Solid ensemble acting helmed by local favorite Frank Britton.  The impact of these features was amplified by the effective decision to mount the show in the round, with vertical bars which were down to demarcate a prison cell as the audience entered, and later removed.  This created the feeling that we were all in this together, having a real stake in the struggle of conscience being played out among us. – Alison Drucker, Gary Maker Audience Award co-recipient, 2012
&
The interactions and dialogue between the cast members was mesmerizing.  – Barbara Bear, Gary Maker Audience Award recipient, 2014
King Charles III, Shakespeare Theatre Company
The best sorts of stories present you with moral dilemmas in which you don't know for sure who's the protagonist. The premise — that someone occupying the ceremonial position of "King" would use prerogatives bestowed on the position in the musty past to interfere with legislation in the 21st century — seems outrageous. But Mike Bartlett is clever enough to have the King, a man well known to all of us in real life, use this archaic power to prevent some truly awful legislation from becoming law. He mixes fictional events with real and fictional characters, and the resulting amalgam is fully convincing. Oh — part of it is in rhyming couplets, too. – Tim Treanor
Lela & Co., Factory 449
This show was practically a one-person show, starring Felicia Curry as the main character, and Renaldo McClinton as the other cast member who played several roles.  Felicia's performance was outstanding, and she showed a remarkable range of emotion in this difficult and moving show.  Rick Hammerly's direction was outstanding.  Again, this show involving a minimal set in a very intimate space depended heavily on the extraordinary talent of Felicia and the very able support of Renaldo.  A tour de force.  – Thomas Holzman, Gary Maker Audience Award 2012 co-recipient
A Little Night Music at Signature Theatre
It's always a pleasure to check another musical off the Sondheim bucket list, and Signature's version of  A Little Night Music will set the bar for any future productions I see. The gorgeous costumes and lush orchestrations all contributed to the festive atmosphere, but what really resonated were the saucy comedic performances from actresses like Holly Twyford and Tracy Lynn Olivera.  – Missy Frederick
&
I have enjoyed many prior productions of A Little Night Music, including one at Signature Theatre.  Yet this production surpassed all others in fully fleshing out the personalities and the humor embodied in James Lapin's book and Stephen Sondheim music.  Bobby Smith and Holly Twyford had a great rapport as illustrated during Smith's rendition of "You Must Meet My Wife" and the scene where they try to conceal their tryst from a dim-witted Count (Will Gartshore). – Steve McKnight
&
Signature offered the best production of this show that I have ever seen…perfect casting and direction. – Barbara Bear, Gary Maker Audience Award recipient, 2014
Ma Rainey's Black Bottom, 1st Stage
The zesty, vigorous production at 1st Stage had all the emotional jazz and blues you'd expect from master playwright August Wilson.
Although the play takes its name from one of Ma's signature tunes, its heart beats among the men down in the band's rehearsal room. Director Deidra Lawan Starnes drew out first-rate performances from the ensemble, with Clayton Pelham a standout in the key role of Levee.
Watching and listening to the four men's verbal jam session was a delight. They argued, belittled, lectured, passed on apocryphal stories, reminisced about good times on the road and commiserated over appalling cruelty like the instruments of a jazz quartet—sometimes all at once, sometimes as a sharp or mournful solo—in a showcase of Wilson's much-celebrated blend of hard-hitting realism and tragic lyricism. – Roy Maurer
Native Gardens, Arena Stage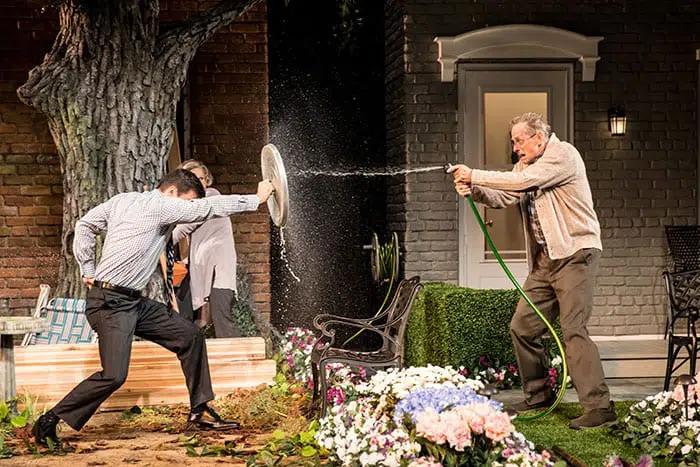 In this divisive year, Native Gardens was both the play we deserved, and the play we needed right now. Premiering at Arena Stage in the midst of another roiling political news cycle, the play gusted into DC on a current of fresh air and hope. The tale of warring neighbors from different backgrounds explored painful truths about xenophobia, generational gaps, and the American Dream. But the heavy stuff was  balanced by laugh a minute slapstick comedy, bringing the audience desperately needed levity and perspective. I left feeling more hopeful that maybe, we Americans have more that unites us than divides us. A perfectly timed and executed work of art. – Ben Demers
The Originalist, Arena Stage
I loved Ed Gero's performance in 2016 when it burst upon Arena's stage for the first time. But those were different times – Scalia was alive and causing political static among many who disagreed with his persuasion. Also, frankly, Gero didn't have the right sparring partner dramatically on stage. In its 2017 iteration, we were all living in a different world.  Scalia was no more, and we could take a more considered look at his role and legacy on the court. The show had changed, deepened; the balance between Supreme Court justice and his young female clerk was more electrifying. But, more importantly, we had changed. Seeing and hearing the old man's use of reasoning and insistence on argument based on text was – shall we say – refreshing. Gero channeled Scalia utterly.  How Ed was overlooked for a Helen Hayes last time I don't know!  Thank God our Washington theatre community has a chance to rectify this.  This was a performance for the ages, and, as for Scalia, how much we need to hear such a voice now! – Susan Galbraith
Peter and the Starcatcher, Constellation Theatre
This show was so entertaining, it made me feel like a little kid at the circus – alternating between gaping and laughing.  Megan Graves, whose abundant talents include the uncanny ability to inhabit a pre-teen, totally nailed the spunkiness of the female lead.  The rest of the cast did themselves proud in this show which required them not only to perform in multiple roles but also to pull off scenes in which a group of them would acrobatically transform into part of the set before your very eyes (spurring the gaping).  The funniest moment for me involved actors who, having earlier portrayed burly pirates, now appeared decked out as tail-undulating mermaids; but there were plenty of others. – Alison Drucker
Gary Maker Audience Award co-recipient, 2012
Private Confessions, The National Theater of Norway/Riksteatret Production of
at The Kennedy Center
Liv Ullman's direction and adaptation of Ingmar Bergman's screenplay for Private Confessions was spare, personal, and riveting.  While I have attended many foreign language plays and operas with subtitles, never have I seen a production in which the cast of actors so ably transcended that barrier.  Lead actress Marte Engebrigtsen displayed a remarkable emotional range while portraying a character at different life stages ranging from teenage girl to middle-aged woman. – Steve McKnight
&
There was only one Ingmar Bergman, and only Fellini rivals him for the dominant spot in the pantheon of 20th Century international filmmaking. Those of us who came of age revering his work had the sublime pleasure of seeing his colleague (and film icon in her own right) Liv Ullmann bring to the stage Private Confessions, from Bergman's screenplay, which allowed us to luxuriate in the world of that visionary artist. A peerless cast made flesh the incisive psychological truths of the script. And, I must admit, it was an unforgettably memorable moment for this devotee to learn that Ullmann, who was in town with the tour, quoted my review on two separate occasions. The truly great artists are more generous than they are self-involved. She didn't quote the things I said in praise of her; rather, I was told, she gloried in, and quoted, my praise of her actors. – Christopher Henley
Ragtime, Ford's Theatre
The year started with many of us in shock. Would theater have lost its relevancy completely?  The production of Ragtime showed us that no, theatre, even musical theatre could be a true weapon of resistance and an opportunity to carry a banner in the battle for the true character of American society, one enriched by the many people who came to our shows and reshaped it for the better. And the production did it all not only with intelligence but passion and a boatload of supreme local talent. In fact, the entire cast seemed to have been charged with the kind of adrenalin that comes from a personal commitment to putting one's voice and soul in the service of a larger idea. – Susan Galbraith
&
Ford's decision to stage Ragtime this year felt eerily timely given the political climate. Peter Flynn's production had a high-stakes intensity to it, and that energy seemed to trickle down to every member of the show's robust cast. – Missy Frederick
Still Life with Rocket, Theater Alliance.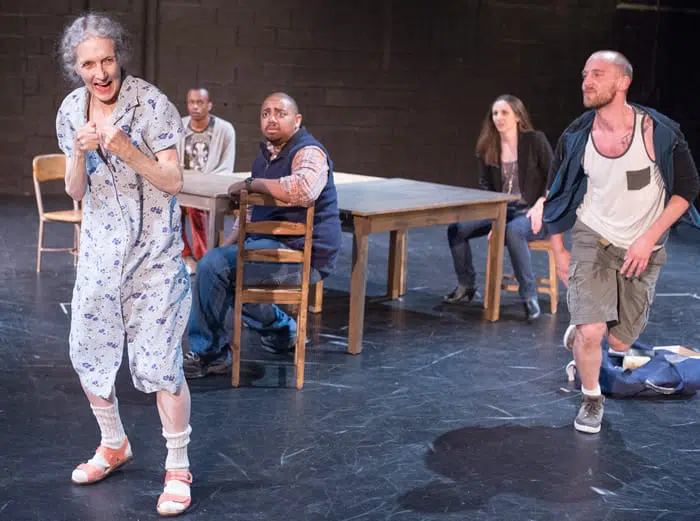 The jury is still out on devised pieces, in which the playwright lays down the basic theme and all the artists go to work on it. But this one succeeded like gangbusters, resulting in a unique story about a woman who took in lost children, taught them to box, and is now lost to dementia. Marked by Annie Houston's incandescent performance, Mollye Maxner's devised piece Still Life with Rocket affixed us with the power of its truth, when it was not affixing us with the power of its invention. – Tim Treanor
Ten Blocks on the Camino Real, National Theatre of Ghana
National Theatre of Ghana animated the exciting pulse of Tennessee Williams' challenging, colorful Ten Blocks on the Camino Real (the one-act that the great man later expanded into the full-length Camino Real). There was something about seeing the piece outdoors, hearing it spoken in accents, and experiencing it accompanied by an astounding percussionist that allowed me to encounter a familiar text in a unique and illuminating way. – Christopher Henley
Three Sisters/No Sisters, same-day experience at Studio Theatre
Kimberly Gilbert and Todd Scofield in No Sisters at Studio Theatre (Photo: Teresa Wood)
This past year, March 19 was a special day. First, I experienced the most exuberant Chekov telling I have ever witnessed. From advent to finale, Studio Theatre's stirring production of the seminal Russian dramatist's Three Sisters carried an unexpected and virulent streak of madness throughout. One of my favorite moments from 2017—for its sheer abdication from orthodoxy—was Caroline Hewitt's Masha scrambling up a tree like a cat as the stage went dark. It was such a WTF moment that one's first thought was that Miss Hewitt improvised the action on the spot.
Director Jackson Gay's lively, frenetic and surprising take on the cherished material opened with Bridget Flanery as Olga addressing her sisters as if in a solipsistic seizure, and setting a beat in time which did not really let up until the final hallucinatory tree climb.
Still digesting that spectacle, I ascended to Studio's second floor Milton theater and was supremely delighted with No Sisters, Aaron Posner's world-premiere meta riff on the old standard below, running in repertory (and simultaneously during my visit) with Three Sisters.
While the madcap version of Three Sisters ran downstairs, over half the cast spent their offstage time upstairs, performing in a piece of concept art, not bound by the constraints of traditional theater rules. It was funny, it was revealing, it was a grab bag of vaudevillian fun. – Roy Maurer
Twelfth Night, Shakespeare Theatre Company
I almost did not get a ticket to this show because I had seen it a number of times before…but I was so glad I grabbed a ticket – the opening scene in the airport drew me in and almost blew me away  – now I'll compare any future productions with this one! – Barbara Bear, Gary Maker Audience Award recipient, 2014
Who's Afraid of Virginia Woolf?, Ford's Theatre
The casting in this one did it for me – top notch – we've seen this show many times over the years but what a cast in this production! – Barbara Bear, Gary Maker Audience Award recipient, 2014
The Wild Party, Constellation Theatre
I generally do not care for musicals, but this one I thought was very good in a number of respects.  The cast was excellent and did a wonderful job of doing complicated choreography in a limited space.  The direction and ensemble work necessary to produce this result were special.  The musical numbers were fun, particularly the title song, a wonderfully profane re-imagining of the golden calf worship from Exodus.  All in all, a memorable show even for someone who is not a great fan of musicals. – Thomas Holzman, Gary Maker Audience Award 2012 co-recipient
Your turn. Which plays were most memorable for you?