"Do you have long knees?" The question came to me from the gentleman of a certain age who had the seat in front of mine at On Your Feet! The Emilio & Gloria Estefan Broadway Musical, which opened Wednesday night at The Kennedy Center's Opera House.
I suppose, by way of apology, I should have explained, "I'm sorry, sir. The rhythm was going to get me. And it did."
I must confess that I wasn't expecting all that much from On Your Feet! Miami Sound Machine (the musical group from which pop superstar and Kennedy Center honoree Gloria Estefan broke out) was in heavy rotation back in the day when I would watch MTV (which is also back in the day when that channel showed music videos — and when the Gorilla Channel showed gorillas). The group wasn't a favorite of mine.
Also, I'm not a fan, generally, of the "jukebox musical," that form where an existing songbook is rejiggered into a Broadway show as a kind of nostalgia-infused semi-concert (like Smoky Joe's Cafe), or layered onto a rom-com (or other) storyline (like Mama Mia!), or turned into a rags-to-pop-success bio-play (like Jersey Boys).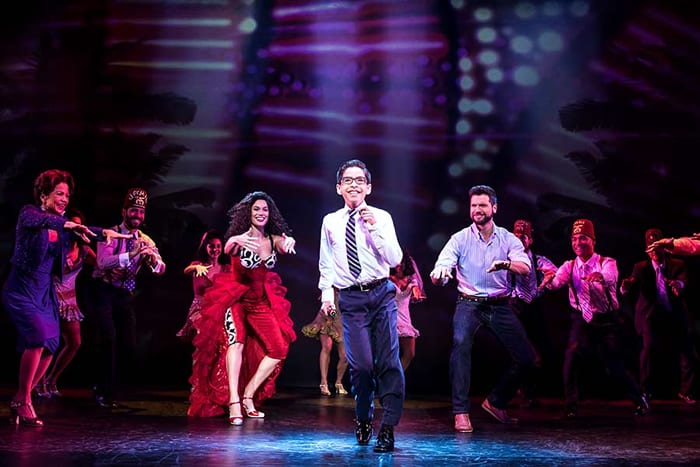 I found On Your Feet! to be a cut above those examples.
Most importantly, I found, strangely enough, the ersatz to be much more satisfying than the original. This is, of course, an expression of personal taste, but there is something about hearing the on-stage band play live that gave the music an appealing energy that I never felt seeing the videos. Of course, perhaps, had I seen the band live, I would have had a similarly stronger reaction. (There are many bands whose concerts I've left with a more appreciative attitude than I had when I arrived.)
Also, there was a dichotomy in the world of 80s contemporary music. Some acts were highly choreographed, while others were marked by a more spontaneous, free-form movement style. I always preferred the latter type of group, and am more responsive to seeing that former type of choreography in a Broadway show than at a concert.
Whatever the reasons, I was responding much more fully to the Cuban-infused pop sound of On Your Feet! than I ever did to Miami Sound Machine.
The story follows a well-trodden path as the Estefans (Gloria fronts the group, Emilio is the promoter and an off-stage artistic force) meet, woo, and deal with resistance from her family as well as from a music establishment skeptical of the crossover potential of a Latin-based sound.
The show opened on Broadway in 2015, well before the result of the 2016 Presidential election was known, and before issues surrounding immigration and cultural nationalism pushed their way onto the front-burner in the particularly charged way in which they currently have. 
——–

On Your Feet! The Emilio & Gloria Estefan Broadway Musical

closes
January 28, 2018
Details and tickets
——–
That said, the Estefan struggles, seen in 2018, gain a poignancy and a currency which you won't find at, say, Jersey Boys. We find ourselves more invested in their trials because they represent a community which now finds itself somewhat under siege.
Similarly, the fall of the Berlin Wall and the consequent fall of the Iron Curtain did not extend to Cuba. Book-writer Alexander Dinelaris (he won an Oscar for the screenplay of Birdman) takes a delicate approach, one that isn't mawkishly sentimental, as he includes in the storyline the loss of the policeman-father who didn't escape before the revolution, and a particularly effective (and wonderfully specific) monologue for the Emilio character as he revisits the Madrid airport that was a way-station on his journey from Cuba to the U.S.
The second act almost lost me, as it focused on Gloria's near-fatal accident and her challenging recovery. I had recently seen a TV ad for the film with Jake Gyllenhaal as the Boston Marathon bomb amputee and thought to myself that, as much as I admire people who overcome these sorts of challenges, I have almost no desire to see another story about that kind of triumph over adversity. All of a sudden, without knowing it was coming, I was seeing just that.
Again to the credit of Dinelaris, he resolved that sequence in a refreshing way. I won't spoil how, but will say that, in addition to avoiding bathos, it also gave the hard-working ensemble a chance to shine as individual artists.
Jerry Mitchell (the Broadway Gypsy turned Choreographer turned Director who won a Tony for Kinky Boots) is responsible for the brisk, polished, handsome production. Though it traffics in some of the broad strokes that are inevitable in a big, splashy musical, his production keeps its characters on a human scale, and avoids the sort of caricature that dominates shows like, for instance, Jersey Boys.
The choreography is quite wonderful; Mitchell, working with Sergio Trujillo, sees to that. David Rockwell's set, which features the kind of shutters one associates with Latin American buildings, looks gorgeous under Kenneth Posner's lights. Fans of Project Runway will recognize the name of Emilio Sosa; that former PR contestant designed the costumes.
The on-stage band (Clay Ostwald is the Music Director) delivers a powerful, impressive sound, and many in the audience stayed till they stopped playing, as some others began to trickle out. In fact, I don't think I've seen a band hold as many departing audience members as this band did.
Christie Prades has a powerful and beautiful voice, and she looks (from Row P) enough like Gloria E. (who was in attendance on opening night) to pull off the biographical aspect of the show, and she certainly powers the production efficiently.
There are a couple of impressive kids in the cast, who were particular audience favorites. As with many younger performers, a pair of children share those roles, and so I wasn't sure if it was Amaris Sanchez or Carmen Sanchez who gave us the charming younger Gloria, or if it was Kevin Tellez or Jordan Vergara who played, among other roles, a hilarious boy dancing with the band as it plays for his bar-mitzvah.
Another highlight of the show is when Gloria's mother (Nancy Ticotin) gets her number that is a kind of "Rose's Turn" for her character. That nearly stole the show.
Mauricio Martínez plays Emilio, and I loved him. The part almost makes a stronger impression than does the part of Gloria. He has exquisite timing (he's given a lot of the comedic heavy-lifting) and his rich, sonorous voice will seduce ladies, gentlemen, and (to quote Kinky Boots) those who have yet to make up their minds.
The show ends with the sort of close-verture "bonus track" sequence that is now becoming de rigueur on Broadway, and during it, Martínez is able to show his considerable vocal and movement skills.
It left me wondering whether Emilio Estefan should have joined Gloria out front during the group's heyday in the 80s — and also left me wondering whether, if Martínez had been a part of Miami Sound Machine back then, I would have been a bigger fan of those videos.
I sure am a fan of On Your Feet!


————–
On Your Feet! The Emilio & Gloria Estefan Broadway Musical. Book by Alexander Dinelaris. Featuring music produced and recorded by Emilio & Gloria Estefan & Miami Sound Machine. Directed by Jerry Mitchell. Choreographed by Sergio Trujillo. Featuring Christie Prades, Mauricio Martínez, Nancy Ticotin, Alma Cuervo, Jason Martinez, Amaris Sanchez, Carmen Sanchez, Kevin Tellez, Jordan Vergara, Karmine Alers, Skizzo Arnedillo, David Baida, Danny Burgos, Sam J. Cahn, Natalie Caruncho, Sarita Colón, Adriel Flete, Jennifer Florentino, Devon Goffman, Omar Lopez-Cepero, Hector Maisonet, Claudia Mulet, Jeremey Adam Rey, Joseph Rivera, Maria Rodriguez, Arianna Rosario, Shani Talmor, Claudia Yanez. Scenic Design: David Rockwell. Costume Design: Emilio Sosa. Lighting Design: Kenneth Posner. Sound Design: SCK Sound Design. Projection Design: Darrel Maloney. Music Direction: Clay Ostwald. Production Stage Manager: Eric Insko. Presented by The John F. Kennedy Center for the Performing Arts. Reviewed by Christopher Henley.