This weekend a new opera, Proving Up, proved itself indeed – a chamber opera worthy for the 21st century. Born out of a spirit of inquiry, Proving Up is mysterious, mesmerizing, startling in moments, and highly atmospheric. The work is less plot-driven than most traditional opera; it has earmarks rather of an extended tone poem.
Washington National Opera led a consortium to commission this one-hour opera to debut as part of WNO's American Opera Initiative.  To drape their inquiry into the dark belly underside of the American Dream, Composer Missy Mazzoli and librettist Royce Vavrek came upon Karen Russell's short story of the same name in the author's collection Vampires in the Lemon Grove.
The opera follows the story's premise of a group of Nebraskan homesteaders in the 1870's trying to survive under the harshest conditions in the heart of untamed America.
Vavrek and Mazzoli focused their opera on one family. Johannes "Pa" Zegner is a rough, powerful man, pushed to the brink by the hardships he's endured, and he escapes into hard drink.  "Ma" Zegner is a real pioneer woman, massively planted in the earth, who has watched over her family in illness and death and who continues to work herself to the bone. We learn soon into the opera that their two daughters are ghosts that nonetheless still skip around the place in the dust. Also featured are the family's two sons. Elder son, Peter, is a silent mystery, succumbing perhaps to starvation, madness, or both. He carries some violent, bloody secret. Miles, the younger and more robust brother is chosen to push the family's dream forward, but riding out alone on his mission he is brought low by sudden extreme weather and an encounter with a mysterious stranger.
The creative duo were driven by such questions as, "What is the pioneering spirit that had people risking everything to carve out a place in the American landscape, facing the roughest of challenges of weather and backbreaking work? What was the cost many of these early immigrants paid in pushing deep into unknown territory to follow the American Dream?  And most particularly, what does this empty, wide-open space sound like, what does it feel like?
Where the opera is most successful is in plowing deeply into this last inquiry through Mazzoli's fascinating, and deeply impressionistic score.  The music is filled with the sound of wind and weather, flying night insects, perhaps a lone bird call, and everywhere the sound of dryness. Mazzoli explores in many ways and asks us to give over to the inventive soundscape through her instrumentation and texturizing of sound.  At one point, several guitars were plucked with curious open string configurations. A harpsichord might be followed by trombone or rasping of sandpaper. In one scene a couple of harmonicas were played on stage to create a strange "vocal" drone by the two ghostly sisters.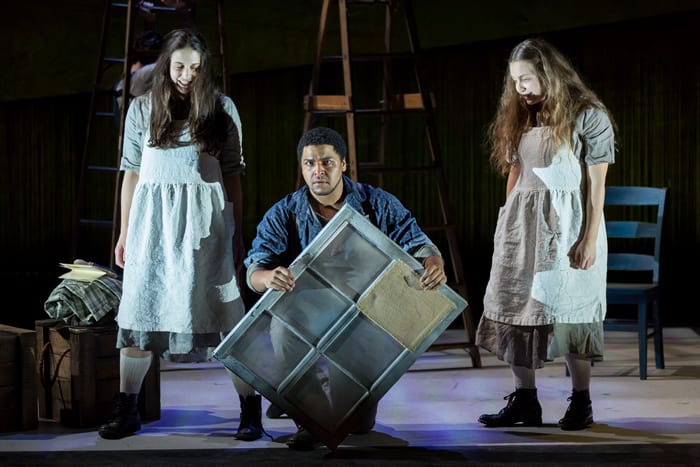 The scoring for the vocalists is anything but straightforward.  Its high and constant demands pushed audience and singers alike, but the singers did not seem to miss a beat.  "Ma" (Leah Hawkins) was given tricky arias with atmospheric high notes and unpredictable progressions. Mazzoli was careful to construct a distinct musical language for each character such as for Miles (Arnold Livingston Geis,) made up of descending catches and glissandos. The sisters  (Allegra De Vita and Madison Leonard) sang strangely gorgeous duets featuring discordant harmonies then what seemed like vocal improvisations of hissing and plosive consonants.  Timothy J. Bruno as the stranger, named The Sodbuster, pulled off a series of plunges into low notes that were impressively ominous. However strange at times the melodic writing, it was always compelling.
Vavrek's libretto is lean, starting off with a list that musically is set as a sextet. "The Homestead Act" enumerated the necessary elements required to "prove up" as it was called, that is legally own land in Nebraska: a house of sod, acres of grain, five years of harvest, and a glass window." (The glass window becomes a key element in the story.) This sextet musical theme serves as a leitmotif throughout, and, while powerful, its repetition rather than a resting place for our ears felt a bit overused.
Vavrek had some very strong lyrical writing in songs, such as Miles' "Does a window make a home? Does a deed make this land yours? …This is a tomb" and Ma's aria, mourning the death of her children. Another compelling number was the anger laden, "The Inspector is a rumor. The inspector is smoke."
I believe the intention of the creators to stay close to the short story's mysterious ambiguity while compressing the world and giving it a dramatic thrust met with some considerable success. Ultimately, I wanted more development of the relationship between Ma and Pa. I felt the original inquiry into the larger questions the creators intended to tackle got lost. There was a last scene and aria added for Ma, but it didn't yet feel fully integrated. I was left with uneasy questions how and why the Sodbuster returned and what then happened to Ma.
Alas, this is the challenge of making new opera. This and getting the musical balance of "just right" between new and repeated musical material. There is so much good here I would hope this work could grow further.
Alison Moritz is a sharp, confident director and tackled this opera with the  bold decision to ground the atmospheric music with lots of stage business, constantly changing the stage pictures.  While Moritz serves up the layering of chores as a strong counterpart to the sometimes overly ambiguous poetic world, she also pushes for abrupt changes in the physical rhythms and emotional shadings of characters both alive and dead. 
I loved the collection of the simple assortment of props and shapes: two ladders of unequal heights, a rough-hewn blue-painted kitchen table, and a trunk, leaving most of the stage empty but for a string curtain across the back onto which A.J. Guban created "big sky" bright and dark lighting effects.
Kudos to all the singers.  Their diction was impeccable and there was little need for the surtitles even for the high voices. Also impressive is the physical expression given to the characters, reminding us once again of the outstanding training going on in the Domingo-Cafritz program, developing performers who will lead the field for this next generation of singers because they can meet and excel even in the highly physical demands in 21st century opera.
De Vita and Leonard are terrific as the two daughters who fully embody young girls kicking around in the dust, swinging their legs happily then hanging around wraithlike, haunting all as tormenting ghosts.  Geis has a lovely bright quality that broke the gloom of the opera. Alan Naylor in a non-singing role, nonetheless made a great impression on all the audience as the half-starved, half-crazed older brother.  Bruno with less time on stage than the others, nonetheless creates a profoundly disturbing character as The Sodbuster, making us want to know who is this mystery man, and is he real or a ghost of the man Pa once robbed coming back for revenge. Leah Hawkins and Christopher Kenney give impressive vocal performances as Ma and Pa., although their dramatic arcs were less clear.
Ghost stories are a marvelous premise for opera. Proving Up has something of that dark preternatural attraction of Britten's The Turn of the Screw.
It also put me in mind of Conrad Susa's opera, Black River, both in theme and tone, as it also deals with harsh climate, dark loneliness, and the hallucinating madness that can ensue. As someone whose grandmother was one of those courageous seekers of a dream, driving alone in a covered wagon as a seventeen year old, to settle in what were the Dakota territories, I care deeply about stories of early pioneers. There is so much to mine and to give voice to the American Dream that, for many, has failed.
The opera made me think that we are once again being asked to consider, "What is that dream?" "Who gets to live it? and "Why?"
—————-
Proving Up . Composed by Missy Mazzoli . Libretto written by Royce Vavrek . Based on the short story by Karen Russell . Conducted by Christopher Rountree . Stage Directed by Alison Moritz . Produced by Washington National Opera . Reviewed by Susan Galbraith.
This production has closed.