Be honest with me: when you saw Michael Urie in his one-actor show, Buyer and Cellar, about working in Barbara Streisand's basement, did you think "Hey, that guy should play Hamlet!"?
Me neither, and that's why they pay Michael Kahn the big bucks. Hamlet, for all its depth and complexity, is a surprisingly flexible instrument. We know how it ends up, but why it ends up that way is a different adventure with each production. The story is set in stone, but what we understand about the characters, their motivations, their relationship with one another, all depends on how the artists who put on the production deliver their lines, and fill up the spaces between the words. And it all starts with Hamlet himself.
So what sort of Hamlet is Urie playing in the Shakespeare Theatre Company's production? Judging from Monday's (Jan. 22) opening night, not an entirely sympathetic one. Urie's Hamlet is flighty and self-dramatizing, with symptoms which resemble manic depression. He may be, as he says, "but mad north-north-west", but if so the wind comes from that direction all night long. From the moment he utters his first line, Urie's Hamlet is explosive, and though we know what will happen we are on edge throughout.
"Do not saw the air too much with your hand," Hamlet advises a theatrical troupe which has come to the castle to put on an entertainment, but Urie's jittery Hamlet uses his hands constantly throughout the first Act — sawing, sculpting, molding, orchestrating the air as if he cannot believe that the immense waterfalls of words he uses is sufficient to communicate his meaning. Interestingly enough, he is much calmer in the second Act, when he has finally decided to pursue his course, and calamity after calamity follow.
In addition to flighty and explosive, Urie is also — I know this may be hard to believe — a funny Hamlet. It is difficult to fathom a play which ends up with a quadruple murder as a comedy, but Urie, a gifted comic actor, gets all the play's gruesome comic implications, and gives them to us straight out. For example, Hamlet, having killed Polonius (Robert Joy) in the mistaken belief he is Claudius (Alan Cox) while in the bedchamber of his mother Gertrude (Madeleine Potter), slings the older man over his shoulder and says " 'night, mother" as he saunters off. The audience, having been put on the edge of their seats by the previous harrowing confrontation between Hamlet and Gertrude, explodes in laughter — but the line is in the text (in a slightly more formal way), and has been uttered by all the Hamlets you've ever seen. Here it is both striking and funny because it's totally consistent with the Hamlet we've come to understand: self-referential and self-aggrandizing enough to commit casual murder, but still possessed of good manners.
The comedy, of course, is not simply a product of Urie's performance but is integral to the production. Kahn, having elected to make this a modern-dress Hamlet, sets it in a sleek, high-security skyscraper (John Coyne's set is equal to this task, and is impressively adaptable to the needs of each scene). Bernardo (Chris Genebach) and Francisco (Brayden Simpson), the guardsmen who open the play, are wearing security guard uniforms, and they watch screens which monitor the area surrounding the building. When Marcellus (Avery Glymph) comes in with Hamlet's close friend Horatio (Federico Rodriguez) he also comes in with Starbucks for everybody. When the ghost of Hamlet's father (Keith Baxter) appears, it is not on some distant rampart, but on one of the screens; the accompanying electrical storm knocks out the other screens, and most of the lights as well, and he is truly the ghost in the machine.
Elsinore is full of bugging devices. Before Hamlet utters the speech which begins "Now we are alone," he swats a security camera, rendering it nonfunctional. The implication is immediate: our separation from the eleventh century, where Hamlet was originally set, or from the dawn of the seventeenth, when it was first played, does not immunize us from the trauma Hamlet describes.
Making Hamlet seem this unstable has a broad affect on the entire play. First, it crystallizes the dilemma of the first Act: is Hamlet's perception of his father's ghost — and thus his ghost-given mission, to kill Claudius — a mere hallucination? Hamlet raises the question himself, before deciding to stage the play-within-a-play to help him decide. Of course, we know the answer, but it's fun to pretend that this is an open question as the play develops, as much of its first audiences would have, and you will seldom get a better opportunity to do so.
Secondly, it gives room for Claudius to establish himself as a stable, mature, attractive alternative to Hamlet, and Cox fills up that room with alacrity. Cox's Claudius seems not to have an ounce of guile within him; his affection for Gertrude seems genuine and, through much of the first Act, he treats Hamlet with great patience. There is much merit in Claudius — early on, he defuses a conflict with Fortinbras (Glymph) using diplomacy, in a situation where there might have been much shedding of blood under his predecessor. Cox's Claudius is so attractive that Kahn uses visuals to remind us that he's not the good guy, supplying Claudius' minions with chillingly Nazi-like armbands with the Elsinore logo (a stylized brown "E", resembling a table vise, cast at a northwest-southeast angle against a white field) and adding a shocking silent scene to the end of the first Act.
Thirdly, it helps to clarify one of the great mysteries of the play — Hamlet's relationship with Ophelia (Oyin Oladejo). If Hamlet truly loves Ophelia, why does he barrage her with a farrago of insults and mystical pronouncements? If he doesn't, why does he weep such bitter tears at her death? With this interpretation, the answer is plain: Hamlet is not mature enough to handle romantic love. When he hugs her, he kneels to embrace her knees, and to put his head upon her lap, much as a child would his mother. It is not too far a bridge to imagine that he seeks to end an unwanted relationship by feigning insanity, though it does not seem that much feigned.  And his tears afterward? Not so much true grief as an attempt to outdo her brother Laertes (Paul Cooper) in the grief department.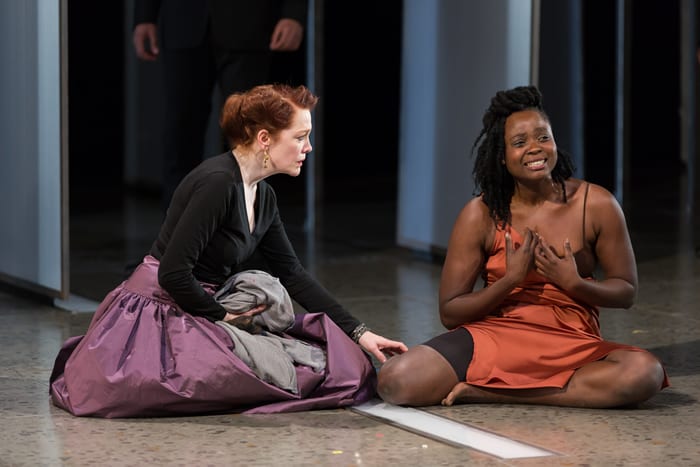 As for Oladejo, she plays Ophelia as the teenage girl she is — flattered by the Prince's attention, sympathetic to his misery, but not exactly in love. She reacts in angry frustration when her father forbids her to accept Hamlet's protestations of love, and takes her cell phone away, but with some relief too. It is clear — both from Oladejo's performance and from the text — that Ophelia is nowhere near ready to leave the bosom of her family.
Kahn's touch is heavy upon the production, to its benefit. In addition to mining the play for comedy (having Rosencrantz [Ryan Spahn] and Guildenstern [Kelsey Rainwater] be of different genders is a particularly nice touch, given Claudius' trouble keeping them straight) he also adds to efficiency — for example, having Osric (the excellent Gregory Woodall) serve as Claudius' factotum and body man throughout the play, instead of coming in at the end as the text requires. This not only streamlines the mighty cast, but makes Hamlet's insult of him particularly powerful.
About the only touch that doesn't work is Kahn's decision to have Hamlet appear at the play's outset to recite his most dramatic lines in the play — a sort of "Hamlet's greatest hits." This serves to give us a foretaste of the sort of Hamlet Urie would be playing, but it is unnecessary; Urie gives us his Hamlet immediately, and we get it.
I realize that I've gotten through the review without doing an in-depth assessment of the performances. Candidly, when the Shakespeare Theatre Company does Hamlet, a performance which is less than excellent would be shocking. You will not be shocked here. What's worth mentioning, I think, is how well the actors (and, indeed, every element of the production) serves Kahn's fascinating approach. Each principal actor gives us something to mull over in retrospect. Joy's Polonius, for example, is a pompous buffoon, as all Poloniuses everywhere are, but he is also something else — a special pleader, experienced in the ways of wheedling favor from people more powerful than he. 
——–

Hamlet

closes March 4, 2018
Details and tickets
——–
Potter's Gertrude is stronger than the Gertrudes I've seen in the past; in her confrontation with Hamlet in her bedchamber, it seems that her distress is more about Hamlet's state of mind than remorse for her own decisions, but later it is apparent that she holds Claudius to account. Cox's Claudius exudes a good politician's charisma; notwithstanding his ruthlessness, you could see that he is qualified to be King — much in the way, for example, that Henry IV was.
In short, Hamlet is, notwithstanding the four hundred and sixteen years which has passed since its first production, fresh, new, startling, and funny. If that's what you like, I recommend that you see it.
————————–
Hamlet by William Shakespeare, directed by Michael Kahn, assisted by Craig Baldwin . Featuring Michael Urie, Alan Cox, Madeleine Potter, Keith Baxter, Robert Joy, Oyin Oladejo, Paul Cooper, Federico Rodriguez, Ryan Pahn, Kelsey Rainwater, David Bryan Jackson, Lise Bruneau (who was also fight captain), Chris Genebach, Avery Glymph, Gregory Woodell, Brendan McMahon, Brayden Simpson, John Henry Doyle, Chelsea Mayo, Kamau Mitchell, Maggie Thompson, and Jeff Allen Young . Scenic design by John Coyne . Costume design by Jeff Goldstein . Lighting design by Yi Zhao . Sound design and original music by Broken Chord . Projection and video design by Patrick W. Lord . Fight choreography by David Leong . Voice and text coach: Lisa Beley . Drew Lichtenberg is the dramaturg . Joseph Smelser, assisted by Rebecca Shipman, is the stage manager . Produced by Shakespeare Theatre Company . Reviewed by Tim Treanor.