The future is female. The future is non-binary. The future is genderqueer. The future is trans. The future is queer. But before we reach the future, and while we strive in the present, it is imperative that we reflect upon the history that has guided and pushed us to where we are.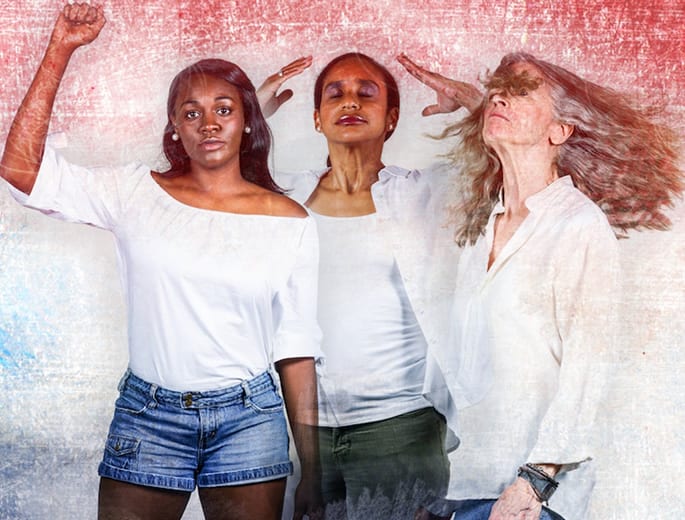 Here, with the ancient classic The Trojan Women as a beacon, The Trojan Women's Project, Brave Spirits' devised production, reflects those age-old themes into our time, serving as a somber reminder, while adding the complex lens of the modern. What does it mean to be socialized as a woman growing up, what does it mean to be a woman or a female-appearing person in this day and age, and why do women continue to suffer the same longstanding pains as our ancestors?
There's a line where a character states "the same problems are still here," after discussing marching for causes between the 60s and now. Sadly, it's true.
With these in mind, I spoke to several members of the creative team while they were deep in rehearsals in creating this new text for the Women's Voices Festival. Rachel Hynes (director), Charlene V. Smith (Producer and Artistic Director), and devisers/performers Renea Brown, Karen Lange, and Ezra Tozian shed some light with some deeply resonant and salient points regarding the importance of this work.
Why Trojan Women now?
Charlene V. Smith: Rachel Hynes and I have been discussing doing Coriolanus in repertory with a new production of The Trojan Women since 2014. We had a few conversations over time about what it might look like and how the plays might speak to each other. Practically speaking, the shows were penciled in for this season two years in advance in order to work with Rachel's schedule and because the timing felt right for the company. When it was announced that the Women's Voices Theater Festival was returning, our initial dates were adjusted to be part of the festival.
The Festival is focused on new works by female-identifying playwrights, and so BST's Shakespeare-based mission typically reduces the likelihood that we can directly take part in the festival. Since we had a project in the works that would create a new script, it was important to us take the opportunity to participate in the Festival, especially since BST supports female artists and thus also the existence and the mission of the Festival. We're proud to be part of the theatre community where this festival takes place.
We announced the project in December 2016, soon after our last presidential election. In the wake of the events of that election, particularly what it reflected about how women are valued, or not valued, in this country, the project took on a new resonance.
Rachel Hynes: I asked myself, "why this play, why now," and I discovered that I was interested in understanding the play's themes in relationship to women in American society. There are a lot of American women grieving right now, for a lot of different reasons. There's a lot of grief that remains unspoken, grief that would like to be heard.
Charlene: Certainly the over-arching story of The Trojan Women Project has changed completely from those original conversations, and it is a play created in response to current events and the current concerns, thoughts, and hopes, of the members of the ensemble.
What are some of the goals of devising this piece?
Rachel: I love [Euripedes'] The Trojan Women. I've had a long relationship with the piece; I directed it for my senior thesis as an undergraduate at Goucher College. I love ritual, theatre, poetry and tragedy and the Trojan Women has all of these things. The Trojan Women asks some tough questions: How we work with loss? How do we transform grief? Revisiting this piece has made me as look at similar questions, but look at how we process grief on a societal level.
Before the recent presidential election, I kept hearing, "If all women voted today, Hillary would be president." Women did vote, and Hillary isn't president. In fact, a significant portion of women voted for the Republican candidate. "Why is it not enough to be a woman," I asked myself. I set about trying to put together an interesting group of women to help me unpack what it meant to be an American woman. It's a herculean task. (ah, more Greek imagery).
My instinct has always been to look at rhythm and ritual as theatrical concepts, and also as ways to guide myself through difficult processes. Through rhythm and ritual, we've tried to open and peek inside the box of what it means to be an American woman.
What is the story you want to tell?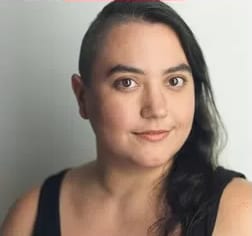 Rachel: An old friend and collaborator pointed out to me that The Trojan Women is so essential, because it asks its audience do one thing–be a witness. To witness the aftermath of this war on these women. In our show, we ask you to witness the effect of the War on Women on these women. It's an enormous task, it's hard to fit everything in. This country is huge and women's experiences are very diverse, but by looking at women who are both good and bad and somewhere in-between, I we can bring the humanity back to women, rather than looking at them as a weeping mass of victims (although, that's part of it, but not the only part!!)
How are you going about building the world of the piece?
Ezra Tozian: We're starting from general themes and parsing out which issues we want to highlight.  We've shared personal experiences, created short movement pieces, brought in artistic inspirations, and helped create characters, relationships, and scenes through improv.  After all that, Rachel takes the raw material and shapes it into the world the audience gets to experience in the space.
Karen Lange: We did a good amount of improv for our "present" scenes. The world was basically built around the characters we created in the improvs. We looked at iconic American women to set the scene for how people see us in culture. For other inspiration, we used the titular Trojan Women and tried to get a sense for this feeling of being a decimated culture, stranded in a sea-side limbo.
Since you're devising new characters for the play, how are you building yours?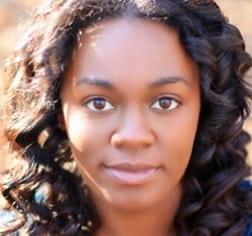 Renea Brown: I started working backwards with my character. I thought about the characteristics of women who I don't get agree with, bump heads with, honestly women who I consider a bitch. So I started developing someone who I felt distanced from. What does she believe in that I don't, and why? What's the mold of the women who I see and automatically judge, things like that. Then I worked my way into understanding and connecting with her;  meeting her in the middle. I love those characters, people who I would "hate" from the outside looking in, but once you get to know them, you find you have a lot more in common than you than you thought. That's how I developed my character, Reagan.
Karen: I'm doing a bit of stretching by basing my character on Andromache from the Trojan Women play. Andromache has a speech about having done everything right to raise her son. She loses him anyway, murdered by the Greeks. My character tries to be right and do all of the things modern women do to raise "perfect" children. She winds up with problems that will be all to familiar to many parents out there.  I got some great insights from castmates who have personal experience with children who have disabilities.
Ezra: We're starting from general themes and parsing out which issues we want to highlight.  We've shared personal experiences, created short movement pieces, brought in artistic inspirations, and helped create characters, relationships, and scenes through improv.  After all that, Rachel takes the raw material and shapes it into the world the audience gets to experience in the space.
What are some of the influences and inspirations that you've brought with you into the process?
Rachel: The lyricism of Pina Bausch. I find Pina's work to be so lovely–tragic, risky and dangerous. The symbology of Richard Foreman, The rich poetics and badassery of Beyoncés visual album "Lemonade" was a huge influence on this piece. and the feminist writing of Ursula LeGuin, especially her ongoing inquiry into masculine and feminine language. After the process started, I was writing a lot more language than I anticipated and found myself going back to August Wilson's King Hedley.
Karen: I'm the leader for music devising — a dream for me. One song was influenced by African choral music – a favorite being the group Soweto out of Johannesburg, South Africa. Now, our song sounds nothing like theirs, but the spirit and the tempo were a big influence. We also took a page from old work songs.
Ezra: If you mean personal influences, I bring Sarah Kane with me everywhere I go.  She's in my bones.  I try to also bring a fearlessness to my work (with varying results), so I'm usually the first person to try something.  And of course, everyone brings their own life experience to their art.  I'm no different.
Renea: Honestly, most of my influences for this process have come from what I've experienced as a black woman in the place where I spent most of my life: The theater. In a place that you would think is primarily inclusive, its where I have experienced a lot of discomfort. I've been training and working as an actor since I was 8, and unfortunately racist commentary, prejudiced actions, separation, retaliation, you name it, it has happened to me in the place I love the most. Weird right? So with that background, add in conflicts of black women vs. black women in our own community, on top of living in America as a black woman, I've brought that with me into the process.
What are some devising techniques you brought into the process? 
Renea: I've had never devised or worked on devising a piece before, so the only thing I could offer my cast and Rachel in the beginning was saying "Yes, and". Saying yes to everything everyone wanted to try and that led me to create ideas and offer them to the ensemble. We also had a lot of conversation about what we can and can't relate to each other in America through gender, race, politics, age, location, things like that. I'm thankful that Rachel pushed for truth because we were nothing but truthful during the process, we didn't have to sugar coat or filter which led to a lot of pure creativity. 
——–

The Trojan Women Project
Produced by Brave Spirits Theatre
closes February 25, 2018
Details and tickets
——–
Ezra: The only "techniques" I've brought to this show include patience, play, and curiosity.  Rachel has devised tons of work previously, so she has her process down.  It's a very open space, so if anyone has any warm-ups or ideas we're given the opportunity to try them (especially in the first few weeks).
Rachel: We started by discussing themes and scenarios and then create little theatre bit off of them that get incorporated into the show. I come from Lecoq training, so improvisation is a mainstay of our creation techniques. I devise based on who is in the room. If the ensemble has one extra or one fewer person, the piece would be totally different, so I'm often flowing off of who is in the room that night. We're lucky enough to have Karen Lange in our cast, who is an expert in improvisational singing, so we'll be incorporating that into the show. Ezra Tozian has experience belly-dancing, and that will probably work its way into the show.
Karen: I performed in improvised musicals for 10 years, so I brought a slew of "make'em'up" tools with me. So much of it is just encouraging people to open their mouths and sing out loudly, unafraid of being "wrong." I also emphasized that emotion is the key to any good song. Here's one sneak peek into the process: We started with a reading, then took the emotion we were feeling and started vocalizing call and response, wordless phrases. Once things got to a fever pitch, I sent everyone marching around the space. That song became the backdrop to a movement piece. One other song started with phrases we could associate with the show. Those were boiled down into a song we sing to close the show.
What actions or conversations do you hope to spark with this piece?
Rachel: I'd like the audience to contemplate a couple of questions:
What is women's history?
What is a woman's issue?
Do you see women as a monolith or do you accept women as people?
Charlene: The work of BST often hopes to get our audience thinking about gender – the way restrictive gender roles show up in art, the way each of us has preconceived notions of gender, and particularly the way female characters are treated in early modern drama (they often directly meet with violence, or are ignored or erased). We hope this repertory will continue to open up those questions, and cause our audience to consider especially gender's relationship to violence: what is a masculine relationship to violence, what is a feminine relationship to violence, and is there an inherently human relationship to violence that transcends gender and cultural norms? We think both this play and Coriolanus, in rep, will speak to our current political situations, The Trojan Women Project directly, and Coriolanus more so thematically. Both plays will also deal with the way people are grouped together in different ways. The Trojan Women Project takes a voting bloc – American women – and seeks to individualize them with the specific feelings and experiences of the members of the ensemble. In contrast, Shakespeare's Coriolanus stages groups of people as homogeneous mobs, an element that this production especially aims to highlight.
Karen: I would like people to leave thinking very hard about their attitudes and actions toward women. There's a line where a character states "the same problems are still here," after discussing marching for causes between the 60s and now. Sadly, it's true. I want people to see the effect that they have on women and on each other. I'd also like people to think of feminism as something that touches more than gender – it's class, race, culture, and much more, all mixed in. So we're stuck with the same problems and need to expand our view to women of color and gender non-conforming folx as a part of the cause. We are all in this together and acknowledging that is the first step toward moving our culture in a positive direction.
Renea: I hope it will spark a conversation around this idea of "All Women". These marches and hashtags we that are supposed to represent "Women" and "What we want", but there's still a hierarchy there. There's no way "we all" want more affordable healthcare when we all don't have healthcare. How do we get there? We women can't ALL want to be paid the same as men, if ALL women aren't even paid the same as other women. How do we get there? I'm not saying that these goals aren't valid, but we have to have the conversation about speaking up for the "other women" who aren't included.
Ezra: The show brings up a lot of topics – some I feel qualified to discuss, some I don't. I'd be delighted to talk about or listen to any conversations that comes up after the show.
My personal goal – and something I hope might come across or be included in the final product – is the idea that "women's issues" don't necessarily only affect women.  I'm non-binary, but since I was socialized as female, I encountered many of the same positive and negative experiences as the women around me. If included, I hope that the point of view doesn't come off as diminishing or minimizing, but rather as a recognition of our similar experiences and the community we can create together.