Adventure Theatre MTC's Alexander and the Terrible, Horrible, No Good, Very Bad Day is a laugh-out-loud journey through the worst calamities of childhood, and appealing to kids and adults alike.
Of course, we all know the premise of Judith Viorst's 1972 children's classic Alexander and the Terrible, Horrible, No Good, Very Bad Day —and if not, it's right there in the title. Alexander (Christian Montgomery) wakes up one morning to gum in his hair. From there it's downhill. Tripping and falling. Cavities. A bit of older brother bullying from Nick (Sylvern Groomes Jr.) and Anthony (Sophie Schulman). Lima beans. A really bad duet followed by rejection from his best friend, Paul (Tiziano D'Affuso). And, ugly, awful white shoes sold by a skeezy salesman (Daniel Westbrook). But all that befalls Alexander provides belly laughs of the best kind for the audience.
Opening with the light-hearted "If I Were In-Charge"—sung by actors wearing onesies—the stage version of Alexander kicks off with a lively tone, heightened by lovely scenery, like something out of a pop-up book. It's bright and angular and all whimsy. And the actors come out swinging—expressive and funny at every turn.
Alexander, after having a tough time getting off to school, finds himself in class getting the raw end of every activity, from his drawing of an invisible castle to his desert-less lunch. But music time is the best time (for us). Linda Bard, as classmate Audrey, duets "Mother Doesn't Want a Dog" with Alexander. His dance moves and musical prowess are abhorrent. He's oblivious. Audrey is not, showing on her face a special kind of horror reserved for children unconcerned with social etiquette.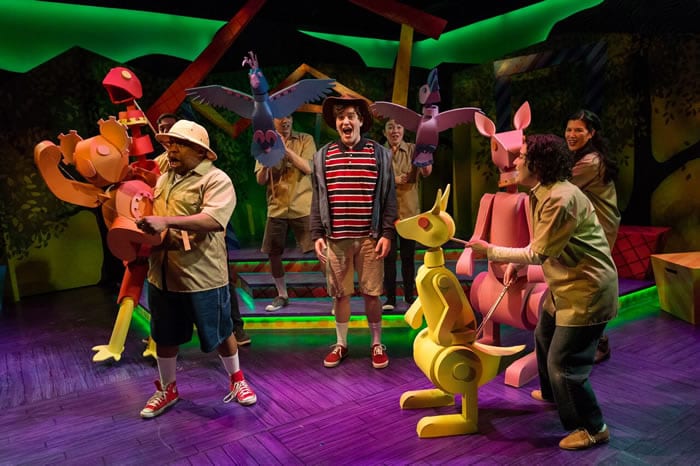 But, it's Paul's rejection of Alexander that causes him to dream of a whole different life. In Australia. Here the show comes alive with brilliant animal puppets, parading across stage and moving in synch as an animal menagerie should while Alexander sings "Australia." It's beautiful.  And yet, the best number is still "Shoes," which is a slick, smooth ode to (you guessed it) footwear in which Westbrook and the Ensemble show off some fancy footwork. Seems poetic. And Westbrook is pitch perfect. 
——–
Alexander and the Terrible, Horrible, No Good, Very Bad Day 

closes
March 31, 2018
Details and tickets
——–
Montgomery, who carries the show as its title character, is a charming Alexander. The Ensemble is an energizing force that brings in the fun. Alexander and the Terrible, Horrible, No Good, Very Bad Day is anything but, and it has all that a children's show should have: humor, heart, and wise words.
As Alexander's mother (Sally Horton) reminds him, bad days end. And, then we get to begin anew again.
This is a wonderful, whimsical, way fun, very good play. And musical.
——————
Alexander and the Terrible, Horrible, No Good, Very Bad Day  . Based on the book by Judith Viorst and illustrated by Ray Cruz. Directed by Cara Gabriel. Books and Lyrics by Judith Viorst. Music by Shelly Markham. Featuring Linda Bard, Tiziano D'Affuso, Sylvern Groomers Jr., Sally Horton, Christian Montgomery, Sophie Schulman, Daniel Westbrook, Cassie Cope, Jonathan Miot, Hillary Morrow, and Carl Williams. Production: Stephanie Wilson, Assistant Director; Ashleigh King, Choreographer; William Yanesh, Music Director/Orchestrator/Arrangement; April Joy Vester, Scenic Designer; Jeannette Christensen, Costume Designer; Jason Arnold, Lighting Designer; Gordon Nimmo-Smith, Sound Designer; Andrew "Dre" Moore, Props and Puppet Designer; Will Voorhies, Master Electrician; Amy Kellett, Scenic Charge; and Erica Feidelseit, Assistant Stage Manager. Stage Managed by April E. Carter. Produced by Adventure Theatre MTC . Reviewed by Kelly McCorkendale.