It would be an odd experience, watching Heather Raffo's Noura on a double bill with Danai Gurira's fine Familiar. I almost did that, bookending the weekend with the two shows about immigrant experiences in America. Both shows are about families who have escaped homelands which have been ripped to shreds — in Familiar, Zimbabwe; and in Noura, Iraq. In the strangest way, both plays, part of the Women's Voices Theater Festival, are about — America.
In America the story is all about assimilation, which is another word for abandonment. For three and a half centuries, people immigrated to America for opportunity — the opportunity to become whatever their skills permitted them to be, instead of what caste or class or church or society dictated. (I know that hundreds of thousands came over in chains, in the middle passage, and others were here at the beginning, and dispossessed; and their story is different). The moment the boat touched shore, they ceased to be Irish or Polish or Chinese, and became Americans instead. They were not sentimental about the countries, or the people, they left behind, and did everything they could to teach the children the language and traditions of their new country.
In the old country, they relied on the community (the Church, the elders, the traditions) not only for support but for moral and social guidance; but in America they became rugged individualists, relying on themselves. Their relationship to the community, like that of all of us in this country, is an enormously complex and delicate thing, mediated by a wide distribution of power among local, state and national, judicial and executive, and bicameral legislatures.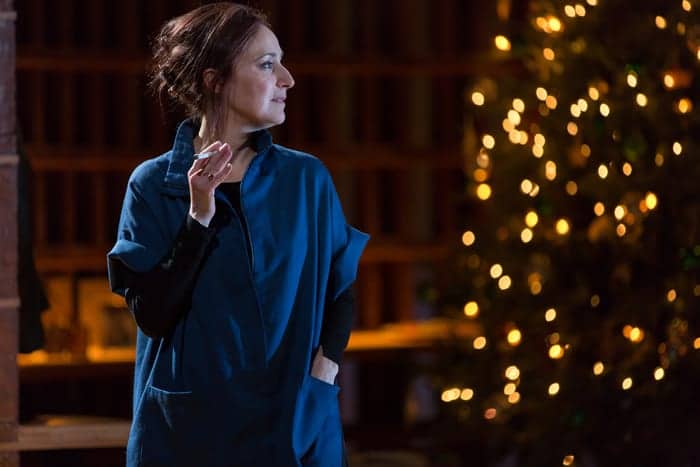 It is different for Noura's family. They are Chaldean Christians from Mosul — refugees forced to flee their homes, where they had lived for thousands of years, in order to escape the depredations of ISIS, whose soldiers would force them to convert to Islam, or shoot them in their heads.  They were happy and prosperous in Iraq; they loved their community, and their lives, until ISIS came and turned it all to garbage. They came to America not for opportunity but so that they would not be killed.
Now they live in New York City. They've been there for eight years and have attained citizenship, and they live in a beautiful apartment (Andrew Lieberman), but it is not the same. Noura (Roffo), who was an architect in Iraq, is at loose ends here; she has no job, and cannot muster enough commitment even to buy a couch or some comfortable chairs for her living room. Her husband Tareq (Nabil Elouahabi), a surgeon in the old country, worked in a Subway when he first came here, but now has found work in a hospital emergency room.
Tareq gamely tries to dive into the gestalt of his new country, renaming Noura "Nora", to her great annoyance, and their son Yazen (the fine child actor Gabriel Brumberg) "Alex". For himself, he bestows the sobriquet "Tim". (He could do much worse, believe me). None of this, though, fills up the emptiness for Noura, for whom rugged individualism is no substitute for her old community, who would all gather in her father's house at Christmastime. It is Christmastime now, but Noura's soul is more filled with yearning than joy. Her gift to her husband is architect's drawings for a house he will never have: a compound where they could live with his five siblings, now scattered all over the globe, and their enormous families. (His to her is a hard drive containing the entire library from her home in Mosul, uploaded immediately before it was burned by an ISIS-paid neighbor). When Yazen goes off to play a Wise Man in his school's Christmas play, Noura derides his Disneyfied costume and gives him a wrap once worn by her father to place over his head.
Up to this point Noura is a delicate meditation on the experience of the modern immigrant, who comes to America not in the hope of achieving a better life but in order to escape a home which has become infinitely worse than it was. But then, with the arrival of an Iraqi orphan who came to America after ISIS bombed the orphanage, the play morphs into something else.
The orphan, Maryam (Dahlia Azama, powerfully authentic and convincing) has won herself a life in America that earlier immigrants could only dream about: a scholarship to Stanford University, where she will study physics, and the assurance of a job in the Defense Department after she graduates. But she, too, chafes against the loneliness of American individualism — and the solution she has chosen to assuage that loneliness (I dasn't tell you what it is) shocks Noura, and drives a wedge between them. 
——–

Noura

closes March 11, 2018
Details and tickets
——–
And then it is Christmas. For many Americans, Christmas is one of the few days that a whole family eats a meal together, but to Noura, her family isn't enough, and the absence of the community weighs heavily upon her. When Maryam shows up, along with Noura's charming childhood friend Rafa'a (Matthew David is excellent in the role) the play turns again, to near-melodrama, as the characters reveal their secrets. Then the focus shifts once more, to Tareq's antediluvian sexual attitudes.  Tareq, who to this point has been broad-minded and generous of spirit, shows himself to be a prude and a hypocrite, and reveals a secret grudge he has held against his wife, through their twenty-two years of marriage.
And then the play morphs one final time — into its secret identity, A Doll's House, Henrik Ibsen's groundbreaking 1879 play about the dissatisfaction of women in contemporary society. Noura is Nora; Tareq is Torvald, Rafa'a is Rank — except they're not. Noura is not Nora, slowly discovering that her world can be so much larger than the place she's occupying; she is a thoroughly modern woman, a professional, respected and in love with her family. Tareq is not Torvald, idealizing his wife as a way of controlling her; it is in fact his thoroughgoing understanding of her which creates the dilemma. And Raffo's effort to shoehorn her play into the mold of the older work throws it off the tracks entirely.
What is so frustrating is that every part of the play works, but fully assembled, it is at war with itself. Raffo constructed the play after spending years running workshops for Arab American women in New York City, and every element — Noura's loneliness, Tareq's unthinking sexual hypocrisy, Maryam's resolute efforts to control her life — rings true. But notwithstanding Joanna Settle's canny direction, and fine performances by the cast — in particular Raffo herself, and Elouahabi as Tareq — it does not hang together. The characters are authentic, the dialogue is authentic, the stories are authentic, but there is no through line, and the play's dénouement seems like just another left turn in the narrative, rather than a satisfying catharsis.
—————————–
Noura, by Heather Raffo, directed by Joanna Settle, assisted by Charlie Marie McGrath, with Kate Bergstrom as a directorial observer and assistant to the director. Featuring Heather Raffo, Nabil Elouahabi, Matthew David, Dahlia Amaza, and Gabriel Brumberg, with translations and recorded voices provided by Ni Qasey . Scenic design by Andrew Lieberman . Costume design by Tilly Grimes . Lighting design by Masha Tsimring, assisted by Mary Keegan . Sound design by Obadiah Eaves . The casting director is Laura Stanczyk, CSA. The resident casting director is Carter C. Wooddell . Drew Lichtenberg is the dramaturg. Maya E. Roth is the developmental dramaturg. Lisa Belay is the voice and text coach . The young performer supervisor is Jenna Murphy . Jess Slocum, assisted by Christopher Michael Borg, is the stage manager (Yiwen Wu, Stage Management Fellow) . Produced by Shakespeare Theatre Company . Reviewed by Tim Treanor.