Rapture, Blister, Burn is a masterful exploration of feminism in practice, and Maryland Ensemble Theatre (MET) gives it a sharp, engaging production sure to stoke important conversations over coffee after the show.
Laura Stark stars as Catherine Croll, a successful academic who has returned home to take care of her elderly mother, (Carol Randolph.) However, a regretful phone call made while black-out drunk has reignited an old burnt bridge: Catherine's friendship with the woman who ended up marrying her grad school boyfriend.
Gwen Harper, (Gené Fouché,) is a foil to Catherine, having chosen family over career and won a mediocre marriage with the now washed-up Don Harper, played by Ron Ward. Catherine inadvertently inspires Gwen to go back to college, in the form of a summer class on feminism taught by Catherine in her mother's living room.
Catherine's class is the perfect place for playwright Gina Gionfriddo to arm the audience with tools to analyze the play and their own relationships with feminism. The only other student is Avery Willard, Gwen's 21-year-old babysitter, (Madeline Reinhold.) Catherine's mother Alice frequently joins in, often with a tray of martinis for everyone. The foils of young Avery and old Alice complement the gap between Gwen and Catherine to create a wide range of experiences and opinions. The intergenerational discussion, in the same vein as Susanne Vejdemo's So Mom I Made This Sex Tape, makes the history of feminism and how it has shaped the lives of these women so clear and vital.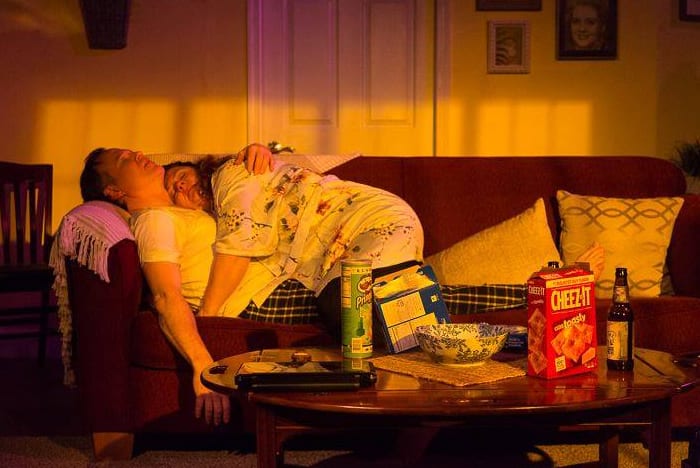 Director Suzanne Beal stages the play with mixed success. The chief flaw is the blocking in MET's tight space. Eric Berninghausen's set gives almost three quarters of the space to a warm and believable depiction of Alice's house, leaving an unremarkable and tiny patio stage right. It's in that small space that the show opens with fifteen minutes of the back of Stark's head, at least for the majority of the audience not wrapped around the far sides of the thrust stage.  Even when the play moves inside and Beal has more room to play, we often lose characters to this closed off blocking.
That being said, there are two strengths that keep the show from falling flat. First, the cast keep a good pace and stays invested in Gionfriddo's snappy yet natural dialogue. Reinhold's Avery is especially sharp, eager to provoke Gwen with a jab at her life's path or offer surprise advice from left field. She had us excited for each line, ready to see her push more buttons or try a new avenue of attack. Stark made the smart choice for Catherine to turn away after some of Avery's greatest lines to hide her smiles, putting them on full display for the fourth wall at last. 
——–

Rapture, Blister, Burn

closes April 29, 2018
Details and tickets
——–
The other great strength was how invested Beal got the audience. Beal and Gionfriddo turn ferminist theory into a contact sport. We were cheering along to each hit & dodge. But even better were the uncomfortable moments. That tight venue and the thrust stage made it easy to look around at your fellow audience members and wonder, "Are they a Catherine? Are they a Gwen? What does that married couple make of this? Who's really squirming in their seat?"
Rapture, Blister, Burn sidesteps a huge risk in telling this kind of story: One-dimensional strawmen who too closely hew to unexplored ideas. I was especially afraid that Avery would just be a cloying millennial punching bag. However, each character experiments and grows along with the plot. Avery is eager to learn, even while the audience is recoiling at Catherine's open-minded lesson on anti-feminist Phyllis Schlafly. Catherine (and Gionfriddo) is fearless in her exploration of the ideas, without talking down to or protecting her students (or us audience members). You will never fully agree with any one character, but the show welcomes and nurtures that nagging resistance that proves that something about this matters to you, and you should think about that.
—————
Rapture, Blister, Burn by Gina Gionfriddo. Directed by Suzanne Beal. Performed by Gené Fouché, Carol Randolph, Madeline Reinhold, Laura Stark, and Ron Ward. Scenic design by Eric Berninghausen. Costume design by Stephanie Hyder. Lighting design by Mike Brown. Sound design by Thom Huenger. Props design by Lia Seltzer. Assistant directed by Mariciela Barci. Stage managed by Rachel Smith. Assistant stage managed by Maria Laird. Dramaturged by Em Perper. Produced by Maryland Ensemble Theatre. Reviewed by Marshall Bradshaw.