The Book of Will, in which surviving members of the acting troupe The King's Men decide to put Shakespeare's First Folio together, has won the $25,000 Steinberg Award for playwright Lauren Gunderson, the American Theatre Critics Association (ATCA)  announced. The Steinberg goes to the best new American play from regional theaters. (Plays that have been produced in New York City are not considered.)
The Book of Will was seen here at Round House Theatre late last year. "Book Of Will, though a new play, has a sort of Golden Age of Hollywood feel to it;" DCTS's John Geoffrion said in this review. "[A] fast-paced dialogue-driven, character-rich script painted in broad strokes, and aimed more at the heart than the head."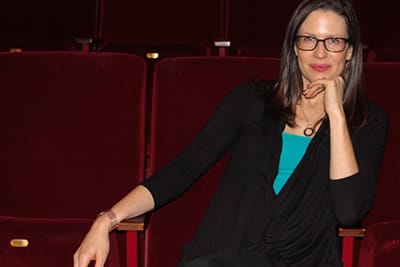 On Gunderson generally, Geoffrion noted, "She's prolific, consistent, writes down-to-earth dialogue rich with humor and wit, has a gift for writing sparkling characters, frequently addresses topics of science and history to draw in the casual or infrequent theatregoer, either features female leads or has strong female characters that are the match of the males, avoids overtly didactic themes and avant-garde theatrical devices, aiming squarely at an educated middle-class middlebrow audience." American Theater Magazine named her "Most Produced Playwright of 2017-2018."
This is the second Steinberg award for Gunderson, who won it in 2014 for I and You.
ATCA also announced $7,500 Steinberg citations for Molly Smith Metzler's Cry It Out and Ike Holter's The Wolf at the End of the Block. Metzler's play is about two young mothers, neighbors but with wildly different backgrounds, who bond over coffee shared in their back yards. Things turn darker, though, when a neighbor who has been watching them from a mansion on a hill overlooking their yards shows up. "From that point on, what had been a comedy of manners becomes a deeply felt topical drama that takes audiences on an emotional roller-coaster ride that whipsaws through laughs, poignant tears and moments of monumental rage," says Marty Rosen of LEO. "In the course of discussing parenthood, postpartum depression, and gender roles, the play offers some extraordinary insights that will send you out of the theater with much to ponder."
In The Wolf  at the End of the Block, a cop beats up a young Latino man outside a bar. At least he thinks it was a cop. But he finds no one interested in hearing him — until in another bar, he gets into a conversation with a man who may be a cop. May be the cop. "The beauty of Ike Holter's 2017 play…is how deftly Holter avoids the temptation of simple didacticism and instead turns a sensational incident into the catalyst for a complex morality tale," says Jack Helbig of the Chicago Reader.
Other finalists for the Steinberg Award were two Tracy Letts' plays, Linda Vista and The Minutes, and Objects in the Mirror by Charles Smith.
The $1,000 Osborne Award, which ATCA gives to the best new play by an emerging writer, went to Chelsea Marcantal for Airness. The play, which, like Cry It Out ,debuted in Louisville's 2017 Humana new play festival, is about a young woman entering the world of competitive air guitar. "The eccentric yet heartfelt characters, the physical antics, a good dose of rock music and the feel-good story — with some romantic heartbreak — make for great fun in this play," said Elizabeth Kramer of the Louisville Courier Journal.
The winners were selected by a nineteen-member ATCA Committee headed up by freelance critic Lou Harry and the Steinberg winners were confirmed by the Harold and Mimi Steinberg Charitable Trust. DCTS' Jonathan Mandell is among the critics who serves on that Committee.