As we speak, Emily DeCola (Puppet Designer) is in New York City, directing a puppet, bookcases, and fish for a new Puppet Kitchen production, The Little Red Fish, with New York City Children's Theater. Eric Wright (Puppet Director) is rehearsing with the cast of Snow Child in Washington, D.C., looking out on a rare March snow storm that has blanketed the southwest waterfront. Unphased by distance, these longtime friends and collaborators open up about the inspirations and creative processes behind three puppets in Snow Child, a world premiere musical now at Arena Stage.
Tell me about your past work together at Puppet Kitchen and Arena Stage.
Emily DeCola: I've known Eric since 2002. We've worked on hundreds of projects together. We challenge each other and support each other. It's a nice mix of encouragement and provocation, and it's a pleasure to have a colleague that I trust so deeply.
Eric Wright: Emily and I had a great experience doing Mabou Mines' production of Peter and Wendy at Arena Stage 11 years ago. I love that show so deeply. It's hard to do Peter Pan and not have it feel constructed and fake, to have the magic be real; it felt real in that show. The love and care that comes out of playing together and making magic together was really special. I think that will happen in this show too. The puppetry in Snow Child is very different, but it's still treated with that same love and magic and care that I remember from Peter and Wendy. And now, the chance to create something brand-new at Arena Stage is really exciting.
For this show, you have created a horse, a fox, and a trumpeter swan. Can you describe them? 
——–

Snow Child

Premiering at Arena Stage
closes May 20, 2018
Details and tickets
——–
Eric: We're still discovering the horse's character—that comes out of the puppeteers who bring him to life—but we know a little from the script. We figure he's probably not the youngest horse in the world. He's a big draft horse, pretty intimidating. He's the kind of horse that will pull out a tree stump without much trouble. 
Emily: In this play, the fox is the embodiment of the wildness of Alaska. It is tantalizing, beautiful, completely unreachable, a mesmerizing force. I designed each character with some natural features but also made them quite stylized. Their faces are naturalistic sculptures, but their bodies are stylized, and need motion. For example, the fox puppet has no legs. It needs to be able to swiftly move, so it floats above the ground. In that juxtaposition I use stylization to talk about how familiar or unfamiliar each animal is.
What aspect of the production posed the greatest challenge to execute?
Eric: I think it's a tie between the horse and the fox. The horse is an amazing feat because it is operated by two people at once. A lot of coordination needs to happen to make it seem like one animal with one thought process rather than two people. But the fox is also difficult because it's the most finely tuned work. Dorothy James is a really exceptional puppeteer. She has an incredible ability to perform through the object in a delightful, subtle, touching way.
Emily: I've been working with Arena Stage's Artistic Director Molly Smith to articulate the characters in three dimensions and motion. The challenges of this show range from conceptual and aesthetic to pragmatic. It was a fun challenge to create a design scheme that for three animals that ranged from absolutely wild to totally domestic and felt cohesive.
Can you describe your work space?
Emily: Eric once described me as a frustrated collage artist. I take inspiration from reference imagery. It's a fun detail to note that I looked at the edges of snow drifts for the final lines in the fox. The colors come from glacial ice. One of my design boards displays 47 pictures. For me, it's part of the storytelling. Just as people have a multitude of experiences that build them into who they are, for puppets, there is a visual analog.
Did your horse design come from a 47-piece collage?
Emily: Actually, the decorative style of the horse came out of scribble art. Through automatic drawing, we  reached a compromise between a very man-made aestheticized look and something wild and untamed, which is what an animal is. Even domesticated animals have their own ideas and choices.
What does the job of a puppet director look like on a daily basis?
Eric: It's similar to a fight choreographer in a fight scene. I help the actors or dancers express themselves on stage. My job is to take the scene that our director, Molly Smith, wants, and translate it to the puppeteers to guide them and find out what they can do. We have no idea what these puppets can do until we see them in hands; that's when they become actors. 
What is your favorite memory from rehearsals?
Eric: There was this really wonderful moment right at the beginning. When the puppets first arrived at Arena, we were doing a show-and-tell of the horse and fox.
Emily: We were doing some improv playing. Two guys were performing the horse, exploring the space. Then the fox wandered up to say hello.
Eric: And they looked at each other.
Emily: The two puppets saw each other for the first time. They had never before been alive together.
Eric: It was this beautiful moment where this gigantic horse was captivated by this tiny little fox.
Emily: It was incredibly sweet and touching to see them meet. Molly and I liked that spontaneous moment so much that now it's in show.
By the time that moment came, was your job complete?
Emily: In every production, the puppets are not finished being designed and built till they are operated. Part of my design only takes place when I see how the characters lived with performers. Eric continues that process, changing the padding and rods to work best with their bodies.
Tell me about the puppeteers.
Emily: Dorothy James (the fox) has a substantial amount of experience. Calvin McCullough (the head and heart of the horse) also has lots of big puppet experience. It's clear that they all have a wonderful sensitivity for movement. Within minutes of getting their hands on the puppets, they were discovering wonderful stuff that the characters can play.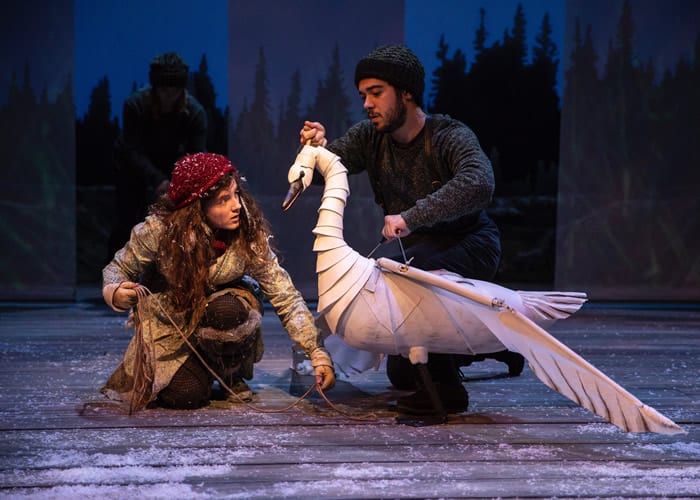 Were they sought out for their puppeteering abilities, or for their human acting?
Emily: The best analogy I can make is to playing a musical instrument. It's possible to cast a person who has musicality but doesn't know how to play guitar, and teach them. But that doesn't mean they will do it with the most fluency and beauty. Hiring a person who has puppetry experience, just as someone who knows how to play guitar, will allow them to achieve nuance and subtlety in their performance.
How do you ask puppeteers to prepare for their roles?
Eric: The way I approach puppetry, it's just acting with a different body. We tell the puppeteers to do all the same research as actors on the story, the place, the time, how characters would move. To play a character with a broken leg, you would research the way someone with a broken leg walks. To play an Arctic fox, you would research animal movement and try to find that essential 'foxness.' 
How is working with animal puppets different from acting?
Eric: On stage, you are trying to get rid of all the humanity in your character. The character of the horse is not anthropomorphized in any way. It's a real horse on stage.
Tell me about the role of movement in your character designs.
Emily: Unlike people, puppets are designed to do a limited number of things. With puppets, everything they are and do comes as a result from a deliberate choice. If you look at a design closely, you can see what the designers, directors, and performers are using to focus the audience's attention on one aspect of storytelling or another.
Can you give me an example?
Emily: In one scene, the swan needed to be performed by one puppeteer in order to have an intimate scene with Faina. That meant a limited number of hands, so its legs don't move at all but its wings and neck can move freely. The contrast between stillness and chaotic movement in the swan's body captures the dramatic moment of that scene. 
What makes a puppet a work of interactive art?
Emily: I think that one of the most thrilling aspects of puppeteering has always been that a successful performance design works because it doesn't fill in all the details. There is always an opportunity for an audience watching a puppet be alive onstage to draw on their own imaginative experience. The audience makes that moment feel vibrantly alive. That's how we engage with most art, but it's particularly vital to this form. It's a remarkable opportunity for dialogue between the creators and people experiencing it. I hope people who see this show find that to be a tantalizing invitation.
Why does this show need puppets?
Eric: In any show where you want to have puppets, you first ask why you need them in that story. What does it add? In this show, there is a certain amount of magical realism to the world of Alaska that we're creating on stage. Bringing puppets out of that magic is one thing they can help with.
The kind of magic like in Peter and Wendy?
Eric: When we're watching a play there's a certain amount of suspension of disbelief. A friend of mine says that people want to believe. When you perform well, people allow themselves to believe. I think that can help the whole world open up into believing in something a little more magic.
When many people think of magical puppets, they think of cute, non-threatening characters. Do you think D.C. audiences will expect that?
Eric: There are a lot of preconceived notions about puppets, but if you really think about it, nowadays lots of puppetry is being used for shows that are not whimsical, such as War Horse and The Lion King. Those characters are not furry or fuzzy; they are dealing with difficult themes. It's the same as going into a musical. When you see that Snow Child is a musical, you might expect something whimsical and happy because that's the stereotype of musicals. But hundreds of musicals deal with powerful themes. I'm excited about using puppets in theater as a tool to help elevate everything that theater can communicate.
But these puppets are hardly there for whimsical magic, though, right?
Eric: In the show, death is a real tangible element of power. Having some element of that power is really important. There is always a looming threat of death in Alaska. The wilderness can consume you. There is a running threat of death and a running threat of life playing off each other. When we play with the magic of an inanimate object, the audience can see that it's not real and believe that it's real at the same time. To be able to show death and have the audience not be concerned but also believe that death is real and impactful is important. The puppets elevate this story to a more magical place. You know magic isn't real but you know at the same time that magic is totally real. That's my favorite kind of magic because you make it. When the audience is connecting they are equally involved in bringing an animal to life.
What makes this show powerful in 2018?
Eric: What Molly Smith has really created with this show is that sense of being out in the wilderness, where in order to survive you are making things with each other. Homesteading in Alaska, everything is heightened. Every injury, danger, or moment of kindness makes more of a difference. This show works because of incredible work of Emily, the actors, our songwriter, playwright, director, crew, and stage managers together. That's vital in general, but I think it's especially vital in this particular moment in time to remember how to care for each other. Many forces in the world are telling us to think only about ourselves. The more we can remind each other about the different ways we can care for one another, the better.