What does radical empathy look like? Look no further than the plays of Athol Fugard. He has made his life's work giving voice to the Black Africans of South Africa who were not allowed to tell their own stories and breaking down the imposed divides between the races of the system called apartheid. Fugard is a playwright whose humanity is always at the forefront of any ideas or –isms. His plays are always steeped foremost in character.
"MASTER HAROLD" … and the Boys comes to us as a very painful, very courageous personal confession by Fugard. The alcoholic, crippled father is a shadowy off-stage presence of Fugard's dad; his mum, who as breadwinner barely scraped it together for her family, did indeed run a tea shop that serves as the setting for the play. Most importantly, there were Willy and Sam, two men who served this family, helping to run the shop, and more importantly who stood as staunch friends and allies to the young boy. That is until rage and shame build up in him at his own powerlessness and the burden of his father tips him into channeling it into the convenient toxic pipeline of racism.
What makes the raging racist comments so obscene, when they come, and so dramatically powerful, is that they are not pronounced against a faceless enemy.  Spit and venom are hurled at someone so dearly loved, a surrogate father figure and desperately-needed role model of a man. Fugard himself pens with anguish thirty years later, "the most beautiful friend I ever had." At that moment, we in the audience sit in shocked and shamed silence.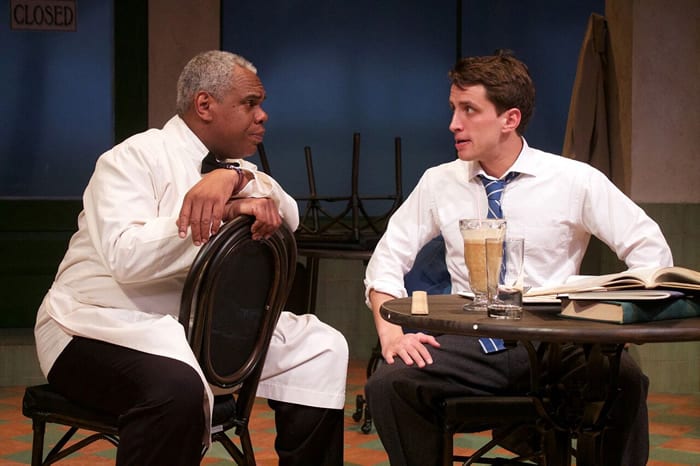 Anyone who has had a nanny, an ayah, or a babu anak, can relate to the close yet often precarious relationship of child and caregiver. As long as the unconscious child is without societally-imposed filters the two live together, sharing an intimate world in a kind of state of grace. But many have endured or even painfully instigated that kind of defining moment when differences in class, race, education, and language, and sometimes all these come to the fore, becoming divisive weapons of engagement. The relationship is ruptured; innocence destroyed. Beloved "nanny" is pushed away, or quietly dismissed as "outgrown."
Round House Theatre has put all this on stage, and Artistic Director Ryan Rilette, revisiting Fugard's twentieth-century classic, intentionally directs this play as a work that painfully exposes the uneasy relationships we have and the social, economic, and racial inequities in our own society. In the lobby hang posters with the following statistics:
In 1975 in South Africa the top 95% of top 10% earners were white and around that same time 15.7% of black South Africans in urban areas were unemployed.
Between 2006-2016 in the US,  87% of the top 10% earners were white and 39.3% of African Americans in urban areas were unemployed.
This last year 84% of African Americans thought our country was getting worse (compared to 55% of Black South Africans.)
More Blacks are incarcerated in the U.S. than in South Africa, by several thousands.
We used to be able to point to South Africa's brutal apartheid system and say with certitude, "Well, we're not like them!" Our boat carrying our moral superiority is leaking badly, and we too have to make a confession: it's been leaking a long time.
Rilette has gathered a strong cast and directed with sensitivity the slow wind up of this essential one act. It all leads to the climactic scene alluded to above.
Craig Wallace and Ro Boddie play Sam and Willie, and they set up the first scene with confidence and light banter.  As the two Black workers cleaning up a Whites Only tea shop, they demonstrate the resilience of people who daily rise above the rules put in place to oppress them. The two men practice steps for an upcoming dance contest. Sam is the more experienced dancer and he also dishes out some relationship advice to Willie.
Haley, the owner's son, enters after a day at school and finds time to joke around with Willy and Sam, while at the same time Sam tries to help him do his homework.  It all seems innocent and relaxed enough until, relayed through a telephone call, the boy learns his father is coming home unexpectedly from hospital. Haley flies into a rage and takes it out on the two men, especially Sam. Sam, knowing the adolescent boy is frustrated and punishing himself, warns him not to go further into saying something he will regret. But shame is a toxic and combustible force.
Wallace has been seen on Washington stages for years and has just been named "Resident Artist" at Round House. In the role of Sam, he has deepened and honed his abilities to deliver some of his best work yet. I loved his physicality, almost shape- shifting between the smooth and confident dancer who "takes the floor" and the drawn-in serving man who as a means of survival starts to shrink not to be seen as trouble.
Boddie, in the supporting role of Willie, nonetheless makes a big impact as both Sam's dancing protégé and witness to Hally's devastating meltdown. His intensity onstage together with his ability to take and give focus earned him a Helen Hayes nomination in 2015, and frequent roles since in our area.
Nick Fruit's Hally seems a little older than I've seen in that role before. It makes him more like a fifth former where his inability to focus on his studies would have some long-term consequences and perhaps this adds to his stress level.  The actor conveys the wild teenage mood swings between cocksure bravura and pent-up seething rage at his dad. His best moment is when literally spent of rage and realizing he can never go back, he physically deflates and becomes once more the frightened and lonely child.
The production is not without a few flaws, but maybe this is quibbling.  The different South African accents were approximate though not uniformly excellent. The set by Meghan Raham seems abnormally wide and vast and therefore leaks some of the psychological tension of the three men trapped in the tea shop.
Nonetheless, the opportunity to see a Fugard play and a highly commendable production at that is one that should drive Washington audiences up to Bethesda's Round House Theatre.
—————-
"MASTER HAROLD: … and the Boys. By Athol Fugard. Directed by Ryan Rilette.  With Craig Wallace, Ro Boddie, and Nick Fruit. Set Design by Meghan Raham. Costume design by Ntokozo Fuzunina Kunene. Lighting Design by Autum Casey. Sound Design by Palmer Hefferan.  Produced by Round House Theatre. Reviewed by Susan Galbraith.