Powerhouse director Allison Stockman and her powerhouse resident designer A.J. Guban have created yet another minor miracle of transformation at the Source. As the 14th/U neighborhood around them becomes increasingly unrecognizable, it's very comforting that this constant remains.
Constellation's stock in trade is Epic Theatre: sweeping, ambitious stories with large casts, music, dance and spectacle, performed in the intimate confines of the Source theatre where no square inch goes wasted. And this time around, they return to their roots by staging one of the best known works by one of the originators of Epic Theatre, Bertolt Brecht. With his Caucasian Chalk Circle, they re-visit Brecht for the first time since their 2008 Good Woman of Setzuan. (Pencil in Threepenny Opera for 2028.)
Presumably inspired by the title, and likely taking a cue from The Great Comet of 1812, Guban's design is billed as a "360° Theatrical Experience." Maybe that's a bit overstated; there's a circular outer aisle where actors occasionally appear, and four 'pits' of 8-10 seats inside them around the central playing space. So those pit-dwellers may experience the immersion, but otherwise this is a hybrid arena-slash-galley setup. This however doesn't diminish the atmospheric, organic, multi-level structure that boldly evokes the harsh, sooty post-war ruins of the play-within-a-play story.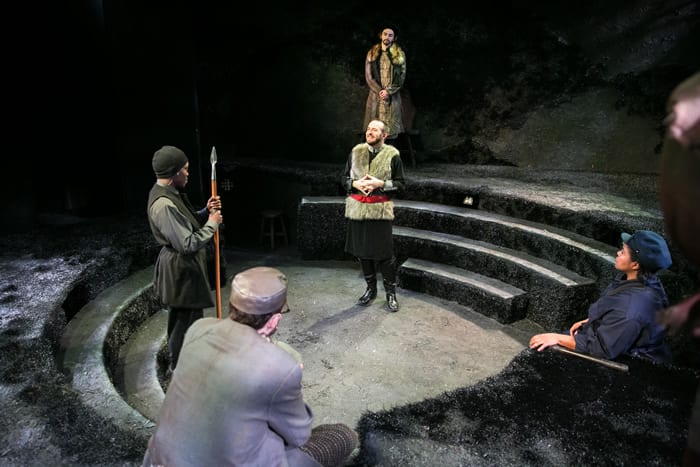 Stockman keeps Brecht's somewhat optional framing device in which the residents of a small post-WWII Caucasus village are protesting the enforced collectivisation of their farming community, and present the play to the Soviet government representative as a parable.
When a civil war breaks out, the local governor is beheaded and his self-absorbed wife and her attendants accidentally leave their infant son behind while fleeing, it falls to the serving maid Grusha to care for the poor thing. She's unable to nurse so must pay for milk, and is pursued by enemy soldiers. Nevertheless she persists, keeping the baby alive and riding out the winter at her brother's farm in the mountains, where as an unmarried woman with a baby, there's talk.
Eventually there's a forced marriage, then a great deal of awkwardness when her soldier fiancé returns, and further awkwardness when bio-mom, with lawyers in tow, wants her child back (motivated more by greed for her husband's estate than motherly affection). Enter Azdak, the very unconventional judge, to settle all matters once and for all in his own unique style.
Stockman has assembled a lively ensemble of fourteen actors. Matthew Schleigh doubles as both the singer who strolls across the stage adding musical commentary (he and Brian Lotter composed original music to accompany the scripted lyrics) and later dons the judges' robes as Azdak. He's a constant presence throughout, with either an electric or acoustic guitar, and shows off his impressive array of talents.
Yesenia Iglesias is a grounded presence as Grusha, the selfless serving girl turned refugee and reluctant foster mother. Scott Ward Abernathy, as the Prince and the Sergeant, excels at playing spoiled, narcissistic and dangerously uncontrolled people in positions of authority — I can't imagine where in DC he picked that up.
The ensemble scenes bristle with life and energy, well-crafted characters, and with a unity and cohesiveness of vision that audiences have come to expect of Constellation and Stockman. Highlights among the group include Natalie Cutcher, Lisa Hodsoll, Brian Reisman, Teresa Spencer and regulars Ashley Ivey (his 22nd Constellation show!) and Keith Irby; though truly there are no weak links here.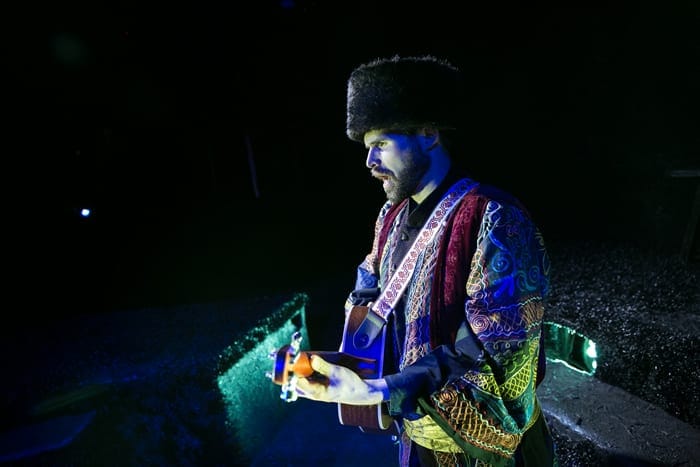 Constellation's intimate scale is more an aesthetic choice than a budgetary limitation, and as such the production design is detailed and sumptuous, from Guban's blackened turf and rough, mossy walls to Kelsey Hunt's costuming capturing a variety of periods and styles, to Matthew McGee's puppets of the infant and later toddler boy (his dark, round eyes carry the soul of the show). 
——–

The Caucasian Chalk Circle

closes
 May 13, 2018
Details and tickets
——–
It's a bit strange for me to see actors in such a small space relying on body mics but in a play that relies heavily on music, if not a 'musical' in the traditional sense, it's a necessity. Gordon Nimmo-Smith's sound mix was up to the task, audibility was hardly ever an issue, and neither the music or the singing overwhelmed one another.
Yet for a story that evokes up-to-the-minute headlines of class struggle, government corruption, idiot leaders and refugees, and focuses on emotional triggers like war, death and parenthood, even with my own wee lad at home, the whole thing comes off a bit sterile. Also, though maybe it's a function of the way this play is taught in theatre classes, or maybe because the titular circle arrives at the end, I can't escape the notion that Chalk Circle is a ten minute play with a two-and-a-half-hour prologue.
These are more faults of the play than the production. I haven't seen a Brecht play yet that has moved me emotionally, even when — as here — the presentation is engaging and cohesive and the political content incisive. (cue my undergrad theatre professors rising from the grave moaning, "That was Brecht's whole point, John! Verfremdungseffekt! Did we teach you nothing?!")
Nevertheless, it's a gorgeous looking and sounding show with an excellent cast, and it's probably about as fulfilling a production of Brecht as there can be.
——–
The Caucasian Chalk Circle by Bertolt Brecht, translation by Alistair Beaton. Directed by Allison Arkell Stockman. Music composed by Brian Lotter & Matthew Schleigh. Cast: Scott Ward Abernathy, Tamieka Chavis, Natalie Cutcher, Amanda Forstrom, Lisa Hodsoll, Yesenia Iglesias, Keith Irby, Ashley Ivey, Drew Kopas, Billie Krishawn, Greg Ongao, Brian Reisman, Matthew Schleigh, Teresa Spencer. Understudies: Rebecca Ballinger, Justus Hammond, Tess Higgins, Louis Lavoie, Thais Menendez. Band: Manny Arciniega, Benjamin Lurye. Production Staff: A.J. Guban (Scene/Lighting Design), Kelsey Hunt (Costume Design), Gordon Nimmo-Smith (Sound Design), Matthew Aldwin McGee (Puppet Design), Crista Noel Smith (Prop Design), Tony Thomas II (Choreography), Casey Kaleba (Fight Choreography), Rebecca Wahls (Assistant Director). Stage Manager: Sarah Kate Patterson. Produced by Constellation Theatre Company. Reviewed by John Geoffrion.
[Small World Alert – in my past life as an actor, I performed in two Constellation shows, both directed by Allison Stockman, during their debut season ten years ago alongside Ashley Ivey and Keith Irby, and have also performed in a show with Matthew Schleigh.]