Arena Stage's world-premiere musical Snow Child tries to be many things at once—the personal story of a married couple struggling to cope with the loss of a child; a fairy tale incorporating elements of magic; a musical homage to the Alaskan wilderness and its local traditions; and a snapshot of a particular time in Alaskan history – the last gasp of American frontierism.  While the production has an overall outstanding cast that together achieve moments of wonderful musical theater, the audience may nonetheless be left feeling confused and unsatisfied—that too many loose ends are left undone.
Snow Child opens with a cracking of the ice underfoot – the kind of vast, lonesome noise at once disquieting and electrifying. The cries of predatory birds float down from somewhere high above as a lone figure, a young woman bundled against the cold, advances across a river of ice deep in the Alaskan wilderness.  The intimate stage and surrounding walls are flooded with cold, hard light and fissures begin to form, slowly stretching their fingers outward toward the audience. With each step, Mabel (Christiane Noll), calls out to the perilous river as her "friend," pleading with it to swallow her whole.
Based on the classic fairy tale and Eowyn Ivery's best-selling novel, Snow Child, this musical version is the brainchild of director Molly Smith, capping off her 20th season as Arena Stage's Artistic Director.  Fittingly, the work is a collaborative effort between Arena Stage and Perseverance Theatre, the Juneau, Alaska theater company Smith co-founded, and for which she served as Artistic Director for 19-years before coming to Arena Stage.  The project marks the fifth commissioned work in Arena's "Power Play" series, through which Arena endeavors to create 25 new plays, each focusing on a particular decade of American history from 1770 to present.
Set in the 1920s, the Alaskan territories of Snow Child are the last great frontier for homesteaders seeking to stake a claim and live off the land. Yet the American government—the show's absent villain—threatens to take that away, reaching ever deeper into the homesteaders' rightful wilderness to fell their timber, drill their oil, and take their guns.  Hunters, trappers, bootleggers and scofflaws alike, the locals have little faith that fragile Mabel and her husband Jack (Matt Bogart), transplants from Pennsylvania, will survive their second winter.
But for Mabel and Jack, the trials and hardships of the Alaskan wilderness are a chosen, welcome burden; one meant to white out the life they left behind after the death of their infant daughter. It is the sound of a child's voice, baying a haunting, wordless tune above the wind, that turns Mabel back from the ice's edge.  At first a figment of her imagination, the Snow Child Faina appears first to Mabel, and then to Jack remaking them, if briefly, as a family.
Noll, whose past work garnered a Helen Hayes Award and Tony nomination for Ragtime, delivers a plaintiff, aching vocal performance as Mabel.  Noll exhibits masterful control, from quiet moments where her voice resonates just above the spoken word—notes that shimmer and hang for just a moment above the audience's head—to the howling, yearning cries of a mother seeking a lost child.  In an outstanding cast, the audience seemed uniquely drawn in by Noll, pulled into her orbit by the sheer rawness of her performance.
The energy Noll brings to the stage is matched only by that of the Snow Child Faina (whose name means "shining," and is later connected to the optical phenomenon of "alpenglow," or bands of red and pink native to Alaskan skies), played by 12-year-old Fina Strazza.  Strazza, who previously starred as the youngest-ever actress in the title role of Matilda on Broadway, delivers a performance that is nothing short of spellbinding.  Emerging from the woods alongside a white fox, her constant companion, Faina is at once a magical, mythical creature of the forest, a lost child in need of rescue and a wild animal adapted to her own defense. In her movements, Strazza seamlessly combines the light step of the fox emerging from hiding, the familiar signs of a child craving comfort and the quick reflexes of a predator cornered.  Even before she ever opens her mouth (and the audience is not sure she ever will) Strazza's performance is stunningly nuanced. When she finally sings, the audience is further rewarded with a clear, bright vibrato-less voice that holds its own with a seasoned cast.
Snow Child features a book by John Strand (The Originalist, The Miser) and music by composer Bob Banghart, an Alaskan performer and member of Perseverance, and composer/ lyricist Georgia Stitt.  Billed as a combination of "Alaskan string-band traditions and contemporary musical theater," the result is a score that falls somewhere between Americana-style folk and Appalachian bluegrass, reminiscent of Steve Martin and Evie Brickell's recent musical Bright Star.  The orchestra, led by Music Director William Yanesh, is comprised largely of acoustic guitars, mandolins and banjos.  The score shines in its ballads, with close harmonies that are gorgeously, achingly rendered by Noll, Bogart and Strazza.
Bogart, whose voice is exquisitely rich and almost more befitting opera, is compelling as Jack—Mabel's rugged husband and "man's man" who, despite his former career as a Pennsylvania shopkeeper, eagerly assumes the mantle of his gender destiny to become a homesteader, hunter and farmer in the wilds of Alaska.  Simply put, Jack puts moose on the table.  While understandably befitting the time period and cultural norms of the 1920s, the role of Jack felt one-note. I wished that Bogart had been given more opportunity with his character to display growth and emotional range.
Overall the relationship between Mabel and Jack felt underdeveloped, particularly that we never see them truly grapple with the loss of their infant daughter.  Also, while there are clearly 1920's gender norms at play, these are not fully fleshed out.  The play makes numerous references to what "makes a man"—that he be able to farm, trap and handle a gun—but these stereotypes are never really a source of friction or even discussion for the couple.  Therefore, when a major shift in their respective roles occurs later in the play, it is neither revelatory nor particularly believable.
Similarly, other plot themes are introduced and then left undeveloped or unresolved.  While the characters lash out against the American government's impending threat to the Alaskan wilderness and its people it is unclear what real import this had on the plot other than to mark time and place.  Even more baffling is the element of magic in the play, represented by Faina.  Throughout much of the show, the audience is intentionally left to question whether or not Faina is "real," possesses magic, or both, but these themes never come together to create some deeper meaning.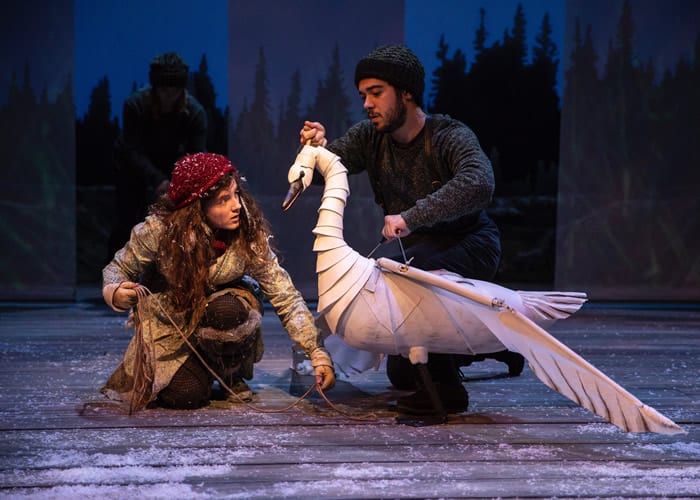 Other minor details nag at the audience: why does Faina give Mabel a rare wolverine pelt which Mabel never uses? Why are the characters dressed so lightly for the Alaskan winters, throwing on a long sleeve shirt to transition from inside to outside? And how does Jack manage not to freeze to death following an injury that leaves him in the winter woods for hours, and then miraculously recover with no medical care?
In their roles as old-time homesteaders and sometimes well-meaning neighbors, George (Dan Manning) and Esther (Natalie Toro) deliver the bulk of the show's light-hearted, comedic numbers (with kudos to Manning's soft shoe) which trend more towards a "down home" or even "hoe down" feel (I'm pretty sure I heard fragments of the "Old Yeller" theme song and "Home on the Range").  These songs, while often charming, were sometimes grating and could be trimmed back.
We talk with the puppet creators Emily DeCola and Eric Wright
George and Esther's son Garrett (Alex Alferov), occupied an ensemble role for much of the play, only to step out on his own in the second act with several quick-witted songs admirably delivered and a deft, if not curiously sudden, shift from a petulant boy who thinks of no one but himself to a thoughtful, introspective young man. 
——–

Snow Child


closes May 20, 2018
Details and tickets
——–
Finally, it would be remiss not to laud the puppeteers (Dorothy James, David Landstrom, Calvin McCullough) whose deft skills fill the Alaskan wilderness of Snow Child with its cast of wild animals—foxes that romped in play and trembled in terror; game birds that swooped elegantly dove for prey; and Jack and Mabel's larger-than-life horse that seemed almost human in its expressions.  There was never a moment on stage—even when the audience's focus was drawn elsewhere—that the puppet animals weren't breathing, twitching, and cocking their heads at the slightest sound in the forest.
Ultimately Snow Child is a complex and ambitious piece of musical theater that weaves the threads of human heartbreak, folklore, and the last moments of America's great frontiers.  While still a bit rough around the edges, the show itself shows great promise and is bolstered by truly excellent performances.
——————-
Snow Child book by John Strand, music and lyrics by Bob Banghart and Georgia Stitt. Directed by Molly Smith.  Featuring Christiane Noll (Mabel); Matt Bogart (Jack); Fina Strazza (Faina); Dan Manning (George); Natalie Toro (Esther); Alex Alferov (Garrett); and Dorothy James, David Landstrom, Calvin McCullough (Puppeteers).  Music Preparation: Jose C. Sumbulan and Ryan Driscoll.  Technical Director: Natalie Bell. Properties Director: Joseph P. Salasovich. Costume Director: Christopher V. Lewton.  Produced by Arena Stage in association with Perseverance Theatre. Reviewed by Meaghan Hannan Davant.