Alice in Wonderland is so well known that it's easy to forget the original two books—Alice's Adventure in Wonderland and Alice Through the Looking-Glass—were written in 1865 in Queen Victoria's England. This version reminds us of that, merging the best of both books so that we get to tangle with all of their classic, wild characters.
With recent adaptations wherein Alice is a teen, remember that she's really a little girl of seven. Her endless questioning, her enduring pluck, and endearing inner dialogue can be charming. It's also cloying. She's written to be a bit of both. Alexandra Palting, as Alice, does not have an easy task. As the show opens, it's all her—and her curiosity, courage, and self-chatter—for a chunk of time, as she climbs through the mirror and into the backwards world known as Wonderland. It sets a no-rush tone that leaves the show sapped of urgency, as if it's tumbling towards nothing. I missed the hurried White Rabbit, anxiously leading Alice in a chase down a hole.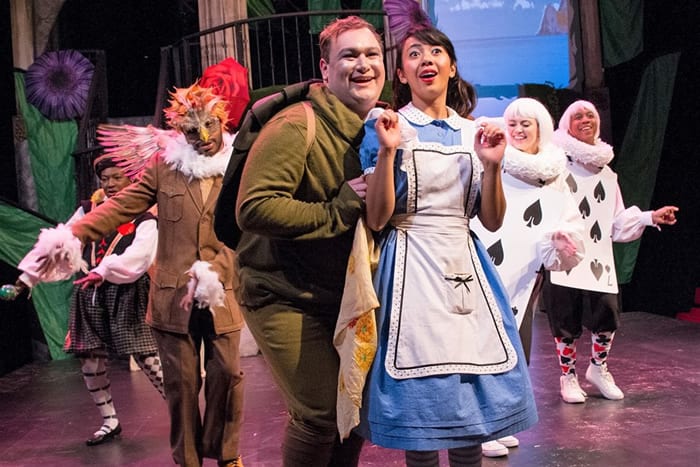 After that, we all know most of the dream-like sequences: Alice cries until her tears wash her up on a beach, she runs into a nervous White Rabbit (Michael Toperzer), happens upon the Duchess (Donna Ibale), plays croquet with the Queen (Briana Manente) and King (Steven Hoochuk) of Hearts, learns etiquette from the White Queen (Hannah McKechnie) and the Red Queen (Mabelle Fomundam), drinks tea with the Mad Hatter (Vince Eisenson) and the March Hare (Robby Rose), smokes with the Caterpillar (JC Payne), and dances and sings with the Gryphon (Terrance Fleming) and the Mock Turtle (Gregory Atkins).
The Mock turtle belts out "Beautiful Soup" looking a tad like Elton John in oversized, colored glasses, seated at a log piano. Then, leads the cast in the "Lobster Quadrille." Every time Atkins takes the stage, an immense amount of joy sweeps over it. Even when he skips across only as a gust of wind that has blown the White Queen's shawl from her shoulders; he's electric.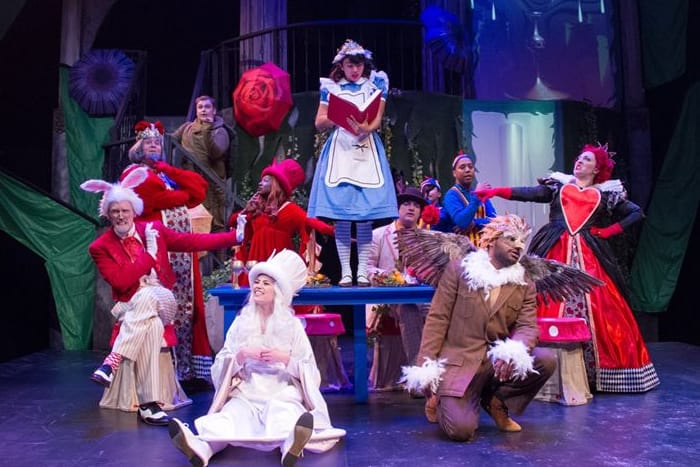 Eisenson's Hatter is fun and well done, easily making sense of all the nonsense. I wanted more of him, and the Cheshire Cat, which turns up in a single underwhelming scene. McKechnie, too, is quite fun to watch. She voices and puppeteers the mouse on the shore who tells Alice a dry story to "dry" the wet girl-out. It's pretty funny, but…it has such low-energy and seems drawn out—done so straight—which may be a stylistic choice. For example, all the witty poems are acted out very literally—"The Walrus and The Carpenter" appear (Hoochuk and Manette) and slowly, surely, eat a bunch of oysters (a string of puppets dangled by McKechnie and Fomundam. Recitation would have been just fine. 
——–

Alice in Wonderland

closes May 27, 2018
Details and tickets
——–
The result of acting the poems is that we get to see the Jabberwock. It's an almost ethereal telling—moody smoke encompassing the undulating beast, it takes five men to move its many parts. Two sweep its large, raptor-like manus forward, two expand and contract its neck flares, and one sways it's head to and fro. It's beautiful—just as are all the costume (that trippy, psychedelic Caterpillar go-go get-up), set designs, tunes (like the original music composed by Director Ian Gallanar for "Beautiful Soup") and puppets are.
There is so much about this production that is right, it's hard not to give it higher marks. I mean, magical costumes and set design, and very good actors. All the players commit and invest in their characters, that much is clear, even when having to toggle between several (both Fleming and Payne brought great moments of joy in multiple roles). The tone and vision befit the original material, even, and the venue—The Chesapeake Shakespeare Company.
But the length. The lulls. The language. For the Alice purist, this will be a dandy evening at the theatre. For your common kid in 2018, accustomed to fast-paced, high-octane visual stimuli, it may drag. Shortly after the two-hour mark, I began to worry. For every one person who looked truly engaged, two looked bored: eyes shut, big yawns, a countenance of general concern. I knew I was not walking into Disney's Alice, but I hoped for a bit more vim and vigor.
Alice in Wonderland is still all whimsy and mimsy. Just needs a bit more whiffling and galumphing.
—————
Alice in Wonderland . Adapted from Lewis Carroll by Eva Le Gallienne and Florida Friebus. Directed by Ian Gallanar. Featuring Greogory Atkin, Vince Eisenson, Terrance Fleming, Mabelle Fomundam, Steven Hoochuk, Donna Ibale, Briana Manente, Hannah McKechnie, Alexandra Palting, JC Payne, Robby Rose, and Michael Toperzer. Production: Ian Gallanar, Sound Designer; Grace Srinivasan, Music Director; Lizzi Albert, Assistant Director; Kyle Rudgers, Production Manager; Daniel O'Brien, Technical Director and Projections Designer; Katie McCreary, Lighting Designer; Kristina Lambdin, Costume Designer; Jess Rassp, Properties and Puppet Designer; and Nellie K. Glover, Dance Choreographer. Stage Managed by Alexis E. Davis. Produced by Chesapeake Shakespeare Theatre . Reviewed by Kelly McCorkendale.