It is 2011, and we are in a tattered 4th-floor walkup in Maspeth, Queens.  The lights bathe a gigantic poster of Derek Jeter, a Hall-of-Fame quality shortstop who played for the New York Yankees at the time (and is now systematically dismantling the Miami Marlins as its CEO). Jeter, perhaps mid-swing, favors us with a dazzling toothy smile, full of optimism and good cheer. Stage left there is a Lilliputian dime-store crucifix; stage right holds tiny pictures of the apartment's residents. And then we hear the opening strains of Thus Spake Zarathustra. It is, to use the lexicon of the play's characters, freakin' hilarious.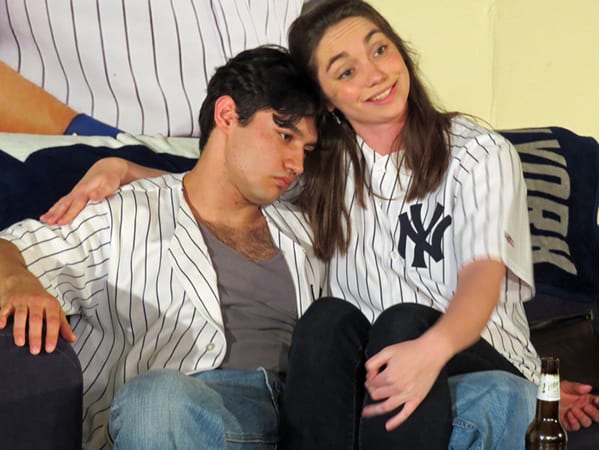 It is also, unfortunately, pretty much the funniest moment in this intermittently amusing Robin Rothstein comedy, now being given an earnest production by the Best Medicine Rep Theater Company at the Lake Forest Mall in Gaithersburg. As we open, Jeter has 2,997 lifetime base hits, and is thus three away from a number — baseball likes big, round numbers — which will assure him of immortality. Jackie (Brooke Friday), a dental hygienist, and Sal (Cristian Camilo Linares), a vacuum cleaner salesman reassigned to the air conditioning trade as the play opens, share both the walk up and an uncommon adoration for the Yankees star. It is pretty much all they share, though.
Sal, a high-school dropout, is full of resentment. He has been passed over for a position in the computer department of Crazy Eddie's, and so seethes at his boss. But instead of giving his rage comfort and succor, Jackie upbraids him for not valuing himself more and doing more to improve himself. This, as you might imagine, does not turn out well for either of them, and Jackie soon finds herself at her sister Lou's (Rebecca A. Herron) for talk and tough love.
The essence of Lou's (she was name for Yankee great Lou Gherig) insight is that their entire family is dysfunctional because the Yanks, who have won 27 World Series since moving from Baltimore, establish their expectations from life. If Jackie wants a successful relationship with Sal, Lou argues, she must lower her Yankee-level requirements. (Lou and her family are Mets fans.)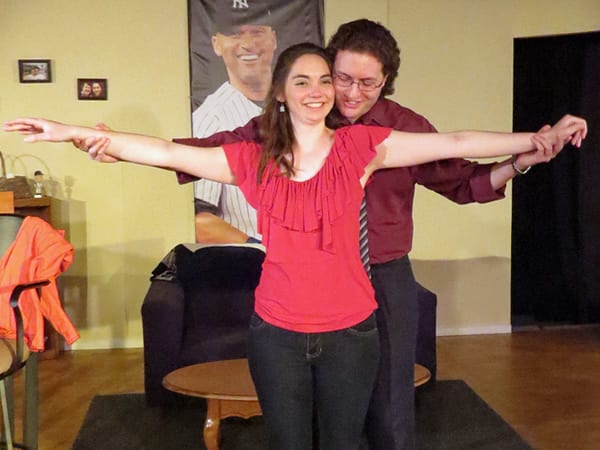 Jackie's situation is complicated because she has met Paul (Eric Jones), a real-estate go-getter and dental hygiene customer who felt something Deep and Meaningful for Jackie as she moved the dental floss between his teeth. Paul, a fast talker who presses his case on Jackie with the urgency of a real estate agent closing a deal, is a Phillies fan whose idol is the Hall-of-Fame third baseman Mike Schmidt, but at least he has goals and ambitions, unlike Sal. 
——–

Derek Jeter Makes the Play

closes May 19, 2018
Details and tickets
——–
Well, you can pretty much guess the rest for yourself. Both Jackie and Sal conduct conversations with Jeter ("You're a good listener," Sal says to the poster at one point) in much the same way that their grandparents might have talked to the Jesus next door, or Richard Nixon once talked to pictures of past Presidents in the days before his resignation. We thus get a clue that what we're watching is tragedy, not comedy: a young couple, their lives circumscribed by limitations they refuse to address, reduced to conversing with a picture of a successful man to whom they will never speak in real life.
The cast, under Linda Lombardi's direction, plays the text broadly, alternately furious and defensive. In the production I saw, cast members were fighting their lines, although I expect that will get better with the passage of time. Rothstein has written incidents that are hard to buy — Jackie's rage that the Brooklyn Dodgers moved to Los Angeles, twenty-five years before she was born, is one of them — and the actors, try as they might, don't sell them. The performances are workmanlike and largely credible, but they do not transcend the limitations of the script.
John Morogiello, the founding Artistic Director of Best Medicine Rep, is a funny guy and a playwright with many very good comedies to his credit. While acknowledging, as Edmund Gwenn (probably) said, "death is easy. Comedy is hard," I can't help but think that Morogiello can come up with something funnier than this — perhaps from his own portfolio.
————–
Derek Jeter Makes the Play by Robin Rothstein, directed by Linda Lombardi assisted by Chelsea Radigan (who was also dramaturg). Featuring Brooke Friday, Rebecca A. Herron, Eric Jones and Christian Camilo Linares . Set and lighting designer: John Morogiello . Sound designer: Tosin Olufolabi . Costume and prop designer: Elizabeth Kemmerer . Stage manager: Stephanie Davis . Produced by Best Medicine Rep Theater Company . Reviewed by Tim Treanor.