Director Marc Bruni knew he was taking a risk in revamping the classic Frank Loesser (music and lyrics) musical How to Succeed in Business Without Really Trying for a modern Washington, D.C. audience.  Sure, the nearly sixty-year old musical comedy has a pedigree that precedes it—the original Broadway run took home seven Tony Awards.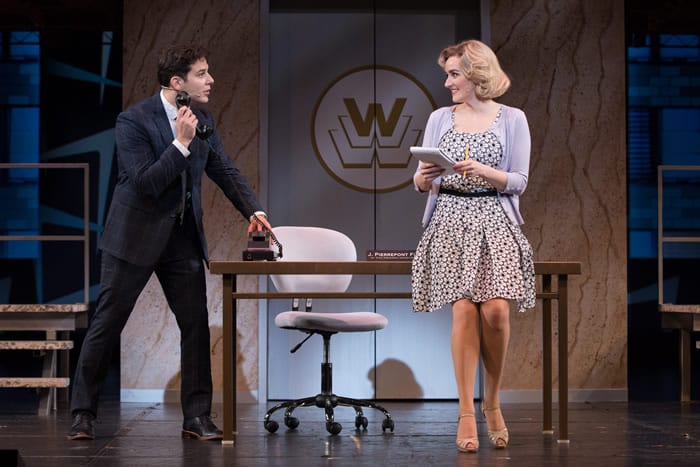 But How to Succeed also embodies an entirely different era of sexual politics, drawing its comedy from the corporate office culture of the 1960's (think Mad Men), at a time when men alone could hope to climb the corporate ladder of success while women, relegated to the secretarial pool, had to daily endure "friendly" pinches on the derriere and cat calls at the watercooler.
In a letter to the audience Bruni admits that, while How to Succeed was actually ahead of its time in 1961—shining its "satirical spotlight" on sexual harassment in particular—he feared the comedy of the show might nonetheless "clash" with "contemporary sensibilities," or, worse yet, highlight how little has actually changed in this world of "daily #MeToo revelations."
As if that burden wasn't enough, the show centers on the character of J. Pierrepont Finch (Skylar Astin, Pitch Perfect) an inexperienced yet fiercely ambitious young man who will stop at nothing to get ahead. As Finch lies, schemes and cheats his way to the top—no act of sabotage beneath him; no shred of information spared as ammunition—the show demands that the audience not only like this shady swindler, but that we ultimately root for his success.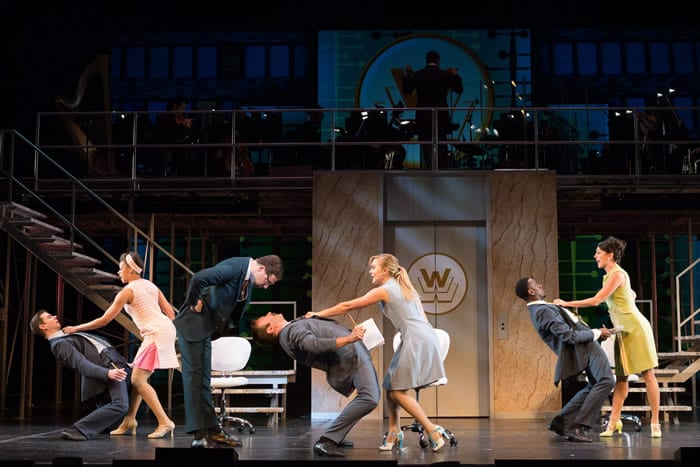 So how do you stage a show filled with such potential political pitfalls? For starters, you hire an immensely talented, star-studded cast of comedic actors with Broadway voices to boot. And boy does Bruni do that.
Walking in to the theater, I couldn't imagine how Astin could possibly compete with the boyish cunning of Matthew Broderick (Ferris Bueller's Day Off), who not only played the role of Finch in the Broadway revival, but created the archetype of the devil-may-care antihero for an entire generation (mine). It didn't take me long to realize how wrong I was.  Astin is completely disarming as Finch, flashing the audience with slyly smug grins and impish asides as he flatters and cajoles his way to the top.  Couple this with Astin's outstanding vocal talents (far surpassing his performance in Pitch Perfect) and the audience soon finds itself helpless to his charms.
——–
How to Succeed in Business Without Really Trying

closes
June 10, 2018
Details and tickets
——–
Likewise won over by Finch (but not nearly so helpless) is Rosemary Pilkington (Betsy Wolfe), an office secretary who sets her sights on becoming Finch's "girl."  While Rosemary—like all of the show's women—is consigned to the lower rungs of the office hierarchy—Wolfe nonetheless brings spitfire and a great deal of spine to an otherwise limited role. It is clear that this Rosemary is no pushover and, like Finch, will stop at nothing to get what she wants (namely, him). Wolfe (who just wrapped up a Broadway run as Jenna in Waitress) features a show-stopping belt that brings intensity and vigor to her songs. Even as she sings about being "happy to keep his dinner warm," the audience has no doubt that Finch has met his match, and his equal.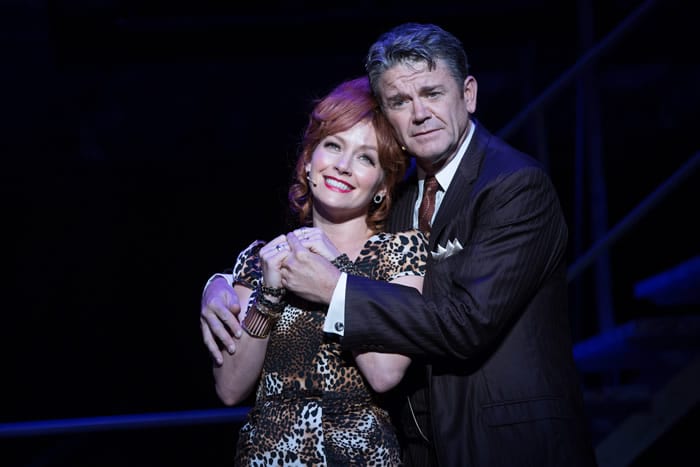 In the role of big-time company boss J.B. Biggley, John Michael Higgins (Best in Show; A Mighty Wind; Pitch Perfect) could not be outdone, with his signature guileless deadpan and peerless physical comedy.  Likewise, Michael Urie (Ugly Betty) slays as Bud Frump, a role that he originated in the 2011 Broadway revival of How to Succeed.  Urie's spot-on Frump is riddled with comic tics—his face and body twitching and convulsing like a cartoon character on uppers, his speech devolving in to gibberish as he is forced to witness Finch's meteoric rise at the expense of his own.
While some of the comedy in How to Succeed—reliant on the gripes and groans of office culture, like coffee deprivation and being forced to do things "the company way"—seem a bit time-worn to a modern audience, they were, in fact, innovative at their time (coming almost 30 years before the cartoon strip Dilbert and the movie Office Space).  Bruni, along with choreographer Denis Jones, nonetheless take great pains to infuse How to Succeed with fresh material, adding playful props and sight gags along with updated barbs aimed at our current workplace woes and political climate.
How to Succeed is billed as part of the Kennedy Center's "Broadway Center Stage" productions, described as a series of "semi-staged concert formats" of traditional Broadway shows.  Yet there is nothing at all "pared down" about the production. Chockablock with stunning vocal performances (with a few surprise divas in the second act), a spare yet ingeniously designed set (Scott Pask), charmingly playful 1960's-era costumes (Amy Clark), and gleeful, silly-yet-sophisticated choreography, How to Succeed lacks nothing in spectacle.
---
How to Succeed in Business Without Really Trying . Music and Lyrics by Frank Loesser. Book by Abe Burrows, Jack Weinstock and Willie Gilbert.  Based on the book by Shepherd Mead. Directed by Marc Bruni. Starring Skylar Astin, John Bolton, John Michael Higgins, Joaquina Kalukango, Michael McGrath, Becki Newton, Nova Y. Payton, Michael Urie and Betsy Wolfe with Darius Barnes, Sean Bell, Lawrence Clayton, Colin Cunliffe, Kaitlyn Davidson, Casey Garvin, Eloise Kropp, Harris Milgrim, Shina Ann Morris, Kristen Piro, Katerina Papacostas, Tally Sessions, Diana Vaden, and Vishal Vaidya. Choreography by Denis Jones. Music Direction by Todd Ellison. Set Design by Scott Pask. Lighting Design by Peter Kaczorowski. Costume Design by Amy Clark. Sound Design by Brian Ronan. Reviewed by Meaghan Hannan Davant.