Break out the Bedazzler and falsies and shimmy into your Spanx. It's high season for drag in downtown Bethesda, thanks to the fierce and funny The Legend of Georgia McBride, playwright Matthew Lopez's mash note to queens, all gussied up with sequins, sentiment and spectacle.
If Georgia McBride were a star, it would be Dolly Parton—tarted out and white trashy, bosomy and warm, insanely talented, and as sweet and witty as all get out. You're helpless to resist Parton's hillbilly charisma and the same goes for Georgia McBride, a drag-to-riches musical comedy and love story set in Florida's Panhandle that celebrates the all-American pursuit of fabulousness in rainbow flag colors. 
——–

The Legend of Georgia McBride

closes July 7, 2018
Details and tickets
——–
Directed with oodles of whoops-a-daisy by Tom Story and featuring eye-popping choreography by Matthew Gardiner and a performance by Rick Hammerly every bit as matchless as his Hedwig at Signature Theatre way back when, Georgia McBride is a buoyant testament to those who are their most authentic selves when assuming a drag persona.
The story puts the spotlight on Casey (Zack Powell), who succumbs to the astute schooling of Miss Tracy Mills (Hammerly) after his career as an Elvis impersonator tanks so badly that he and his pregnant wife Jo (Yesenia Iglesias) face financial ruin and eviction.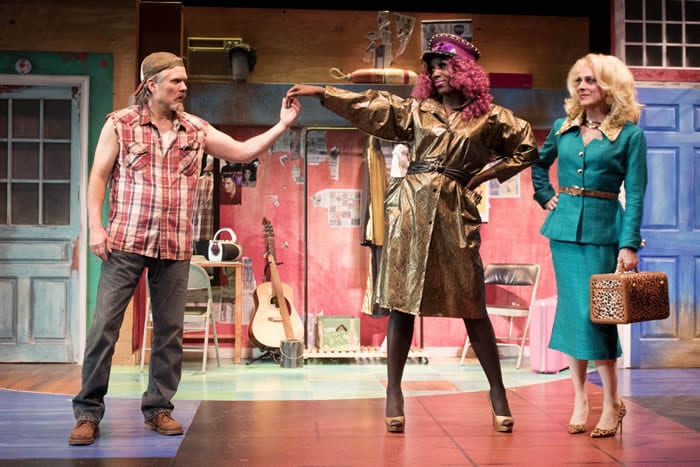 Enter Miss Tracy Mills, a classic southern belle, making her demure entrance in a trim traveling suit that would befit Blanche DuBois in the early scenes of A Streetcar Named Desire. Instead of being a boozy bundle of nerves like a Tennessee Williams heroine, Miss Tracy Mills is a nervy survivor, determined to make a go of her cousin Eddie's (Charlie Kevin) sad-sack nightclub Cleo's by introducing drag to Panama City.
Along for the ride is Rexy (Dezi Bing)—short for Miss Anorexia Nervosa–Miss Tracy's partner in pantyhose, who's as shellacked in vodka as Tracy is in Pan Stik. Whereas Miss Tracy represents classic drag doing the holy trinity—Judy, Bette and Barbra—Rexy is edgier and contemporary. Rexy is like a Valkyrie in hot pants and Grace Jones boots, performing "you go girl" anthems by Beyoncé, Lady Gaga and Taylor Swift.
As Elvis, Casey ain't nothing but a hound dog, but as country queen Georgia McBride he's a boot-scootin' sensation, saving his bacon as well as Cleo's bottom line. And Casey even has to admit to himself that he makes one gorgeous woman and Powell's transformation into countrified cutie Georgia is jaw-dropping.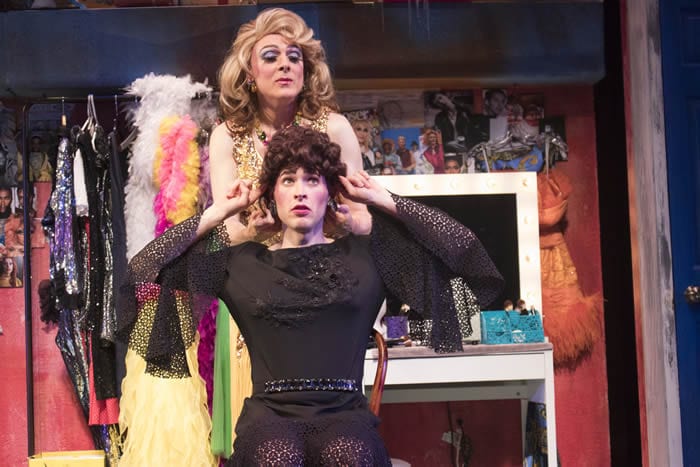 Miss Tracy's drag "extravaganza" is a hit, and suddenly it's not only raining men, but money. Even redneck Eddie gets into the spirit, trading in his plaid flannel shirt and beer-bottle mumble for increasingly sharp suits and pre-show chatter.
Casey loves performing as Georgia, whom he confesses "is everything I feel I'm not." Trouble is, he's living a lie, since wife Jo doesn't know about his new career and despite today's gender fluidity, a hetero man playing a drag queen for big bucks is something of a misnomer. And even a betrayal of drag's political and anarchic roots for gay men, or as Rexy so incisively points out, the art form is "a raised fist inside a sequined glove."
Georgia McBride doesn't dwell too much on heavier topics, although some of the stilted heart-to-heart talks about money and fiscal responsibility between Casey and Jo bring the party vibe down just a notch.
The play finds its satin-lined home in the nightclub, where Georgia, Miss Tracy and Rexy perform and lip sync an astonishing array of numbers, ranging from "MacArthur Park" (the Donna Summers disco version) and Edith Piaf to Madonna and "Redneck Woman."
Gardiner's choreography—and the cast's ability to perform it so stunningly—makes you gasp as you thrill to Bing's Rexy twerking backwards on rollerskates, Powell's Georgia executing cartwheels in cut-offs and platform boots and Hammerly's Miss Tracy brilliantly encapsulating Judy Garland's unraveling through alcohol and drugs set to the peppy upbeat of "Get Happy."
If  Georgia is the T&A and Rexy the shade-throwing attitude of Georgia McBride, then Miss Tracy Mills is its heart and soul. You just can't say enough about Hammerly's performance—the impeccable timing (never has the prosaic sentence "I just took an Ambien." sounded so hilarious), the double takes, the athleticism, the generosity and grace.
We should all be so lucky to have someone like Miss Tracy Mills to take us under her wing, whose infectious optimism is hard-won and who shows us that, in fact, life is for sissies.
————–
The Legend of Georgia McBride by Matthew Lopez . Director: Tom Story  . Choreographer: Matthew Gardiner. Scenic Designer: Misha Kachman. Lighting Designer: Colin K. Bills. Costume Designer: Frank Labovitz. Composer/Sound Designer: Matthew M. Nielson. Props Master: Kasey Hendricks. Dramaturg: Gabrielle Hoyt. Resident Stage Manager: Che Wernsman. Featuring: Desi Bing, Rick Hammerly, Yesenia Iglesias, Charlie Kevin, Zack Powell. Produced by Round House Theatre . Reviewed by Jayne Blanchard.