In 2015 the president of Prince George's Community Pool in Mt. Rainier, Md., discovered copies of decades-old correspondence between pool officials and Raymond Bowlding, a local black man, who worked with the NAACP to file complaints with the Department of Justice to desegregate the private swim club.
Later that summer, the pool dedicated a pavilion to the memory of Bowlding and invited surviving family members to honor the man, crediting him with desegregating the pool.
Back in 1975, Bowlding and his family were ultimately offered membership to the club, but declined, out of concern for their children's safety.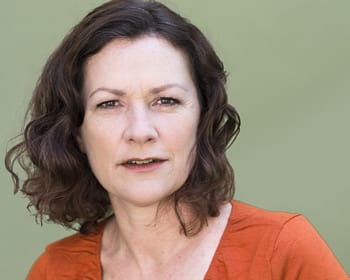 The event and the story behind it sparked veteran Washington, D.C., actor, director and vocal coach Jennifer Mendenhall to write her first full-length play #poolparty, running June 23-July 15, produced by Ally Theatre Company at Joe's Movement Emporium in Mt. Rainier.
Mendenhall discussed the inspiration for the play and what she hopes people will take away from it with DCTS.
How did your experience at the commemoration event lead to the writing of this play?
I went to the ceremony. The man's children very generously came and I listened to them speak about their experience as children in a community where they had been barred membership. It was breathtaking. It pulled back the veil on the intersection between the rules that we all take for granted and the cost on the human beings affected by that.
I grew up outside the United States. I didn't grow up absorbing racism in the U.S. I grew up with a different kind of racism, but not this kind. I thought watching the ceremony, that anybody watching this—if their defenses are down—there's no way that they can't see the whole spectrum of what racism does. And I was thinking 'Is there a way to give an audience this experience? Can it be put onstage in such a way that the audience has this same experience that I just had?'
I came away from it and my head was buzzing. It wouldn't be conventional and I recognized that from the very start. I contacted the family and asked them for permission to take their story as a jumping off point to dive into the history of discrimination in swimming pools. Then I was researching and thinking, thinking and researching, for a year and a half. Once I started in on the research, it led me further and further down the rabbit hole.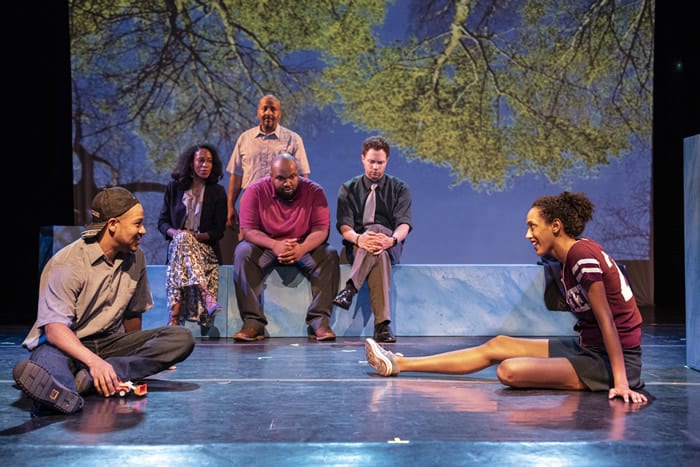 What is #poolparty about?
It's about the history of swimming pools. It's about discrimination in the water. And about the consequences of the legacy of that racism playing out today. Racism is an enormous part of this country. It's such a huge and painful subject that I was wondering if we just looked at this narrow sliver of swimming pool history, is it possible to really perceive the broader issue of systemic racism? Trying to get people to understand how racist thinking has shaped this country is usually met with defense and emotion and there can't be a discussion.
Does that mean that you're not sure if what drove you to write this play—and what you want viewers to take from it—will be received? What do you want viewers to take away from this play?
My hope is that it will make them think, and maybe the next time they are talking to someone about housing or education they will think 'I saw this play about swimming pools, there were all these laws and regulations, let me go look that up,' and they will go and do their own research and find out the information to have a clearer understanding of why things are the way they are today. There are two audiences. The audience who's lived this history and an audience who hasn't. One of the most significant things about the production, I'm guessing, is that those people are sitting next to each other watching this play. For the people who've lived the history, it hopefully will feel like an acknowledgement or a validation.
What's the significance of the hashtag in the title?
The process for me in writing this play has been a funny mix of instinct and strategy. The title popped into my head and then I had to think about why. What I liked about it was that a portion of the play deals with the pain and drama that comes over on social media, with a proliferation of videos of brutality against black people. Social media is also how you announce events and news. The kids involved in the McKinney, Texas pool party incident, which is referenced in the play, were tweeting about the event, which is how they all knew to go there. The producer was also very pleased because she said she doesn't have to think of a hashtag to use—it has one already.
Why did it take so long to write your first full-length play?
I spent 34 years dealing with language professionally. I'd been toying with the idea of trying to write. It was on my mind. And then this thing happened to me [the event at the pool] and it was 'OK, now we have to fast-track learning how to be playwright because I need to tell this story.' Maybe some other thing would've seized me the way this did, but this was what compelled me to attempt it.
I feel like I am in service to this story—this story wants to be told and there was a feeling of effortlessness about the whole process which I'm in awe of because I know how hard it can be to even get people to take a look at your work.