Olney Theatre celebrates its 80th season this year with this splendid production of On the Town, the Leonard Bernstein/Betty Comden/Adolph Green musical which made its Broadway debut in 1944. Thanks to the canny direction of Jason Loewith and its effervescent cast, dazzling choreography and a creative team on hyper-drive, Olney delivers a show that is pure perfection. I am hard pressed to recall another musical I've enjoyed as much.
The plot is a simple one. Three sailors begin their 24 hour leave in New York City. Chip and Ozzie are excited to see the sights, while Gabey falls in love with the girl on a placard on the subway and is determined to find her.
Loewith has rich material to work with. Who, other than Bernstein, has ever written better music for dancers? Jerome Robbins added brilliant choreography and Broadway hit makers Comden and Green backed Bernstein's beautiful melodies. Olney's show is not by any means a dusty homage to these great artists; instead, Olney's On the Town is filled with fresh interpretations of the original, genius work.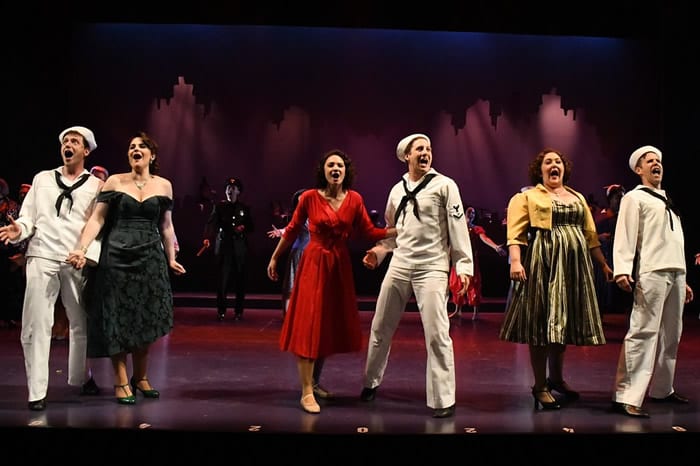 Since this is a Bernstein musical, let's start with its music. Songs range from "New York, New York," the major ensemble number, comic songs like "Carried Away," and "I Can Cook", and romantic ballads like "Lucky to Be Me," and "Some Other Time." 
——–

On the Town

closes July 22, 2018
Details and tickets
——–
There's nothing like live music to make a show snap, and it's a full sound you get from Olney's 14 piece onstage orchestra. Music Director Christopher Youstra, has enormous fun slipping in little asides to New York- the honk of a taxi, the 'rimshot' of a joke well placed. Indeed, director Jason Loewith breaks not only the third wall, but the fourth wall too, making Youstra, whose orchestra is set against the back wall, a well-timed part of the action on occasions.
The cast is, in a word, terrific. There are some extraordinarily talented dancers and singers onstage, and each gets a turn to shine. Apart from the principals, all play multiple roles: a gossiping duo, an old lady always complaining, sailors, cops, floozies, working stiffs in overalls – it's New York city during WWII, endlessly frenetic.
There are a few standouts, most notably the sixpack of Sailors and their Girls: Evan Casey as Chip, Rhett Guter as Gabey; Sam Ludwig as Ozzie, Claire Rathbun as Ivy, Rachel Zampelli as Claire DeLoone, and the almost criminally funny Tracy Lynn Olivera as Hildy Esterhazy whose solo number "I Can Cook" nearly stopped the show.
The romantic leads, Guter as Gabey, the love-stricken sailor, and Claire Ruthbun as the lovely, lonely Ivy are triple threat singers, actors and dancers as shown in their duet "Lucky to Be Me."
Director Loewith is most adept at injecting humor where you least expect it, in small gestures made into larger comedic moments and well placed bits such as a string of nightclub singers (Donna Migliaccio) rising magestically midstage to sing, only to sink back dejectedly when shouted down by Hildy.
Choreographer Tara Jeanne Vallee, while paying homage to the original work of Jerome Robbins, makes the dances her own, with inventive, story-based steps and movement. It is a genuine delight to see such talented dancers showing off the work of an equally talented choreographer.  "Lonely Town," in her hands, is a lovely ballet of people awash in humanity but so very alone.
Costumes (Rosemary Pardee) are equally delightful, with a rainbow of hues and a strong flair for 40s chic. Sets (Court Watson) are rather wonderful to say the least- that huge map of Manhattan, with a little wink of cars and taxis surrounding it, and a three quarter scale cave man and dinosaur skeleton replicas in the Museum of Natural History look down at Claire and Ozzie's delightful 'Carried Away.'
Lighting (Colin K Bills) and Sound (Roc Lee) were equally snazzy- nightclubs turned into other, seedier clubs with louder neighborhood sounds, a swift change of tablecloths, a little darker lighting, and changing marquee.
I would be remiss in not mentioning three comic masters here- Donna Migliaccio as Madame Maude P Dilly is a highbrow/lowbrow hoot and a half, Suzanne Lane as Lucy Schmeeler, the date with a headcold, is hysterical with just a hunch of her shoulders and a congested snork; and longtime musical star Bobby Smith, who could be a whole show by himself, as various nightclub owners, both downbeat and besequined, and as Pitkin W Bridgework, the sadsack elder fiancee of Claire DeLoone who finally finds his true love.
Time is running out for our sailors on leave as we near the show's closing. The couples are on their way to the Brooklyn Navy Yard to say goodbye. Their song is one you may have heard before, the sweet ballad 'Some Other Time' but not in its original context:
"Just when the fun is starting
Comes the time for parting
But let's be glad for what we had and what's to come
There's so much more embracing
Still to be had, but time is racing
Oh, well, we'll catch up some other time"
For these war time brief encounters, we know, 'some other time' will probably never come. As Jason Loewith wrote in his program notes, On the Town answers the question of how we will use the precious time we are given: "pursue a human connection and when you find it, hold on to it tightly for as long as you can."
But On the Town send you out on a high note, and you'll probably leave humming it: "New York,  New York."
—————–
On the Town . Book/Lyrics: Betty Comden and Adolph Green . Music: Leonard Bernstein . Concept and Original Choreography: Jerome Robbins . Director: Jason Loewith . Cast: Evan Casey as Chip; Rhett Guter as Gabey; Suzanne Lane, as Lucy Schmeeler and others; Sam Ludwig as Ozzie; Donna Migliaccio as Madame Maude P Dilly and others; Tracey Lynn Olivera as Hildy Esterhazy; Claire Rathbun as Ivy; Bobby Smith as Pitkin W Bridgework and others; Rachel Zampelli as Claire DeLoone . Ensemble: Ian Anthony Coleman; Jennifer Flohr; Lance Hayes;  Amanda Caplan; Ashleigh King;  Connor Joames Reilley; Robert Mintz; Alan Naylor; Ron Tal; Shawna Walker; Taylor J Washington; Ronald Bruce, Male Swing; Emily Madden, Female Swing . Costumes: Rosemary Pardee . Set Design: Court Watson . Lighting: Colin K Bills . Music Director: Christopher Yousta . Sound Designer: Roc Lee . Choreographer: Tara Jeanne Vallee . Dialect Coach: Zach Campion . Wig & Hair: Alexandra Pohanka . Stage Manager: John Keith Hall . Produced by Olney Theatre Center . Reviewed by Jill Kyle-Keith.