Musicals based on movies are all the rage these days with titles like Mean Girls, Pretty Woman, Bronx Tale and King Kong dominating Broadway marquees and the ads in Times Square.
Arena Stage is adding another '90s favorite to the mix, presenting the world premiere of Dave, a musical based on the 1993 light-hearted political comedy which starred Kevin Kline and Sigourney Weaver.
Dave follows a high school teacher who happens to be a dead ringer for the current president who is forced to serve as a stand-in for the Commander-in-Chief when the real president gets ill under less than "presidential" circumstances. His job is simply to wave and smile, but Dave quickly gets involved in the entire political landscape.
The musical is written by a trio of heavyweights—three-time Tony Award-winner Thomas Meehan (Annie, Hairspray, The Producers), Nell Benjamin (Mean Girls, Legally Blonde) and Pulitzer Prize and two-time Tony Award-winner Tom Kitt (Next to Normal, If/Then)—and directed by Tina Landau and will be in town until Aug. 19.
Broadway vets Drew Gehling and Mamie Parris play Dave and First Lady Ellen Mitchell, respectively, taking on the parts Kline and Weaver played so magnificently in the film.
Some might remember a very young Laura Linney (before earning her Emmy, Oscar and Tony noms) played the part of Randi in the movie. Rachel Flynn takes on the role in the musical version.
"She is the president's private secretary who is also having an affair with President Bill Mitchell and in the middle of one of their rendezvous, he has a stroke and she is very scared and confused," Flynn says. "Laura Linney was amazing in the movie. It's been an interesting journey because they've allowed me to stick with it [through several development readings] and figure out what it means to play this character in the musical."
Flynn's character, much like Linney's in the movie, spends most of the musical trying to figure out how the president has suddenly become a nice guy and doesn't know who she is. The role is funny and gives her a lot of emotions to play with.
"It's such a lovely story and they keep referring to it on the creative side as a fable. I think that is true; it's one of the reasons that it is so beloved," Flynn says. "It is a show that feels good because it's not about political skewering. It's not in favor of any one side of the political spectrum. It has a set of values that it advocates for that I think folks will identify with, regardless of their political background."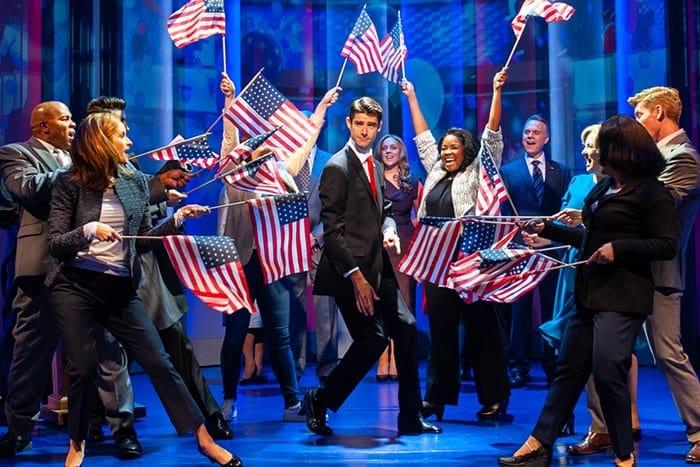 Trained at Harvard University (where she studied religion) and the American Repertoire Theater, Flynn originated the role of Stoner Chick in Off-Broadway's Heathers the Musical and had a memorable turn in St. Ann's Warehouse's Stop the Virgens, vomiting fake blood onto the guitars of the Yeah Yeah Yeah's in the cult fave directed by Rent's Anthony Rapp.
She's also been a part of numerous workshops and readings through the years, including ones for Mean Girls (as Cady), Batboy: the Musical (as Ruthie) and Because of Winn Dixie (as Amanda).
"I'm based in New York and have been lucky enough to mostly do new work and a lot of musicals," Flynn says. "That's what happened with this show. I had previously worked with Nell Benjamin so I got to do some very early readings with this show, which is one of my favorite things to do."
Although she admits that workshops and readings are not the best way to make a living, she does enjoy getting involved with a show so early in the process and seeing scripts blossom. "I ended up doing three or four earlier drafts of this and I feel very lucky that I got the call this winter that they wanted me to come down to play Randi at Arena," she says.
Flynn was familiar with the movie but went back for a re-watch after the first reading. "They had us watch it all together as a cast the first day which I think helped inform the actors a little bit on what they were hoping for with the stage show," she says. "For Dave, I think they consider the movie more of a jumping off point, so it was up to us to decide if we wanted to go back and watch."
One of the reasons she wanted to work on Dave so badly was to get the chance to work with Tina Landau. "She has the reputation she has for a reason. She's a creative genius and creates an extraordinary communal process. It feels good to be at work and it feels like your contributions are being valued and you are being considered," Flynn says. "That isn't the case for every process and every director. It feels good to be here."
Flynn was encouraged to go into the arts by her family—her father was a guitarist for most of his life and her sister is a Chicago-based playwright.
"I grew up in the Berkshires in Massachusetts and always loved theater as a kid and grew up watching and participating in productions at the Williamstown Theatre Festival, Barrington Stage Company and Shakespeare & Company. I knew I loved singing and being on stage," she says. "Once I graduated college, I fumbled around New York for a number of years and was lucky enough to work enough in my professional that I decided to stick with it."
Dave marks Flynn's first time on an Arena stage, though she has been there to see Ah, Wilderness back in 2012. "It was so gorgeous and ever since that time, doing theater in this town has been on my bucket list so it really has been a dream to spend some time creating a new show here," Flynn says.