Dave is a musical for our times. A snapshot of our current political climate swathed in red, white and blue, the world premiere musical with music by Tom Kitt (Next to Normal), a book by the late great Thomas Meehan (Hairspray, The Producers) and Nell Benjamin (Legally Blonde) and lyrics by Benjamin is a call to action, a plea to reduce cynicism and a rally for decency, goodness and patriotism.
It's a moral crisis you can hum along to.
Dave is so of-the-moment topical it's like a cable news crawl with an 11 o'clock number, which is great to experience in this summer of our discontent but also makes you wonder about its shelf life.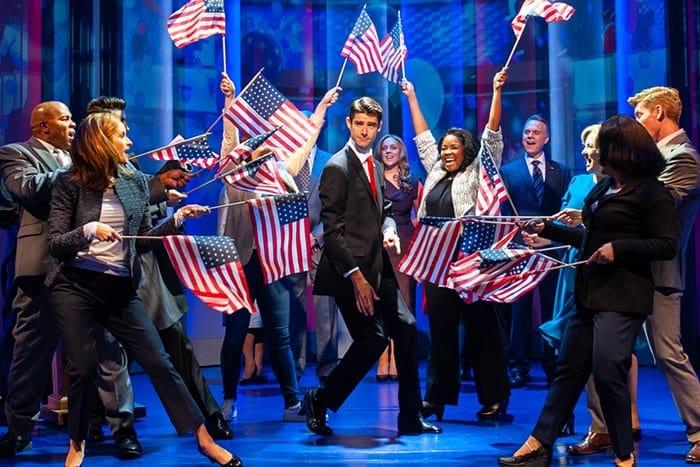 Based on the 1993 movie starring Kevin Kline and Sigourney Weaver, the film was a political fantasy rom-com. The stage version, presumably a pre-Broadway stint at Arena Stage, is directed with brightness and bite by Tina Landau, emphasizes the political over the personal and is both an antidote to the depressing 24/7 news cycle and a cri de coeur to all Americans to get off the couch and practice and participate in democracy before it's too late.
The show's hero, Dave Kovic (Drew Gehling, the hunky gynocologist from the Broadway hit Waitress) is like another great American, Mr. Rogers–a genuinely good and decent man.  Dave's also an idealist with a serious jones for Abraham Lincoln(he makes Lincoln replica piggy banks out of pennies and knows the Gettysburg Address backwards and forwards, for starters) and this idealism pervades the musical as a whole with a message of hope not seen since the Obama administration.
Dave's a recently laid-off history teacher struggling to care for his aging father. His uncanny resemblance to current president Bill Mitchell (Gehling) leads to You Tube impersonation videos and a call from the White House for a very special assignment. Mitchell, a combination of Clinton's libido, Nixon's black heart and Trump's toadying to billionaire businessmen, celebrates his re-election too vigorously with mistress-White House aide Randi Hagopian (Rachel Flynn) and collapses from a stroke inflagrante delicto.
Amid set designer Dane Laffrey's gleaming set–a cross between the Jefferson Memorial and a slick, screen-laden TV news set–reptilian chief of staff Bob Alexander (played with Dick Cheney-like master manipulation and Alexander Haig-esque entitlement by Douglas Sills) goes into cahoots with communications director Susan Lee (Bryonha Marie Parham, playing a crisply efficient major domo with shimmering ambition and operatic pipes) to install Dave to play the president so Bob can continue to fulfill his political agenda, which basically boils down to feeding the rich while eating the poor.
In the rollicking song, "Bad Example," Bob and Susan sway Dave to their scheme, using hilarously poor anecdotes from history until they unveil the coup d'etat–Dave gets to sleep in the Lincoln Bedroom.
Bob and Susan think Dave is going to happily acquiesce to a life of photo ops with pandas at the National Zoo and lots of waving, but he gets big ideas that he may actually be able to do some good, spurred by the activist stance  of First Lady Ellen Mitchell (Mamie Parris, who possesses Hillary Clinton's cool determinism and spirit and the unique vulnerability of a much-broken heart).
Ellen's discipline and principles remind you of Hillary Clinton, but she's also both hardened and conflicted by her anger and other feelings surrounding her philandering husband. Dave sees right through her tough shell and into her good heart and develops a crush. Ellen's myriad emotions are expressed in the acrid tango "The Last Time I Fake It," and the aching ballad, "Not Again," which begins with the indelible lyrics every woman can relate to: "No one wants to think they can fall for an asshole."
Much of the lyrics and dialogue are clever and smart, with Bob Alexander bringing the house down when he sings "the snowflakes are eating crow," President Mitchell whining "Leave me alone, I just wanna be president," and Dave noting that in order to be a Mitchell look-alike, he must "squint when I'm sincere."
The killer (in all senses of the word) number "Kill That Guy" has Bob Alexander jazz-handing and belting out a torch song about putting "ricin in the icin'" and "it's war, not peace, that makes a civilization" among a chorus of dancing CIA operatives in black suits and sunglasses.
——–

Dave

closes August 19, 2018
Details and tickets
——–
There's even a nod to Hamilton's blend of hip-hop and history in the song "Presidential Party," where a cavalcade  of lousy chiefs are dissed instead of hailed.  "Not My Problem" is another contemporary Broadway offering, its gospel strains an ironic counterpoint to lyrics about white priviledge as stoic Secret Service agent Duane Bolden (the powerhouse Josh Breckenridge who has nailed the Secret Service stance) explains to Dave that his job begins and ends with making sure the President gets "not shot," then later declares "I'm tired of defending a man I can't defend."
Dave makes pointed fun at politics and our current political climate and if you're a news junkie you'll find much for rancorous jubilation. It appears we've gone so far into paranoia and mistrust that everything is under suspicion–even the afore-mentioned pandas, which Bob Alexander believes are evidence the Chinese are up to something sending us these "impotent pandas."
However, a vein of decency and goodness runs through Dave, and not just in the main character, who is a  gosh-by-golly stand-up guy, the likes of which haven't been seen since Jimmy Stewart in Mr. Smith Goes to Washington. Like Stewart, Gehling makes goodness kinda sexy.
The entire cast is excellent and inspired throughout to do good work, and that shout out extends to the on-point supporting players, who are tasked with playing multiple roles, singing, dancing Sam Pinkleton's playfully witty choreography and even moving the scenery around.
One quibble and that's with the women's costumes. Toni-Leslie James has created power suits for the men that bespoke custom tailoring and expensive luxury. The women, on the other hand, wear clothes that look cheaper and don't fit, with lumps and bumps indicating either bad sewing or cheaper fabrics. With First Lady Ellen Mitchell especially, it becomes a distraction and doesn't make sense dramaturgically that someone of her position and image savvy would have such an ill-fitting wardrobe. She also repeats outfits, as does Susan Lee (although her outfits are fabulous for the most part), to the extent that the woman next to me poked me in the ribs and said "What, the First Lady and the White House staff can't afford new clothes?"
Maybe it's a statement about stereotypical Washington dowdiness or that the First Lady and the Communications Director care more about causes than couture, but it wouldn't translate well to Broadway audiences demand escapism, precision and relevance.
---
Dave . Book by Thomas Meehan and Nell Benjamin . Music by Tom Kitt, Lyrics by Nell Benjamin . Directed by Tina Landau . Featuring: Drew Gehling, Mamie Parris, Douglas Sills, Bryonha Marie Parham, Josh Breckenridge, Rachel Flynn, Kevin R. Free, Sherri L. Edelen, Jenny Ashman, Jared Bradshaw, Dana Costello, Trista Dollinson, Adam J. Levy, Erin Quill, Jonathan Rayson. Jamison Scott, Vishal Vaidya . Choreographer: Sam Pinkleton. Orchestrator Michael Starobin. Music Director: bob Berman. Set Designer: Dane Laffrey. Costume Designer: Toni-Leslie James. Lighting Designer: Japhy Weideman. Sound Designer: Walter Trarbach. Projection Designer: Peter Nigrini. Wig Designer: Robert-Charles Vallenace. Stage Manager: Mark Dobrow. Produced by Arena Stage  . Reviewed by Jayne Blanchard.