If I walked into the Highwood to see the fledgling 4615 Theatre's stab at the Scottish Play with lowered expectations, I hope my readers and colleagues can forgive me. There were numerous red flags: I hadn't heard much 'buzz' about this company (going into its second season), didn't know the director's or the actors' work, most of the cast were born after I graduated college, Macbeth himself was fresh from a National Players tour making his area debut, and their venue seated 30 people tops. With so many unknowns, I braced for what could have been a long, rough night.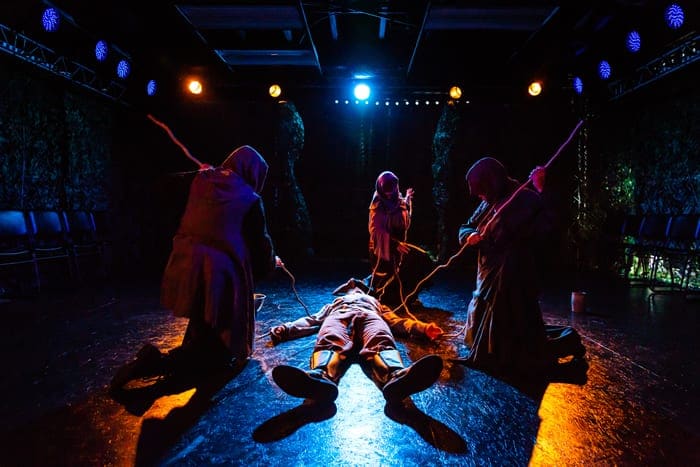 I've rarely been happier to be wrong. I'm delighted to report that 4615, if not already on your radar as a young troupe to watch, ought to be, based on their ambitious, primal, visceral, and occasionally transportive Macbeth. It's also the most intimate Macbeth I've ever seen, given the audience sits in a single row along three sides of a very tight performance space, and if there's a lot of theatrical spectacle at work, it achieves an impactful balance that suits and doesn't overpower the small stage.
Which is not to say the production is a complete success; most of the company is indeed young, fresh out of university and a bit green, and some have a ways to go handling classical text, but the raw material is there, and the cohesive direction and design, live music, fluid movement, and very impressive fight choreography more than compensate for any shortcomings.
Director Jordan Friend clearly has been ruminating for quite some time on how to approach this blood-soaked tale. The witches have a pagan mysticism that I've not previously encountered, and were genuinely unsettling. There's no cauldron, per se, but the substitute for it is impressively unnerving; no banquet table, but the replacement for it is effective. Brian Gillick utilizes every square inch of the tight playing space, the sound design (Friend again) is superb, Benjamin Weigel's costumes make the most of what I presume to be a limited budget, and Matthew Castleman's fight scenes are sinewy, chilling and brutal.
——–

Macbeth

closes August 19, 2018
Details and tickets
——–
As for Jared Graham, his perceptiveness and stage presence make me suspect that although this Macbeth could use a bit more heft and gravitas, I'll wager that his next Macbeth in a decade or two will be revelatory. Charlene Smith exhibits obvious scholarship and has likely done extensive research and prep work; hers is a smart and logical Lady M though not so much a dangerously ruthless and frightening one. Joshua Simon has impressively grounded and active presence as Banquo, and veteran DC actor Steve Lebens as Duncan, Linda Barr (who also plays offstage cello) and Nahm Darr (who also plays setar), Tim German (Macduff), and James Kerr (the Porter) turn in memorable performances, though there are no weak links in the ensemble.
4615 does a summer repertory – another impressive feature of this ambitious young company – and most of this cast will also appear in Moira Buffini's dark contemporary farce Dinner, which opens August 3rd. I rarely go to theatre "off the clock" these days, but I may have to make an exception.
—–
Macbeth by William Shakespeare, directed by Jordan Friend. Cast: Jared H Graham (Macbeth), Charlene V Smith (Lady Macbeth), Joshua Simon (Banquo etc), Tim German (Macduff), Brendan McMahon (Malcolm), Alani Kravitz (Witch etc), Linda Bard (Witch etc), Morgan Sendek (Witch etc), Nahm Darr (Lennox etc), Steve Lebens (Duncan etc), Charlie Cook (Murderer etc), James Allen Kerr (Porter etc), Jack Russ (Angus etc), Katie Abramowitz (Fleance etc). Costume Design: Benjamin Weigel. Scenic/Prop Design: Brian Gillick. Lighting Design: Dylan Uremovich. Sound Design/Composer: Jordan Friend. Fight Choreography: Matthew Castleman. Movement Specialist: Paige Washington. Assistant Director: Alexander Burnett. Stage Manager: Abi Rowe. Produced by 4615 Theatre Company. Review by John Geoffrion
The actors in Macbeth turn into comic actors to play in  Dinner, both in rotating rep at 4615 Theatre Company.
Note: The Red line is closed between NoMa and Fort Totten, so please allow extra time if taking Metro to Silver Spring.