Trimmed up and in glorious voice on all accounts, the national tour of The Color Purple has moved into the Eisenhower Theatre at the Kennedy Center. And Hamilton, packing them in next door in the Opera House, had better be warned. The Color Purple might blow the roof off of the place.
It perhaps did not arrive with the same fanfare that greeted Hamilton, but The Color Purple is more than worthy of a sell-out run of its own. Based on author Alice Walker's third and most famous novel, this musical also takes much of its inspiration from the 1985 Stephen Spielberg film, which featured Whoopi Goldberg, Oprah Winfrey and Danny Glover. The musical adaptation, presented by Winfrey, arrived on Broadway in 2005 nd ran three years. The award-winning theatre director and designer John Doyle's revival arrived seven years later in December 2015, after originating at London's Menier Chocolate Factory. Doyle, known for a variety of innovative stagings of classics and musicals, trimmed Marsha Norman's original book and shifted the emphasis to the score in a minimalist production, consisting mainly of a multi-layered set and simple, wooden chairs.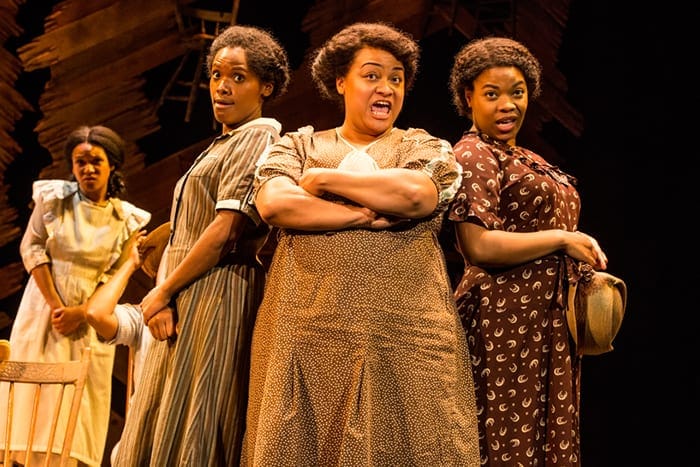 Doyle's creatively economical production is intact on the tour and I am happy to report the story is able to shine through without the distractions of clunky set changes, or a dazzling lighting scheme. The first class ensemble of 17 is free to bring the vivid characters and score to life, and they do so with total commitment and full conviction that fits the emotional story of family and forbidden love in an African-American community in rural Georgia at the turn of the last century. Norman's book, like Walker's original work, does not shy away from brutal racism and domestic abuse, nor does it downplay the beauty of pure love between two human beings who find each other in spite of the stigma of two women being together in the early 20th century.
The women in question, Celie and Shug Avery, represent two spectrums, drawn together by circumstances and linked on a soul deep level. Dirt poor and uneducated, Miss Celie is the central character, whom we follow from her teen years until middle age. Celie holds tight to her faith, is devoted to her younger sister Nettie, and is treated like dirt by the men in her life. Throughout the story, Celie grows into a strong, independent woman – even an entrepreneur. Playing the role brought to life by Whoopi Goldberg in the film and award-winner Cynthia Erivo in the Broadway revival, Adrianna Hicks makes her own indelible mark as Celie. Easily transforming herself from age 14 to her mid-50s, Hicks pulls out all the stops as an actress and singer to show Celie's amazing growth. Whether she is addressing God in one of her many prayers, sharing the stage with the vile Mister – Gavin Gregory – or Shug – Carla R. Stewart – or delivering Celie's searing anthem "I'm Here," Hicks commands the stage.
Representing a level of success and independence others envy or lust after, Shug Avery wields a mighty influence over Mister and eventually Miss Celie. Loose, voluptuous, and sensual, Shug is everything Celie is not – at first. The two women share a bond which, though troubled, lasts for the rest their lives. As portrayed in the tour production by Carla R. Stewart, Shug is a force to contend with; Stewart allows Shug's personality to blossom slowly until she flowers completely in the show-stopping "Push da Button."
——–

The Color Purple

closes
  August 26, 2018
Details and tickets
——–
As Celie's cruel husband who turns to gelatin in the presence of his old flame Shug, Gavin Gregory brings a surprising complexity to the seemingly heartless Albert, known as Mister to Celie. Another surprise is the transformation Mister undergoes after he delivers the soul-bearing "Miss Celie's Curse," as close to an operatic aria as a score filled with gospel, folk, and the blues could come.
Among the other principal performers, Carrie Compere is a stand-out in the scene-stealing role of Sofia (played memorably by Oprah Winfrey in the 1985 movie). Sofia is the opposite of Celie, a woman who lets no man walk all over her, not even her husband Harpo – Jay Donnell. Sofia is not only a formidable presence, she has her share of comedic moments which Compere lands with clinical precision. Like the other leading players, Compere's vocals are stunningly good and her rousing and fierce "Hell No!" is roof-raising.
We talk with N'Jameh Camara about playing Nettie
The cast is rounded out by the heartfelt simplicity of N'Jameh Camara's performance as Celie's missionary sister Nettie; the reuniting scene when the sister's finally connect again through letters is an emotional highpoint of the musical.
The finely tuned ensemble portrays a variety of churchgoers, juke-joint customers, and family members throughout the musical and together they provide a magnificent sound that elevates the score to new heights. I would say if you are only familiar with the score through the Grammy-winning revival cast album, try to see this show live at the Kennedy Center. I wish the touring cast could make a recording live during a performance, to be honest.
The onstage performers were supported expertly by the orchestra led by Darryl Archibald; but don't look to peek into the pit for this show. The orchestra pit is covered and the players are tucked away, which did not diminish the experience in any way for me, but it is an unusual practice. That being said, the sound design for The Color Purple was one of the most successful I have experienced at the Eisenhower. Crystal clear diction and harmonies were apparent from all the performers from start to finish; this was not the case when I experienced Chess in the same venue earlier in the summer.
Overall, the message of appreciating the beauty that surrounds us and embracing love at all costs is still at the heart of The Color Purple, made even more touching by the superb score by Brenda Russell, Allee Willis, and Stephen Bray. The production stays in town through August 26. Experience it for yourself if you can.
———
The Color Purple . Book by Marsha Norman . Music and lyrics by Brenda Russell, Allee Willis, Stephen Bray . Directed by John Doyle . Featuring: Adrianna Hicks, Carla R. Stewart, Carrie Compere, Gavin Gregory, Jay Donnell, N'Jameh Camara, Darnell Abraham, Amar Atkins, Kyle E. Baird, Angela Birchett, Erica Durham, Bianca Horn, Jamal Jones, Mekhai Lee, Gabrielle Reid, C.E Smith, Will T. Travis, Kyla Watson, J. D. Webster, Brit West, and Nikisha Williams . Set Design by John Doyle . Costume Design by Ann Hould-Ward . Lighting design by Jane Cox . Sound Design by Dan Moses Schreier .Hair design by Charles G. Lapointe . Music director/Conductor Darryl Archibald . Stage management: Melissa Chacon, Richard A. Leigh . Presented by The Kennedy Center . Reviewed by Jeff Walker.