Productions that are the most fun ask their audiences to buckle up, embrace the madness, and hang on for a wild ride. Pointless Theatre has such a carnival of entertainment in their latest offering, Don Cristóbal, freely adapted, as only Pointless can, from Federico Garcia Lorca's puppet show El Retablillo de Don Cristóbal.
This adaptation takes the original puppet show, which back then lasted about 10 minutes, and expands it in so many enchanting ways. For one, the puppets have been enlarged from the usual Punch and Judy style hand-puppets into three foot tall figures managed by two puppeteers. In traditional Pointless style, they delight in the visibility of their performers, so even while watching these puppets in all their vulgar glories, the audience gets a second, equally delightful show as the puppeteers revel in their work. The play unfolds as an Alice in Wonderland style absurd fantasia, wherein "The Director," Thais (played by Thais Menendez), is seen as the villainous Don Cristóbal, and must reconcile or make peace with each of the people she has wronged, both as a Director to her actors, and as the titular Don Cristóbal to his victims. It makes sense. I promise.
Don Cristóbal shows us a wonderful fable, imparting the importance of community and collaboration. It is particularly poignant for those in theatre, but also for anyone who has ever felt the overwhelming desire to prove themself, or who has lost their way and their love for their craft. It's a lesson not dissimilar to that of Machiavelli's The Prince, just with puppets. And giant boobs. And diapers.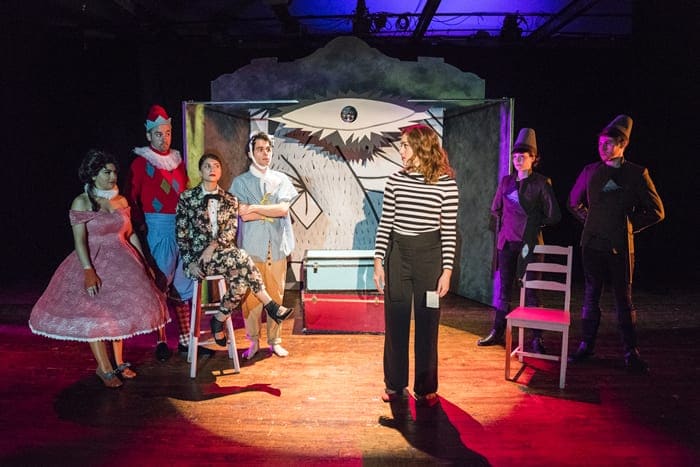 Co-Directors Rachel Menyuk and Eric Swartz keep the pace of the show rolling along, making sure that their actors drove the action forward with each scene. The show is inherently and unapologetically bilingual and the directors have chosen to go without supertitles.. Such a bold choice is to be commended, especially given that it runs the risk of having the largely English-speaking audiences check out. However, the actors are so committed to the work that not only does the non-Spanish speaking audience still understand the scenes (with help from the occasional translations via a response in English). It is hard not to feel a sense of vindication for everyone whose first language is not English; those who have been spoken to in a language they did not know, and had no choice but to do their best to keep up and understand.
Pointless has also put together an all-star cast of actors, some bilingual, others not. The always excellent Thais Menendez leads the fray as the director (named Thais), whose emotional arc drives the core of the story. Menendez's ease in owning the space serves as her greatest asset, and proves that she can command an entire room with only a smile. She's paired with Paz Lopez who demands deference with each entrance as La Poeta, the embodiment of Lorca. Menendez and Lopez's exchanges are rarely in the same language, and it hits with the same joy that one feels when a clarinet and a saxophone share a call and answer. Both are woodwinds, both share the same mechanics, and their sounds, while different, intertwine and play in such a fun way.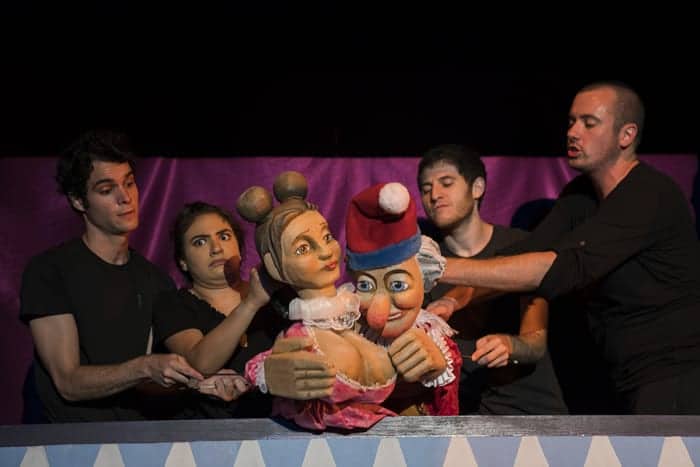 Adrian Iglesias and Adrianne Knapp, who both respond to the name Adrian, also double as puppeteers and the Guardia, two policemen hunting down Thais/Director/Don Cristóbal, and the two work in an excellent tandem. As a duo, their rapport is razor sharp, quick, and delightful, and again, only one of them speaks in Spanish, which lends itself to the fun wordplay of translations between the two languages.
Matthew Sparacino brings his presence and personality to the role of "The Actor", dressed in the diamonds of the commedia stock character Harlequino, and Vanessa Chapoy's Rosita adds delightful clowning movement into the ensemble as she manages both her comedically gigantic fake breasts as well as several screaming, crying puppet babies. Both actors aptly complement one another, with both characters speaking fun mixes of both Spanish and English, for two different variations on Spanglish.
Rounding out the cast is Scott Whalen, who plays both Scott and The Enfermo. Whalen's deftness with physicality brings the utmost ethos to this world, giving us the deep sadness of disappointment from one who believes in the best of all people. The Enfermo, in puppet form, has a delightful slew of lines in a wheedling high voice, but after the events of the puppet show, Whalen's embodiment of Enfermo is silent, and in his silence commands the single most powerful moment of the show.
The directors have smartly given the actors room to play fully to their strengths. Sparacino's Harlequin-Actor is infused with his mastery of Commedia. Whalen's physicality is displayed in full bloom, not in terms of say, sheer acrobatics, but the sheer precision in which he uses his body as his medium. Menendez feels like she has so much room to inhabit, and she colours within the lines with the deftness of an expert painter.
Add to all this, the technical elements of Don Cristóbal are phenomenal. Lights by Niomi Collard not only set the mood and timbre for each scene, as good lights are wont to do, Collard's lights go above and beyond, creating the idea that the lighting is almost its own character in its own right. The design engages in an elegant pas-de-deux with Evan Cook's sound which resonates throughout the space, accenting, highlighting and mingling with the action of the show. Together, they ripple and fold throughout the space, completing the sense of otherworldliness.
——–
Don Cristóbal

closes September 8, 2018
Details and tickets
——–
Mel Bieler's set begins as a Puppet Theatre box, deceptively simple in its appearance, but in itself containing surprising multitudes. The set acts almost like a magic trick, reminiscent of a magic show, with the actors revealing and collapsing its various illusions. Frank Labovitz's costumes shine, whether in the smaller puppet scale, or on the human-sized actors. Special mention to the work of Stage Manager Hayden Morrissett, whose calling of the cues was so on point that I believe the show would not have worked as tightly as it did without her keen eye. I think this is noticeable due to the metatheatrical nature of this show, but I wanted to applaud what I thought was truly excellent calling of the light and sound cues.
[adsanity_rotating align="alignnone" time="10″ group_id="1455″ /]
This is a piece that feels like it embodies its own lesson, wherein it is more fun to build a show with friends and community whom you love, rather than the directorial dictatorships often present in the rehearsal rooms.
Having now had the joy of reviewing two Pointless Theatre shows, I can continually attest to this company's ingenuity and hard work in these unorthodox theatrical spaces. Both Rite of Spring and Don Cristóbal are wildly different shows, and were you to see them back to back, as I did, you would not consider them works by the same company. Pointless' strength lies in its diversity, not just in terms of identity, but also in terms of the disciplines and crafts brought into the creation of each piece. I imagine theatregoers of all shades will find something enjoyable in Don Cristóbal.
——————–
Don Cristóbal, adapted from Federico Garcia Lorca's El Retablillo de Don Cristóbal. Adapted for the stage by Patti Kalil, Rachel Menyuk, and Eric Swartz. Direction by Rachel Menyuk and Eric Swartz. Featuring Vanessa Chapoy, Adrian Iglesias, Adrianne Knapp, Paz Lopez, Thais Menendez, Matthew Sparacino, and Scott Whalen. Production: Set Design: Mel Bieler. Costume Design: Frank Labovitz. Puppet Design: Francisco Benavides. Props Design: Amy Kellett. Lighting Design: Niomi Collard. Sound Design: Evan Cook. Fight Director: Lex Davis. Stage Manager: Hayden Morrisett. Assistant Stage Manager: Antonella Perez Ferrero. Scenery: Renegade Productions. Produced by Pointless Theatre Co.  Reviewed by Jon Jon Johnson.