One of the great perks of being in the theatre community is getting little sneak peaks at your friends' shows. When you meet for drinks or run into one another at various places around the city, you talk about the things you're working on, what you're coming up next. You share gossip and whispers. The active pulse of the theatre community is always thrumming with activity; new shows, new ideas, explorations, and developments. So the buzz began when Pointless Theatre began working on Federico Garcia Lorca's El Retablillo de Don Cristóbal.
Before I saw the show, I sat down with co-directors Rachel Menyuk and Eric Schwartz, along with actors, Thais Menendez and Scott Whalen, to talk shop about their production.
Why did you choose Don Cristóbal?
Eric Swartz: So, this play is one that actually Patti Kalil (Co-Artistic Director of the company) approached us with. So I don't think either of us had heard of the play, let alone read it, when Patti started talking to us about it about a year and a half ago. We had our first meeting as a group about a year ago when the company decided to bring us on as co-directors and co-adapters. Rachel, you wanna add to that?
Rachel Menyuk: Both Patti and Matt approached the two of us specifically: Eric is a native Spanish speaker, and myself, as a company member, who has a lot of experience performing, and designing and building puppets. They were interested in getting these two things together: Language and Visual, and they wanted to see how they melded.
What have been some exciting things about the process?
Rachel: Something that's been amazing about this process is that we know it  was going to be devised piece based around the Lorca show. The original Lorca show is about a 15 minute show. We figured we needed more than 15 minutes; how do we shape it and turn it into something more. We knew from the start that we wanted input from the members of the Latinx community. For Eric and I, it's been especially exciting to get input from the actors and the design team throughout this process.
Eric: To echo what Rachel said, we knew from the start that we wanted the piece to be co-created, so that meant that when we were casting, we were looking for people that we thought would be great collaborators. We knew that the show was going to be bilingual, we were also looking for Spanish speakers. Often in the United States, that means they're Latinx. So we looked at the show in relation to the Latinx community and also in language ability. We tried to tailor what we thought the show would be about to the language abilities of the cast after we had cast them. So we didn't really do any substantive writing until after we had done casting about 7 months ago. We had a translation done of the play at that point, but then we built the characters for our adaptation inspired by the actors who we had cast.
Rachel: I think another thing that's especially exciting for us, for Eric and I, this is our first time directing a piece, and being able to form this partnership together has been incredible for lots of reasons; but particularly in terms of being able to create this piece together has been an amazing experience for both of us.
Eric: One of the things that's been so interesting for us about co-directing is that we've really had to think about the notion of partnership and of collaboration. We want to be, as much as possible, a united voice, but we're still two people with our own ideas and imaginations and backgrounds that inform the decisions that we make. The adaptation that we've done, the direction that we've taken the show in, does touch on a lot of those same ideas: of creative partnerships and what does it mean to be a leader in a creative field. Something we talked about a lot in the development process, and also with the cast, is about the negative experiences that people have had working in theatre in DC. Often, based around their cultural identity, but also any type of power dynamic, gender bias, harassment, or abuse of power. The ways in which structures and hierarchies can either positively or negatively impact a process. That's something that became a major theme of the play.
What did Jon Jon think of Don Cristóbal?
You mentioned that this was your first time directing at a professional level: Could you talk a little about your background and what you feel you bring to the collaboration?
Eric: I am a native Spanish Speaker, my mom is from El-Salvador. I have always been bilingual, and have always been educated, up until college, bilingually. This is something that got Patti Kallil to start talking to me about doing this show. My connection to Pointless is that I was stage manager for Dr. Caligari 3 years ago, where Rachel and I first met. We had done some workshops the summer before, so I had been a friend to the company before working on them. I was the artistic associate director at Theater Alliance, so I had been working as a Stage Manager and as a producer, and I was interested more in directing and writing. I was an actor and college, and studied playwriting. I had been looking to transition away from the production side of things into direction and writing as the next steps for me as an artist.
Rachel: I started out as a performer, I was a theatre major at UMD which is how I connected with Pointless. I've been involved with Pointless since…2012? So that was the first show I did with them; I was a puppet designer since I have a background in puppet design and performance and through the last 6 years I've performed, designed, and assisted directed Matt Reckeweg on Hugo Ball and I've been talking with Matt and Patty for awhile now on directing. They were interested in having me direct something, coming from that visual perspective as a dancer, puppeteer and movement person.
Talk to me about Lorca.
Eric: We were trying to think of ways that we could incorporate more of Lorca's language in the show. The show is a lot about translation, the original Lorca text is being performed in the translation that we've done. The show itself, our Don Cristóbal, is bilingual with some text that's purely in English, some that are in Spanish, some that are mixed and jumbled up between the two languages, much the way the that those who grew up bilingual will understand. It jumbles, it pops out, and not always in a way that you control. When you're switching back and forth between languages, you can get stuck. Like trying to unglue yourself from the flytrap; like my brain does not know which word in which language to choose.
Language is something that's incredibly important in the show, and we had an idea to add in Lorca as a character. The original is a play within a play, and it has kind of an outer frame with a poet character and a director character who are often in opposition. We took that poet character and added Lorca to the idea of the character, so a lot of the words that that character says, over the course of the play in Spanish, are lines that Lorca wrote. With perhaps some exception, that would reveal too much for me to tell you about where the play is going, but what that meant is that…before this process began, I had never read Lorca, plays or poetry, so I took this as an opportunity to deep dive into his work. Inspired by, say, like, Dada and the surrealists' working practices, took words and phrases from his collected works and reworked and combined them to create new text. So in a certain sense, the character of Lorca speaks in words that Lorca himself had created. That's one of the behind the scenes things that we did to get the show on its feet. It was a lot of research, and a lot of time spent investigating the person who originally wrote the text that we would be adapting.
Since we're talking Pointless here, could you talk to me about the role of puppets in the show?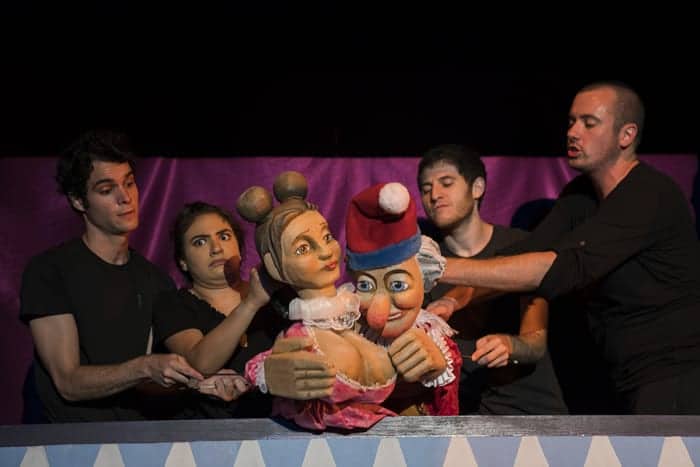 Rachel: The initial play was written as a Punch and Judy show. We at Pointless were like, Punch and Judy is fun, but let's make it bigger, because we like to make things bigger. So what we had imagined from the start is that we would take the idea of the Punch and Judy show, you know, the glove puppets? And take it up several notches. So we wind up with about 3 foot puppets that are, in fact, being puppeteered by two people instead of just one person from below. Another thing that Pointless as a company likes to play with is being able to see the Puppeteers as they manipulate the puppet. You'll actually be able to see the puppeteers throughout the show, which is very different from the Punch and Judy style show. What's been a challenge, but also fun, is trying to infuse the same feel and show of a Punch  and Judy show while using much larger and slightly different style puppets. It's been a challenge, but has been really fun. Our puppet designer Francisco Benavides, has made some really beautiful puppets.
Eric: Blowing Punch and Judy style puppets up to this size…I haven't seen anything like this before. You?
Rachel: Nope!
Eric: You heard it here folks. This is the first time you'll see something like this…on this side of the Mississippi.
Rachel: Francisco building the puppets is so important to the Pointless method and brand. Designers often work cross-department. It's something we encourage and they're usually part of the process from way early on so their voices are heard early on. Our costume designer, Frank Labowitz, has been working on costuming the puppets from quite early. We love when this happens, so there's a visual consistency on the show, working with us from the start as creative voices.
Actors, how about you? Tell me a little about your work on this production? Who are you playing?
Thais Menendez: I'm playing the Director, a woman with a very specific vision for this puppet show. She is an intense, forceful energy–"passionate," if you like her or "temperamental" if you don't.  Her need for total control ultimately backfires, sending the production into a downward spiral.
Scott Patrick Patrick Whalen: I am playing the part of Enfermo. He is the first character within the retablillo that suffers at the hands of Don Cristóbal.
Thais: While I don't have a ton of experience with devised work (our show is partially devised), it's safe to say this process has been a lovely introduction to devised theatre. We had a whole workshop weekend where we took time to create our characters and their backstories, and it was a special opportunity to just play. Luckily, our ensemble sort of clicked instantly, so we were able to delve into this imaginary world together right away. That bond was especially important considering it's a show where the characters are constantly at each other's throats—we love each other in real life, I promise!
What are some of your favourite moments in the show?
Scott: I love telling stories and creating character through physical gesture. Enfermo presented a fun opportunity because in the second half, he can't speak. So when it came time to devise my scene I got to figure out how this character communicates without vocal language.
Thais: Without giving too much away, the show takes a turn for the surreal as the Director is subjected to the whims of a topsy-turvy world. Anytime she comes upon a new character is pretty hilarious, and I love that it echoes back to those first discoveries we all made together in rehearsal. It's really hard to keep a straight face sometimes.
What have been some of the challenges working on this show?
Thais: All our primary characters have our real names. We've used our own identities and personalities as a jumping off point—cue identity crises for the entire cast. Finding the points of connection with these characters who are "ourselves" (but not really) is a challenge, albeit a super fun one. My character is angry and fuming all the time (so not like the real me AT ALL….!), but we've been careful not to paint her as a caricature. This woman is very aware of her place in the world as a "Female Director," and there is a lot of internalized anger, pressure, and pain associated with that awareness. She constantly preaches about the evils of the patriarchy, and yet demonstrates those same problematic behaviors that have held her back.
Scott: Whenever you devise a piece (especially when the script is an evolving document) you face challenges not present in a typical rehearsal room. This show asked its performers to be collaborators in a way that was at times challenging; but ultimately, that collaboration lent itself to creating a more nuanced and personal piece.
——–
Don Cristóbal
Pointless Theatre at Dance Loft
closes September 8, 2018
Details and tickets
——–
Tell me a little bit about working with the puppets.
Thais: The first play I ever did back in high school was Blood Wedding, so Lorca has always been close to my heart. When I first heard that Lorca had written a Punch & Judy style puppet show, I thought it was incredibly cool! My character doesn't get to interact with the puppets too much, but I have learned some of the fundamentals of puppetry and it's been fascinating to watch my cast mates maneuver their new friends (and then embody those maneuvers later on…you'll see).
Scott:  I love puppetry. It's the reason I got involved with Pointless—back when we were just precocious college kids. Learning how to manipulate 1 puppet with two performers is always a learning curve. But once you really see your puppet come to life, there's no better satisfaction.
[adsanity_rotating align="alignnone" time="10″ group_id="1455″ /]
What's unique about this production?
Scott: The way in which we use the puppet characters to tell the story. Both within the retablillo and surrealist dream world of the second act.
Eric: Something I wanna make sure gets said; this is a show that's intentionally being done in English and Spanish, and all the combinations therein between the two languages. Everyone is going to have a different experience based on their experience to language. This is something we're really excited about, and have been since the start, because so often we don't necessarily understand the words that we say to one another. There's so much more communication beyond that. There are no supertitles (by design), there's another theme and idea we're exploring with this piece. Those of us who are bilingual North-Americans, it's something we certainly understand when often, even within families, people can't speak the same language to one another. We can't necessarily communicate back and forth in one language; it's just a cultural linguistic reality that we live in. That's something that, from the beginning of working on this show, we wanted to really communicate and display and honour. There's something to me, growing up bilingual, when languages and cultures collide, they often do so in often random, weird, and bizarre ways, and all of us who work on this show find that beautiful and exciting and we hope that's something that the audience takes away from the show as well.
Thais: As a Latina artist, it's a cherished opportunity any time I get to perform in a bilingual Spanish/English play, but it's even more special how integral language is to this story. In a country where "this is America, speak English" is not an unfamiliar slogan, stories about the bilingual/Latinx experience are especially resonant. There may be moments where audience members may not understand all of the text being spoken, which makes space for different experiences of the play. Similarly, the Director's struggle with her own culture and language, especially as a hyphenated-American woman in 2018 America, takes a central role in her eventual redemption arc.
Eric: Lastly, just so folks are aware, we're performing out of the Dance Loft on 14th street; which is where Pointless has been performing Rite of Spring and Imogen. Pointless has been partnering with Dance Loft to provide free tickets to Ward 4 residents, and where Pointless is based and where a lot of Pointless folks make their home. Starting an hour before the performance, those tickets become available; so if you bring an id or bill that shows your zip code, you can access a free ticket.